Note: Supplemental materials are not guaranteed with Rental or Used book purchases.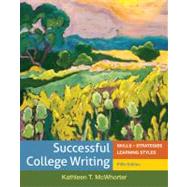 Successful College Writing Skills - Strategies - Learning Styles
ISBN13:
9780312676087
by
McWhorter, Kathleen T.
Questions About This Book?
Why should I rent this book?
Renting is easy, fast, and cheap! Renting from eCampus.com can save you hundreds of dollars compared to the cost of new or used books each semester. At the end of the semester, simply ship the book back to us with a free UPS shipping label! No need to worry about selling it back.
How do rental returns work?
Returning books is as easy as possible. As your rental due date approaches, we will email you several courtesy reminders. When you are ready to return, you can print a free UPS shipping label from our website at any time. Then, just return the book to your UPS driver or any staffed UPS location. You can even use the same box we shipped it in!
What version or edition is this?
This is the 5th edition with a publication date of 12/7/2011.
What is included with this book?
The Used copy of this book is not guaranteed to include any supplemental materials. Typically, only the book itself is included.
The Rental copy of this book is not guaranteed to include any supplemental materials. You may receive a brand new copy, but typically, only the book itself.
The eBook copy of this book is not guaranteed to include any supplemental materials. Typically only the book itself is included.
Related Products
Summary
Because so many first-year writing students lack the basic skills the course demands, reading specialist McWhorter gives them steady guidance through the challenges they face in academic work. Successful College Writingoffers extensive instruction in active and critical reading, practical advice on study and college survival skills, step-by-step strategies for writing and research, detailed coverage of the nine rhetorical patterns of development, and 61 readings that provide strong rhetorical models, as well as an easy-to-use handbook in the complete edition. McWhorter's unique visual approach to learning uses graphic organizers, revision flowcharts, and other visual tools to help students analyze texts and write their own essays. Her unique attention to varieties of learning styles also helps empower students, allowing them to identify their strengths and learning preferences.
Author Biography
Kathleen T. McWhorter is professor emerita of humanities and former director of the Learning Skills Center at Niagara County Community College. She has also been on the faculty of the State University College at Buffalo. She is the author of a number of books on reading and writing skills for developmental students, including Expressways:  Writing Scenarios, Paragraph and Essay, Academic Reading, Seventh Edition, Efficient and Flexible Reading, Ninth Edition, Active Reading Skills, Third Edition, and Reading Across the Disciplines: College Reading And Beyond, Fifth Edition, as well as a reader for composition classes, Seeing the Pattern: Readings for Successful Writing (Bedford/St. Martin's, 2006).
Table of Contents
* new to this edition
Part 1  Academic Quick Start

1 Succeeding in College
Strategies for Success
Classroom Skills
2 Writing in College
Academic Writing: What to Expect
Why Strive to Improve Your Writing Skills?
Developing Strategies for Writing
Assessing Your Learning Style
LEARNING STYLE INVENTORY
Applying Your Learning Style to Your Writing
3  Reading in College
Getting Started
A GUIDE TO ACTIVE READING 
Before Reading
   *READING: American Jerk: Be Civil, or I'll Beat You to a Pulp, Todd
Schwartz
While Reading
After Reading
Working with Text
   *READING: Combat High, Sebastian Junger
4  Responding Critically to Text and Images
*Strategies for Critical Thinking and Reading
*Interpreting Visuals
A GUIDE TO RESPONDING TO TEXT
Summarize to Check Your Understanding
Link the Reading to Your Own Experiences
Analyze the Reading
Using Your Learning Style
How to Approach the Student Essays in This Book
STUDENTS WRITE 
   *READING: "American Jerk"? How Rude! (but True), Karen Vaccaro (student essay)
Part 2  Strategies for Writing Essays

5 Prewriting: How to Find and Focus Ideas 
Choosing and Narrowing a Topic
Thinking about Your Purpose, Audience, and Point of View
Discovering Ideas to Write About
STUDENTS WRITE
   Christine Lee's Prewriting Strategies
6 Developing and Supporting a Thesis
What Is a Thesis Statement?
Developing Your Thesis Statement
Supporting Your Thesis Statement with Evidence
STUDENTS WRITE
    Christine Lee's Working Thesis
Working with Text
   *READING: Internet Addiction, Greg Beato
7 Drafting an Essay
The Structure of an Essay
Organizing Your Supporting Details
Using Transitions and Repetition to Connect Your Ideas
Writing Your Introduction, Conclusion, and Title
STUDENTS WRITE 
    READING: The Reality of Real TV, Christine Lee (student essay)
Working with Text
    READING: Black Men and Public Space, Brent Staples
8 Writing Effective Paragraphs
The Structure of a Paragraph
Writing a Topic Sentence
Including Supporting Details
Using Transitions and Repetition
STUDENTS WRITE
    READING: The Reality of Real TV, Christine Lee (student essay): Paragraph  Excerpt
Working with Text
9  Revising Content and Organization
Why Revise?
Useful Techniques for Revision
Key Questions for Revision
Working with Classmates to Revise Your Essay
Using Your Instructor's Comments
Considering Your Learning Style
STUDENTS WRITE 
    READING: A Trend Taken Too Far: The Reality of Real TV, Christine Lee (student essay): Complete Final Draft, with Reviewer's Comments and an Excerpt from the Revised Draft
10 Editing Sentences and Words
Analyzing Your Sentences
Analyzing Your Word Choice
Suggestions for Proofreading
STUDENTS WRITE
    Excerpt from Christine Lee's Edited Second Draft, Final Editing and Proofreading Changes
Part 3  Patterns of Development

11 Narration: Recounting Events
WRITING A NARRATIVE
What Is Narration?
    READING: Right Place, Wrong Face, Alton Fitzgerald White
   *READING: The Lady in Red, Richard LeMieux
Integrating a Narrative into an Essay
A GUIDED WRITING ASSIGNMENT
STUDENTS WRITE
   *READING: Taking Back Control, Mina Raine (student essay)
READING A NARRATIVE
Working with Text: Reading Narratives
Thinking Critically about Narration
    READING: Selling in Minnesota, Barbara Ehrenreich
  *READING: Alien World, Alexander Zaitchik (patterns combined)
Applying Your Skills: Additional Essay Assignments
12 Description: Portraying People, Places, and Things
WRITING A DESCRIPTION
What Is Description?
    READING: Eating Chilli Peppers, Jeremy MacClancy
  *READING: Out of the Woods, Susan Orlean
Integrating Description into an Essay
A GUIDED WRITING ASSIGNMENT
STUDENTS WRITE
    READING: Heatstroke with a Side of Burn Cream, Ted Sawchuck (student essay)
READING A DESCRIPTION
Working with Text: Reading Descriptive Essays
Thinking Critically about Description
  *READING:  The Deer at Providencia, Annie Dillard
    READING:  Bloggers without Borders . . ., Riverbend (patterns combined)
Applying Your Skills: Additional Essay Assignments
13 Illustration: Explaining with Examples
WRITING AN ILLUSTRATION ESSAY
What Is Illustration?
    READING: Rambos of the Road, Martin Gottfried
  *READING: Sustainability on the Menu, Carl Pino
Integrating Illustration into an Essay
A GUIDED WRITING ASSIGNMENT
STUDENTS WRITE
    READING: Conforming to Stand Out: A Look at American Beauty, Nick Ruggia (student essay)
READING AN ILLUSTRATION ESSAY
Working with Text: Reading Illustration Essays
Thinking Critically about Illustration
  *READING: Snoopers at Work, Bill Bryson
  *READING: Hey Mom, Dad, May I Have My Room Back? Cristina Rouvalis (patterns combined)
Applying Your Skills: Additional Essay Assignments
14  Process Analysis: Explaining How Something Works or Is Done
WRITING A PROCESS ANALYSIS
What Is Process Analysis?
  *READING: How to Interview, Monster.com 
  *READING: Inside the Engine, Tom and Ray Magliozzi
Integrating Process Analysis into an Essay
A GUIDED WRITING ASSIGNMENT
STUDENTS WRITE
    READING: Feed Your Friends . . . and Their Friends . . . and Their Friends: Chili for Fifty, Eric Michalski (student essay)
READING A PROCESS ANALYSIS
Working with Text: Reading Process Analysis Essays
Thinking Critically about Process Analysis
  *READING: Dater's Remorse, Cindy Chupack 
  *READING: Shitty First Drafts, Anne Lamott (patterns combined)
Applying Your Skills: Additional Essay Assignments
15 Comparison and Contrast: Showing Similarities and Differences
WRITING A COMPARISON OR CONTRAST ESSAY
What Are Comparison and Contrast?
    READING: Amusing Ourselves to Depth: Is The Onion Our Most Intelligent Newspaper? Greg Beato
    READING: Dearly Disconnected, Ian Frazier
Integrating Comparison and Contrast into an Essay
A GUIDED WRITING ASSIGNMENT
STUDENTS WRITE
    READING: Border Bites, Heather Gianakos (student essay)
READING COMPARISON AND CONTRAST
Working with Text: Reading Comparison or Contrast Essays
Thinking Critically about Comparison and Contrast
    READING: His Marriage and Hers: Childhood Roots, Daniel Goleman
    READING: Defining a Doctor, with a Tear, a Shrug, and a Schedule, Abigail Zuger (patterns combined)
Applying Your Skills: Additional Essay Assignments
16 Classification and Division: Explaining Categories and Parts
WRITING A CLASSIFICATION OR DIVISION ESSAY
What Are Classification and Division?
    READING: My Secret Life on the McJob: Fast Food Managers, Jerry Newman
    READING: A Brush with Reality: Surprises in the Tube, David Bodanis
Integrating Classification or Division into an Essay
A GUIDED WRITING ASSIGNMENT
STUDENTS WRITE
    READING: Immigration: Legal and Illegal, Sunny Desai (student essay)
    READING A CLASSIFICATION OR DIVISION ESSAY
Working with Text: Reading a Classification or Division Essay
Thinking Critically about Classification and Division
    READING: The Dog Ate My Flash Drive, and Other Tales of Woe, Carolyn Foster Segal (patterns combined)
Applying Your Skills: Additional Essay Assignments
17 Definition: Explaining What You Mean
WRITING A DEFINITION
What Is a Definition?
    READING: Freegans: They Live Off What We Throw Away, Jan Goodwin
    READING:  Dude, Do You Know What You Just Said? Mike Crissey
Integrating Definitions into an Essay
A GUIDED WRITING ASSIGNMENT
STUDENTS WRITE
    *READING: Guerrilla Street Art, Kate Atkinson (student essay)
    READING DEFINITIONS
Working with Text: Reading Definitions
Thinking Critically about Definition
    *READING: The Appeal—and Danger—of War Porn, Jessica Ramirez (patterns combined)
Applying Your Skills: Additional Essay Assignments
18 Cause and Effect: Using Reasons and Results to Explain
WRITING A CAUSE-AND-EFFECT ESSAY
What Are Causes and Effects?
    READING: Can Diet Help Stop Depression and Violence? Jurriaan Kamp
    READING: Sprawl Is Harmful to Wildlife, Jutka Terris
Integrating Cause and Effect into an Essay
A GUIDED WRITING ASSIGNMENT
STUDENTS WRITE
    READING: An Early Start, Harley Tong (student essay)
    READING CAUSE-AND-EFFECT ESSAYS
Working with Text: Reading Causal Analyses
Thinking Critically about Cause and Effect
    *READING: Why Class Matters in Campus Activism, Courtney E. Martin
    READING: Hitting the "Granite Wall," Gary M. Stern (patterns combined)
Applying Your Skills: Additional Essay Assignments
Part 4  Reading and Writing Arguments

19 Reading Arguments
The Basic Parts of an Argument
    READING: When Volunteerism Isn't Noble, Lynn Steirer
General Strategies for Reading Arguments 
    *READING: Organ Donation: A Life-Saving Gift, Quinne Sember (student essay)
Strategies for Following the Structure of an Argument
Thinking Critically about Argument
Applying Your Skills: Additional Readings
    *READING: How and Why to Stop Multitasking, Peter Bregman
    *READING: In Defense of Multitasking, David Silverman
20 Writing Arguments
WRITING AN ARGUMENT
What Is an Argument?
    READING: Abolish the Penny, William Safire
    *READING: Eating Meat for the Environment, Lisa M. Hamilton
A GUIDED WRITING ASSIGNMENT
STUDENTS WRITE
    *READING: Pull the Plug on Explicit Lyrics, James Sturm (student essay)
Applying Your Skills: Additional Essay Assignments
Part 5  Writing with Sources

21 Planning a Paper with Sources
When Should You Use Sources?
Planning Your Paper
Choosing and Evaluating Useful Sources
Analyzing and Thinking Critically about Sources
Working with Text: Reading Sources
22 Finding Sources and Taking Notes
An Overview of Library Sources
Doing Research on the World Wide Web
Extracting Information from Sources
Avoiding Plagiarism
Conducting Field Research
Finding Sources for Your Own Topic
23 Writing a Paper Using Sources
Organizing and Writing Your First Draft
Integrating Information from Sources
Revising Your Research Paper
Preparing Your Final Draft
Documenting Your Sources: MLA Style
STUDENTS WRITE
    READING: Do Animals Have Emotions? Nicholas Destino (student essay): MLA style
Documenting Your Sources: APA Style
*STUDENTS WRITE
    READING: Schizophrenia: Definition and Treatment, Sonia Gomez (student essay): APA style
Part  6 Academic and Business Applications

24 Reading and Writing about Literature
    READING: The Bean Eaters, Gwendolyn Brooks
A General Approach to Reading Literature
The Language of Literature
Analyzing Short Stories
    READING: The Secret Lion, Alberto Ríos
    READING: The Story of an Hour, Kate Chopin
Analyzing Poetry
    READING: Two Look at Two, Robert Frost
    READING: Filling Station, Elizabeth Bishop
What Is Literary Analysis?
A GUIDED WRITING ASSIGNMENT
STUDENTS WRITE
    READING: The Keeping of "The Secret Lion," Andrew Decker (student essay)
25 Essay Examinations and Portfolios
ESSAY EXAMINATIONS
Preparing for Essay Exams
Taking Essay Exams
STUDENTS WRITE
Essay Exam Response
Thinking Critically about Essay Exams
PORTFOLIOS
Creating a Writing Portfolio 
STUDENTS WRITE
The Portfolio Assignment
Sample Reflective Essay
26 Oral Presentations and Business Writing
ORAL PRESENTATIONS
Giving Oral Presentations
*BUSINESS WRITING
Preparing a Résumé and Job Application Letter
Writing a Memo
Using Electronic Media for Business Writing
*STUDENTS WRITE
 Résumé, Micah Jackson
 Job Application Letter, Blake Huan
 Business Memo, Rajat Dmeeni
 Business E-mail, Kaitlyn Botano
Part 7  Handbook: Writing Problems and How to Correct Them
(not included in brief version)

REVIEW OF BASIC GRAMMAR
WRITING CORRECT SENTENCES
USING PUNCTUATION CORRECTLY
MANAGING MECHANICS AND SPELLING
ESL TROUBLESPOTS