Note: Supplemental materials are not guaranteed with Rental or Used book purchases.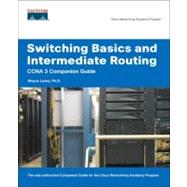 Switching Basics and Intermediate Routing CCNA 3 Companion Guide (Cisco Networking Academy)
ISBN13:
9781587131707
by
Lewis, Wayne
Related Products
Summary
The completely revised and only authorized textbook for the Cisco Networking Academy Program CCNA 3 curriculum.
Table of Contents
Introduction
Introduction to Classless Routing
Objectives
Key Terms
VLSM
Prefix Length
Benefits of VLSM
VLSM Calculations
VLSM Example
CIDR and Route Summarization
Route Aggregation
Supernetting
CIDR Example
Classful and Classless Routing
Classful Routing
Classless Routing
RIP Version 2
RIPv2 Configuration
Verifying RIP Configuration
Troubleshooting RIP Configuration
Chapter Summary
Check Your Understanding
Challenge Questions and Activities
Single-Area OSPF
Objectives
Key Terms
Link-State Routing Overview
Maintaining Routing Information Via Link States
Link-State Routing Protocol Algorithms
Benefits of Link-State Routing
Limitations of Link-State Routing
Single-Area OSPF Concepts
Comparing OSPF with Distance Vector Routing Protocols
OSPF Hierarchical Routing
Dijkstras Algorithm
Single-Area OSPF Configuration
Basic OSPF Configuration
Loopback Interfaces
Modifying the OSPF Cost Metric
OSPF Authentication
OSPF Network Types and OSPF Timers
Propagating a Default Route
Verifying OSPF Configurations
Troubleshooting OSPF
Chapter Summary
Check Your Understanding
Challenge Questions and Activities
EIGRP and Troubleshooting Routing Protocols
Objectives
Additional Topics of Interest
Key Terms
EIGRP Concepts
Comparing EIGRP and IGRP
EIGRP Features
EIGRP Terminology
EIGRP Packet Types
EIGRP Configuration
Basic EIGRP Configuration
Configuring EIGRP Summarization
Verifying the EIGRP Configuration
Troubleshooting Routing Protocols
Troubleshooting RIP
Troubleshooting EIGRP
Troubleshooting OSPF
Additional Topics of Interest
Troubleshooting IGRP
Chapter Summary
Check Your Understanding
Challenge Questions and Activities
Swit4ching Concepts
Objectives
Additional Topics of Interest
Key Terms
Introduction to LAN Switching
LAN Segmentation
Basic Operations of a Switch
Ethernet Switch Latency
Layer 2 and Layer 3 Switching
Symmetric and Asymmetric Switching
Frame Transmission Modes
Switch Operation
Broadcast Domains
Communication Between Switches and Workstations
Additional Topics of Interest
Introduction to Ethernet/802.3 LANs
Chapter Summary
Check Your Understanding
Challenge Questions and Activities
LAN Design and Switches
Objectives
Key Terms
LAN Design
LAN Design Goals
LAN Design Considerations
LAN Design Methodology
Layer 1 Design
Layer 2 Design
Layer 3 Design
LAN Switches
witched LANs and the Hierarchical Design Model
Access Layer Overview
Access Layer Switches
Distribution Layer Overview
Distribution Layer Switches
Core Layer Overview
Core Layer Switches
Chapter Summary
Check Your Understanding
Catalyst Switch Configuration
Objectives
Key Terms
Starting the Switch
Physical Startup of the Catalyst Switch
Switch Port Types
Switch LED Indicators
Viewing Initial Bootup Output from the Switch
Using the System Configuration Dialog
Logging On with the Switch CLI and Using the Help Facility
Configuring the Switch
Catalyst Switch Default Configuration
Basic Catalyst Switch Configuration
Duplex and Speed Configuration
Managing the MA
Table of Contents provided by Publisher. All Rights Reserved.