Note: Supplemental materials are not guaranteed with Rental or Used book purchases.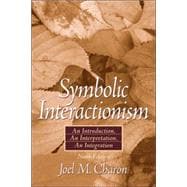 Symbolic Interactionism : An Introduction, an Interpretation, an Integration
ISBN13:
9780132276917
by
Charon, Joel M.
Related Products
Summary
Using a unique step-by-step, integrated approach, Symbolic Interactionism: An Introduction, an Interpretation organizes the basic concepts of symbolic interactionism in such a way that the reader clearly understands the concepts and is able toapply them to their own lives. It emphasizes theactiveside of human beings-humans as definers and users of the environment, humans as problem solvers and in control of their own actions-and it shows students how society makesus, and how we in turnshapesociety.
Table of Contents
Preface
xi

| | |
| --- | --- |
| | 1 The Nature of Perspective |

1
(13)

| | |
| --- | --- |
| | New Perspectives Mean New Realities |

6
(3)

| | |
| --- | --- |
| | Perspectives Are Socially Created |

9
(1)

| | |
| --- | --- |
| | Are All Perspectives Created Equal? |

9
(2)
11
(1)

| | |
| --- | --- |
| | Some Examples of Perspectives: Informal and Formal Perspectives |

11
(3)

| | |
| --- | --- |
| | 2 The Perspective of Social Science |

14
(14)
14
(1)
15
(2)

| | |
| --- | --- |
| | Social Science as a Perspective |

17
(9)

| | |
| --- | --- |
| | Sociology As a Perspective |

18
(2)

| | |
| --- | --- |
| | Psychology As a Perspective |

20
(1)

| | |
| --- | --- |
| | Commonalities and Differences Between Sociology and Psychology |

21
(1)

| | |
| --- | --- |
| | The Perspective of Social Psychology in Psychology |

22
(2)

| | |
| --- | --- |
| | The Perspective of Social Psychology in Sociology |

24
(2)
26
(2)

| | |
| --- | --- |
| | 3 Symbolic Interactionism As a Perspective |

28
(15)

| | |
| --- | --- |
| | Introduction: Five Central Ideas |

29
(1)

| | |
| --- | --- |
| | General Historical Background of Symbolic Interactionism |

30
(5)
31
(1)
32
(2)
34
(1)

| | |
| --- | --- |
| | A Contrast with Other Perspectives: Warriner |

35
(1)

| | |
| --- | --- |
| | Shibutani: Reference Groups as Perspectives |

36
(3)

| | |
| --- | --- |
| | Attitudes Versus Perspectives |

39
(2)
41
(2)

| | |
| --- | --- |
| | 4 The Meaning of the Symbol |

43
(16)
44
(2)

| | |
| --- | --- |
| | Importance of a Socially Defined Reality |

45
(1)

| | |
| --- | --- |
| | Objects as "Social Objects" |

46
(2)
48
(3)
51
(1)
52
(2)
53
(1)
54
(3)

| | |
| --- | --- |
| | How Animals Approach Environment |

55
(1)
56
(1)
57
(2)

| | |
| --- | --- |
| | 5 The Importance of the Symbol |

59
(12)

| | |
| --- | --- |
| | Symbols and Social Reality |

60
(1)

| | |
| --- | --- |
| | Symbols and Human Social Life |

61
(2)

| | |
| --- | --- |
| | Symbols and the Individual |

63
(6)

| | |
| --- | --- |
| | Naming, Memory, Categorizing |

64
(1)
64
(1)
65
(1)

| | |
| --- | --- |
| | Deliberation and Problem Solving |

65
(1)

| | |
| --- | --- |
| | Transcendence of Space and Time |

66
(1)

| | |
| --- | --- |
| | Transcendence of One's Own Person 67 Abstract Reality |

67
(1)
68
(1)
68
(1)

| | |
| --- | --- |
| | The Importance of Symbols: A Summary |

69
(2)
71
(22)
72
(2)

| | |
| --- | --- |
| | Self as Social: Four Social Stages for Self-Development |

74
(4)
75
(1)
75
(1)
76
(1)

| | |
| --- | --- |
| | The Reference Group Stage |

77
(1)

| | |
| --- | --- |
| | Selves as Ever-Changing Social Objects |

78
(1)
79
(1)

| | |
| --- | --- |
| | 1. Action Toward Self: Self-Communication |

80
(1)

| | |
| --- | --- |
| | 2. Action Toward Self: Self-Perception |

81
(7)

| | |
| --- | --- |
| | Self-Perception: Assessment of Our Own Action |

81
(1)

| | |
| --- | --- |
| | Self-Perception: The Development of Self-Concept |

82
(1)

| | |
| --- | --- |
| | Self-Perception: Self-Judgment |

82
(4)

| | |
| --- | --- |
| | Self-Perception: Identity |

86
(2)

| | |
| --- | --- |
| | 3. Action Toward Self: Self-Control |

88
(2)

| | |
| --- | --- |
| | Central Ideas about the Self |

90
(1)
91
(2)
93
(11)

| | |
| --- | --- |
| | The Meaning of Mind: Symbolic Interaction Toward Self |

94
(1)

| | |
| --- | --- |
| | Mind Action: Making Indications Toward Self |

95
(1)

| | |
| --- | --- |
| | Mind Action: The Ability to Control Overt Action |

96
(1)

| | |
| --- | --- |
| | Mind Action: The Ability to Problem Solve |

97
(3)

| | |
| --- | --- |
| | Mind Action Is Part of All Social Interaction |

100
(2)
102
(2)

| | |
| --- | --- |
| | 8 Taking the Role of the Other |

104
(12)

| | |
| --- | --- |
| | Imagination and Taking the Role of the Other |

105
(1)

| | |
| --- | --- |
| | Symbols, Self, Mind, and Taking the Role of the Other |

106
(1)

| | |
| --- | --- |
| | The Meaning of "Taking the Role of the Other" |

107
(2)

| | |
| --- | --- |
| | Taking the Role of the Other: Significant Others, Generalized Other, and Others in the Situation |

109
(2)

| | |
| --- | --- |
| | The Importance of Taking the Role of the Other |

111
(3)
114
(2)
116
(24)
118
(2)
120
(2)

| | |
| --- | --- |
| | Action, Goals, and Social Objects |

122
(1)

| | |
| --- | --- |
| | Mead's Four Stages of the Act |

123
(3)

| | |
| --- | --- |
| | Another Look at Mead's Four Stages of the Act |

125
(1)

| | |
| --- | --- |
| | Locating the "Cause" of Human Action |

126
(2)

| | |
| --- | --- |
| | The Definition of the Situation |

128
(2)
130
(1)

| | |
| --- | --- |
| | The Role of the Past in Human Action |

131
(1)

| | |
| --- | --- |
| | The Role of the Future in Human Action |

132
(1)
133
(2)
135
(2)

| | |
| --- | --- |
| | Human Action and Free Choice |

137
(1)
138
(2)
10 Social Interaction
140
(14)

| | |
| --- | --- |
| | The Meaning of Social Interaction |

141
(3)

| | |
| --- | --- |
| | Social Interaction Develops Out of Social Action |

141
(1)

| | |
| --- | --- |
| | Social Interaction Is Ongoing Social Action Among Actors |

142
(2)

| | |
| --- | --- |
| | The General Importance of Social Interaction |

144
(1)

| | |
| --- | --- |
| | 1. Social Interaction Forms Our Basic Human Qualities |

144
(1)

| | |
| --- | --- |
| | 2. Social Interaction Is an Importance Cause of Human Action |

145
(3)

| | |
| --- | --- |
| | 3. Social Interaction Shapes Identities |

148
(5)

| | |
| --- | --- |
| | 4. Social Interaction Creates Society |

153
(1)
153
(1)
11 Society
154
(20)
155
(1)

| | |
| --- | --- |
| | Groups, Organizations, Social Worlds, and Societies |

156
(1)

| | |
| --- | --- |
| | 1. Society Is Symbolic Interaction |

157
(2)

| | |
| --- | --- |
| | 2. Society Is Symbolic Interaction That Is Characterized by Cooperative Action |

159
(3)

| | |
| --- | --- |
| | 3. Society Is Social Interaction That Is Symbolic, That Is Characterized by Cooperation, and That Develops Culture |

162
(5)

| | |
| --- | --- |
| | Culture Is a Shared Perspective |

162
(1)

| | |
| --- | --- |
| | Culture Is a Generalized Other |

163
(1)

| | |
| --- | --- |
| | Culture Maintains Society |

164
(1)
165
(2)

| | |
| --- | --- |
| | The Meaning of Society: A Summary |

167
(2)

| | |
| --- | --- |
| | The Individual Exists Within Many Societies |

169
(2)

| | |
| --- | --- |
| | The Active Human Being in Society |

171
(1)
172
(2)
12 Erving Goffman
174
(15)

| | |
| --- | --- |
| | Goffman and Symbolic Interactionism |

174
(1)
175
(4)

| | |
| --- | --- |
| | Impressions and Performance |

175
(2)
177
(1)

| | |
| --- | --- |
| | Reaction to Goffman's Dramaturgical View |

178
(1)

| | |
| --- | --- |
| | The Self of Social Interaction |

179
(3)
179
(1)
180
(2)
182
(3)
182
(2)
184
(1)

| | |
| --- | --- |
| | The Environments of Social Interaction |

185
(2)
187
(2)
13 Symbolic Interactionism: A Final Assessment
189
(28)

| | |
| --- | --- |
| | Symbolic Interactionism and Human Freedom: A Review |

190
(2)

| | |
| --- | --- |
| | Symbolic Interactionism and Science |

192
(4)

| | |
| --- | --- |
| | Symbolic Interactionism: Some Representative Studies |

196
(9)

| | |
| --- | --- |
| | A Study of Pregnant Drug Users |

196
(1)

| | |
| --- | --- |
| | A Study of Sam's Definition of Pain and Injury |

197
(1)

| | |
| --- | --- |
| | A Study of Identity Formation in a Maximum-Security Prison |

198
(2)

| | |
| --- | --- |
| | A Study of First-time Tattooees |

200
(1)

| | |
| --- | --- |
| | A Study of Compulsive Gamblers |

201
(1)

| | |
| --- | --- |
| | A Study of Student Anxiety: Not Studying Hegel So Much as Doing Laundry |

202
(3)

| | |
| --- | --- |
| | Symbolic Interactionism: Some Examples of Application |

205
(9)

| | |
| --- | --- |
| | An Understanding of Society |

206
(1)

| | |
| --- | --- |
| | An Understanding of Racism in Society |

207
(2)

| | |
| --- | --- |
| | An Understanding of Gender Differences |

209
(2)

| | |
| --- | --- |
| | An Understanding of Childhood Socialization |

211
(2)

| | |
| --- | --- |
| | Symbolic Interactionism: A View of the College Experience |

213
(1)

| | |
| --- | --- |
| | Symbolic Interactionism: A Final Look at Application |

213
(1)

| | |
| --- | --- |
| | The Importance of the Symbolic Interactionist Perspective |

214
(2)
216
(1)
References
217
(12)
Index
229
Excerpts
Preface For many students a book entitled symbolic interactionism" might be too academic, or too much like jargon, or a forbidding mystery. To me, however, it is exactly on the money. That is because this whole book is a description of a social psychology that focuses on the importance of interaction as the basis for what individuals and societies are made of, and that interaction is always symbolic. I like symbolic interactionism because it addresses so many of the issues that are important for those people who wrestle with what the human being is and why the human being acts. It is a unique perspective in that it is part of what we call social science, yet it is very probablistic in its predictions. That is, it does not normally identify a single cause" when it understands human action. Instead, its studies focus on the history of action, the many decisions and choices people make as they act. Interaction with others is almost always important, but interaction takes us one way, then the other. It treats the human being not as a passive responder to the environment, a being who is conditioned, who is pushed around by environment and biology. Instead, people are active in their environment, determining to a great extent what they do, think, and become. Symbolic interactionism is a context within which we can understand both the uniqueness of humankind and the ways human beings are similar to to other animals. The first edition of this book attempted to fulfill a promise I made to myself in graduate school: to write a clear, organized, and interesting introduction to symbolic interaction, a perspective that seemed to have interesting ideas and studies, but did not seem to hold together. Integration of the ideas became central to this book. I hope you will find this perspective interesting, organized, and useful. This is the ninth edition. Each time I attempt to improve on what I have written before, it brings a certain humility to my work. Each time I revise I wonder hhow in the world I could ever have written what I had previously. The publisher this time chose excellent reviewers, and many of their suggestions were made. I try to update, correct errors and ambiguities, and reorganize chapters so that they make better sense. In this edition I have made changes in almost every chapter, and I have redone large parts of chapters 4 (The Meaning of Symbols), 6 (The Nature of the Self), 9 (Human Action) and 10 (Social Interaction). Because of a suggestion by a reviewer I decided to add interesting and relevant introductions to each chapter, highlighting the importance of what the chapter is. I believe this makes the book far more attractive to the student and is a good pedagogical tool. Always I try to appeal to students who think sociologically and students who are attracted to the world of ideas. This book is an attempt to contribute to the mystery of what human beings are, their essence. I dedicate this book to my wife, Susan, who continues to be my best friend and greatest supporter. Joel M. Charon Professor Emeritus Minnesota State University Moorhead