Note: Supplemental materials are not guaranteed with Rental or Used book purchases.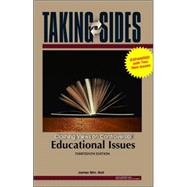 Taking Sides Educational Issues : Clashing Views on Controversial Educational Issues
ISBN13:
9780073191539
by
Noll, James Wm
Summary
This debate-style reader is designed to introduce students to controversies in education. The issues reflect viewpoints on fundamental issues such as: should school attendance be compelled; can charter schools revitalize public education, and do school uniforms promote safety and improve discipline. For additional support on this title, visit our student website Dushkin Online (www.dushkin.com/online/).
Table of Contents
Preface
v
Introduction: Ways of Thinking About Educational Issues
xv
PART 1 ENDURING ISSUES
1
(90)

| | |
| --- | --- |
| | Issue 1. Should Schooling Be Based on Social Experiences? |

2
(16)

| | |
| --- | --- |
| | YES: John Dewey, from Experience and Education (Macmillan, 1938) |

4
(7)

| | |
| --- | --- |
| | NO: Robert M. Hutchins, from The Conflict in Education in a Democratic Society (Harper & Row, 1953) |

11
(7)

| | |
| --- | --- |
| | Philosopher John Dewey suggests a reconsideration of traditional approaches to schooling, giving fuller attention to the social development of the learner and the quality of his or her total experience. Robert M. Hutchins, noted educator and one-time chancellor of the University of Chicago argues for a liberal arts education geared to the development of intellectual powers. |

| | |
| --- | --- |
| | Issue 2. Should the Curriculum Be Standardized for All? |

18
(16)

| | |
| --- | --- |
| | YES: Mortimer J. Adler, from "The Paideia Proposal: Rediscovering the Essence of Education," American School Board Journal (July 1982) |

20
(7)

| | |
| --- | --- |
| | NO: John Holt, from Escape From Childhood (E.P. Dutton, 1974) |

27
(7)

| | |
| --- | --- |
| | Philosopher Mortimer J. Adler contends that democracy is best served by a public school system that establishes uniform curricular objectives for all students. Educator John Holt argues that an imposed curriculum damages the individual and usurps a basic human right to select one's own path of development. |

| | |
| --- | --- |
| | Issue 3. Should Behaviorism Shape Educational Practices? |

34
(18)

| | |
| --- | --- |
| | YES: B.F. Skinner, from Beyond Freedom and Dignity (Alfred A. Knopf, 1971) |

36
(6)

| | |
| --- | --- |
| | NO: Carl R. Rogers, from Freedom to Learn for the Eighties (Merrill, 1983) |

42
(10)

| | |
| --- | --- |
| | B.F. Skinner, an influential proponent of behaviorism and professor of psychology, critiques the concept of "inner freedom" and links learning and motivation to the influence of external forces. Professor of psychology and psychiatry Carl R. Rogers offers the "humanistic" alternative to behaviorism, insisting on the reality of subjective forces in human motivation. |

| | |
| --- | --- |
| | Issue 4. Should Church-State Separation Be Maintained? |

52
(20)

| | |
| --- | --- |
| | YES: R. Freeman Butts, from "A History and Civics Lesson for All of Us," Educational Leadership (May 1987) |

54
(6)

| | |
| --- | --- |
| | NO: Robert L. Cord, from "Church-State Separation and the Public Schools: A Re-evaluation," Educational Leadership (May 1987) |

60
(12)

| | |
| --- | --- |
| | Professor emeritus of education R. Freeman Butts warns that current efforts to redefine the relationship between religion and schooling are eroding the Constitution's intent. Professor of political science Robert L. Cord offers a more accommodating interpretation of this intent, one that allows for the school practices that Butts condemns as unconstitutional. |

| | |
| --- | --- |
| | Issue 5. Should School Attendance Be Compelled? |

72
(19)

| | |
| --- | --- |
| | YES: Horace Mann, from Tenth Annual Report and Twelfth Annual Report (1846 and 1848) |

74
(4)

| | |
| --- | --- |
| | NO: Daniel H. Pink, from "School's Out," Reason (October 2001) |

78
(14)

| | |
| --- | --- |
| | Horace Mann, a leader of the common school movement in the nineteenth century, presents the basic arguments for publicly funded education in which all citizens could participate and lays the groundwork for compulsory attendance laws. Writer-editor Daniel H. Pink declares compulsory mass schooling an aberration and finds hope in the home schooling revolution and the ultimate demise of high school. |

PART 2 CURRENT FUNDAMENTAL ISSUES
91
(104)

| | |
| --- | --- |
| | Issue 6. Can "Character Education" Reverse Moral Decline? |

92
(28)

| | |
| --- | --- |
| | YES: Thomas Lickona, from "The Return of Character Education," Educational Leadership (November 1993) |

94
(8)

| | |
| --- | --- |
| | NO: Alfie Kohn, from "How Not to Teach Values: A Critical Look at Character Education," Phi Delta Kappan (February 1997) |

102
(18)

| | |
| --- | --- |
| | Developmental psychologist Thomas Lickona, a leading exponent of the new character education, details the rationale behind the movement and charts a course of action to deal with the moral decline of American youth. Writer-lecturer Alfie Kohn sees current attempts at character education as mainly a collection of exhortations and extrinsic inducements that avoid more penetrating efforts at social and moral development. |

| | |
| --- | --- |
| | Issue 7. Should Multiculturalism Permeate the Curriculum? |

120
(12)

| | |
| --- | --- |
| | YES: Sonia Nieto, from "What Does It Mean to Affirm Diversity?" The School Administrator (May 1999) |

122
(4)

| | |
| --- | --- |
| | NO: Thomas J. Famularo, from "The Intellectual Bankruptcy of Multiculturalism," USA Today Magazine, a publication of the Society for the Advancement of Education (May 1996) |

126
(6)

| | |
| --- | --- |
| | Professor of language, literacy, and culture Sonia Nieto examines the realities of diversity in American society that underlie an effective approach to multicultural education. Former English instructor Thomas J. Famularo contends that the multiculturalism movement, rather than representing diversity, is centered on the themes of race and gender and the debunking of Western culture. |

| | |
| --- | --- |
| | Issue 8. Can Federal Initiatives Rescue Failing Schools? |

132
(18)

| | |
| --- | --- |
| | YES: Andrew Rotherham, from "A New Partnership," Education Next (Spring 2002) |

134
(6)

| | |
| --- | --- |
| | NO: Peter Schrag, from "Bush's Education Fraud," The American Prospect (February 2004) |

140
(10)

| | |
| --- | --- |
| | Education policy expert Andrew Rotherham argues that new federally imposed accountability standards will enhance opportunity and overhaul failing schools. Education writer-editor Peter Schrag finds the Bush Administration's No Child Left Behind act to be confusing, underfunded, and ultimately self-defeating. |

| | |
| --- | --- |
| | Issue 9. Do High-Stakes Assessments Improve Learning? |

150
(22)

| | |
| --- | --- |
| | YES: Nina Hurwitz and Sol Hurwitz, from "Tests That Count," American School Board Journal (January 2000) |

152
(9)

| | |
| --- | --- |
| | NO: Martin G. Brooks and Jacqueline Grennon Brooks, from "The Courage to Be Constructivist," Educational Leadership (November 1999) |

161
(11)

| | |
| --- | --- |
| | High school teacher Nina Hurwitz and education consultant Sol Hurwitz assemble evidence from states that are leading the movement to set high standards of educational performance and cautiously conclude that it could stimulate long-overdue renewal. High school superintendent Martin G. Brooks and associate professor of education Jacqueline Grennon Brooks contend that the push for standardized state assessments constricts student learning and prevents implementation of constructivism. |

| | |
| --- | --- |
| | Issue 10. Have Public Schools Failed Society? |

172
(23)

| | |
| --- | --- |
| | YES: William J. Bennett et al., from "A Nation Still at Risk," Policy Review (July/August 1998) |

174
(11)

| | |
| --- | --- |
| | NO: Forrest J. Troy, from "The Myth of Our Failed Education System," The School Administrator (September 1998) |

185
(11)

| | |
| --- | --- |
| | Former secretary of education William J. Bennett and 36 other leaders and scholars examine the state of public schooling on the 15th anniversary of the publication of the U.S. Department of Education report A Nation at Risk and issue a new manifesto for needed reforms. Veteran newspaper editor Forrest J. (Frosty) Troy counteracts the continued criticism of the public schools with a point-by-point presentation of facts. |

PART 3 CURRENT SPECIFIC ISSUES
195
(204)

| | |
| --- | --- |
| | Issue 11. Has the Supreme Court Reconfigured American Education? |

196
(18)

| | |
| --- | --- |
| | YES: Charles L. Glenn, from "Fanatical Secularism," Education Next (Winter 2003) |

198
(8)

| | |
| --- | --- |
| | NO: Paul E. Peterson, from "Victory for Vouchers?" Commentary (September 2002) |

206
(8)

| | |
| --- | --- |
| | Professor of education Charles L. Glenn argues that the Supreme Court's decision in Zelman v. Simmons-Harris is an immediate antidote to the public school's secularist philosophy. Professor of government Paul E. Peterson, while welcoming the decision, contends that the barricades against widespread use of vouchers in religious schools will postpone any lasting effects. |

| | |
| --- | --- |
| | Issue 12. Can Charter Schools Revitalize Public Education? |

214
(20)

| | |
| --- | --- |
| | YES: Chester E. Finn, Jr., Bruno V. Manno, and Gregg Vanourek, from "The Radicalization of School Reform," Society (May/June 2001) |

216
(9)

| | |
| --- | --- |
| | NO: Marc F. Bernstein, from "Why I'm Wary of Charter Schools," The School Administrator (August 1999) |

225
(9)

| | |
| --- | --- |
| | Former assistant secretaries of education Chester E. Finn, Jr., and Bruno V. Manno, along with Gregg Vanourek, vice president of the Charter School Division of the K12 education program, provide an update on the charter school movement, which, they contend, is reinventing public education. School superintendent Marc F. Bernstein sees increasing racial and social class segregation, church-state issues, and financial harm as outgrowths of the charter school movement. |

| | |
| --- | --- |
| | Issue 13. Have Public Schools Adequately Accommodated Religion? |

234
(14)

| | |
| --- | --- |
| | YES: Edd Doerr, from "Religion and Public Education," Phi Delta Kappan (November 1998) |

236
(5)

| | |
| --- | --- |
| | NO: Warren A. Nord, from "The Relevance of Religion to the Curriculum," The School Administrator (January 1999) |

241
(7)

| | |
| --- | --- |
| | Edd Doerr, executive director of Americans for Religious Liberty, asserts that a fair balance between free exercise rights and the obligation of neutrality has been achieved in the public schools. Warren A. Nord, a professor of the philosophy of religion, contends that the schools are still too secular and that a place in the curriculum must be found for religion. |

| | |
| --- | --- |
| | Issue 14. Is Full Inclusion of Disabled Students Desirable? |

248
(18)

| | |
| --- | --- |
| | YES: Richard A. Villa and Jacqueline S. Thousand, from "Making Inclusive Education Work," Educational Leadership (October 2003) |

250
(7)

| | |
| --- | --- |
| | NO: Karen Agne, from "The Dismantling of the Great American Public School," Educational Horizons (Spring 1998) |

257
(9)

| | |
| --- | --- |
| | Education consultant Richard A. Villa and Assistant professor of education Jacqueline S. Thousand review the implementation of the Individuals with Disabilities Education Act and suggest strategies for fulfilling its intentions. Assistant professor of education Karen Agne argues that legislation to include students with all sorts of disabilities has had mostly negative effects and contributes to the exodus from public schools. |

| | |
| --- | --- |
| | Issue 15. Is Size Crucial to School Improvement? |

266
(12)

| | |
| --- | --- |
| | YES: Patricia A. Wasley, from "Small Classes, Small Schools: The Time Is Now," Educational Leadership (February 2002) |

268
(5)

| | |
| --- | --- |
| | NO: Kirk A. Johnson, from "The Downside to Small Class Policies," Educational Leadership (February 2002) |

273
(5)

| | |
| --- | --- |
| | Education dean Patricia A. Wasley contends that schools and classrooms must be small if they are to be places where students' personal and learning needs are met. Policy analyst Kirk A. Johnson, of the Heritage Foundation, argues that while small scale is a popular concept when it comes to class size, the cost is not justified by research findings. |

| | |
| --- | --- |
| | Issue 16. Should Bilingual Education Programs Be Abandoned? |

278
(26)

| | |
| --- | --- |
| | YES: Rosalie Pedalino Porter, from "The Politics of Bilingual Education," Society (September/October 1997) |

280
(10)

| | |
| --- | --- |
| | NO: Richard Rothstein, from "Bilingual Education: The Controversy," Phi Delta Kappan (May 1998) |

290
(14)

| | |
| --- | --- |
| | Rosalie Pedalino Porter, director of the Research in English Acquisition and Development Institute, offers a close examination of the major research studies and concludes that there is no consistent support for transitional bilingual education programs. Richard Rothstein, a research associate of the Economic Policy Institute, reviews the history of bilingual education and argues that, although many problems currently exist, there is no compelling reason to abandon these programs. |

| | |
| --- | --- |
| | Issue 17. Does School Violence Warrant a Zero-Tolerance Policy? |

304
(24)

| | |
| --- | --- |
| | YES: Albert Shanker, from "Restoring the Connection Between Behavior and Consequences," Vital Speeches of the Day (May 15, 1995) |

306
(10)

| | |
| --- | --- |
| | NO: Pedro A. Noguera, from "The Critical State of Violence Prevention," The School Administrator (February 1996) |

316
(12)

| | |
| --- | --- |
| | Albert Shanker, president of the American Federation of Teachers (AFT), advocates a "get tough" policy for dealing with violent and disruptive students in order to send a clear message that all students are responsible for their own behavior. Education professor Pedro A. Noguera contends that zero-tolerance policies most often punish students who have the greatest social, emotional, and academic needs, thereby defeating a central purpose of public schooling. |

| | |
| --- | --- |
| | Issue 18. Should Homework Be Abolished? |

328
(16)

| | |
| --- | --- |
| | YES: Etta Kralovec and John Buell, from "End Homework Now," Educational Leadership (April 2001) |

330
(5)

| | |
| --- | --- |
| | NO: David Skinner, from "The Homework Wars," The Public Interest (Winter 2004) |

335
(9)

| | |
| --- | --- |
| | Learning specialist Etta Kralovec and journalist John Buell attack the assignment of homework as a pedagogical practice, claiming that it disrupts family life and punishes the poor. Editor David Skinner negatively reacts to Kralovec and Buell's book, The End of Homework, citing research to undermine their postion. |

| | |
| --- | --- |
| | Issue 19. Should Technology Lead the Quest for Better Schools? |

344
(16)

| | |
| --- | --- |
| | YES: Barbara Means, from "Technology Use in Tomorrow's Schools," Educational Leadership (December 2000/January 2001) |

346
(7)

| | |
| --- | --- |
| | NO: Jane M. Healy, from "The Mad Dash to Compute," The School Administrator (April 1999) |

353
(7)

| | |
| --- | --- |
| | Barbara Means, codirector of the Center for Technology in Learning at SRI International, explores the roots of educational technology and paints an optimistic picture of its future impact on meaningful learning. Jane M. Healy, an educational psychologist, raises serious questions about the long-term ramifications of technology use in schools. |

| | |
| --- | --- |
| | Issue 20. Can Merit Pay Accelerate School Improvement? |

360
(16)

| | |
| --- | --- |
| | YES: Steven Malanga, from "Why Merit Pay Will Improve Teaching," City Journal (Summer 2001) |

362
(6)

| | |
| --- | --- |
| | NO: Al Ramirez, from "How Merit Pay Undermines Education," Educational Leadership (February 2001) |

368
(8)

| | |
| --- | --- |
| | Steven Malanga, a senior fellow of the Manhattan Institute, draws on examples from the corporate world and from public school systems in Cincinnati, Iowa, and Denver to make his case for performance-based merit pay for teachers. Associate professor of education Al Ramirez contends that merit pay programs misconstrue human motivation and devalue the work of teachers. |

| | |
| --- | --- |
| | Issue 21. Should Alternative Teacher Training Be Encouraged? |

376
(23)

| | |
| --- | --- |
| | YES: Robert Holland, from "How to Build a Better Teacher," Policy Review (April & May 2001) |

378
(9)

| | |
| --- | --- |
| | NO: Linda Darling-Hammond, from "How Teacher Education Matters," Journal of Teacher Education (May/June 2000) |

387
(13)

| | |
| --- | --- |
| | Public policy researcher Robert Holland argues that current certification programs are inadequate, especially given the growing shortage of teachers. Educational professor Linda Darling-Hammond offers evidence of failure among alternative programs and responds to criticism of standard professional preparation. |

PART 3 BONUS ISSUES
399
(32)

| | |
| --- | --- |
| | Issue 22. Can the Public Schools Produce Good Citizens? |

400
(16)

| | |
| --- | --- |
| | YES: Stephen Macedo, from "Crafting Good Citizens," Education Next (Spring 2004) |

402
(6)

| | |
| --- | --- |
| | NO: Chester E. Finn, Jr., from "Faulty Engineering," Education Next (Spring 2004) |

408
(8)

| | |
| --- | --- |
| | Princeton politics professor Stephen Macedo expresses confidence in the public schools' ability to teach students to become active participants in our democracy, suggesting that naysayers may wish to undermine all public institutions. Thomas B. Fordham Foundation president Chester E. Finn, Jr., contends that the diversity of the American population makes the public schools ill-equipped to produce the engaged citizens our democracy requires. |

| | |
| --- | --- |
| | Issue 23. Has Resegregation Diminished the Impact of Brown? |

416
(15)

| | |
| --- | --- |
| | YES: Gary Orfield, Erica D. Frankenberg, and Chungmei Lee, from "The Resurgence of School Segregation," Educational Leadership (December 2002/January 2003) |

418
(7)

| | |
| --- | --- |
| | NO: Juan Williams, from "The Ruling That Changed America," American School Board Jounal (April 2004) |

425
(6)

| | |
| --- | --- |
| | Harvard professor Gary Orfield and his research associates present evidence that school resegregation has been increasing almost everywhere in recent years, placing a cloud over the fiftieth anniversary celebration of the Brown decision. Journalist and commentator Juan Williams, while recognizing the slow pace and backward steps involved in school desegregation, argues that the social and cultural changes inaugurated by Brown mark it as a monumental ruling. |

Contributors
431
(5)
Index
436