Note: Supplemental materials are not guaranteed with Rental or Used book purchases.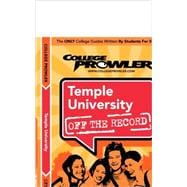 Summary
No university affiliations. No half-truths. No out-of-touch authors who haven't been in school for decades. A class project turned company, College Prowler produces guidebooks that are written by actual college students and cover the things students really want to know. Unlike other guides that jam everything into a five-pound book and devote only two pages to each college, our single-school guidebooks give students only the schools they want and all the information they need. From academics and diversity to nightlife and sports, we let the students tell it how it is. In addition to editorial reviews and grades for 20 different topics, more than 80 percent of each guide is composed of actual student reviews of their school. Whether readers are looking for "Best and Worst" lists, "Did You Knows?" or traditions, College Prowler guides have it all. Our books are the only place for local slang, urban legends, and tips on the best places to find a date, study, or grab a bite to eat.
Table of Contents
By the Numbers
p. 1
Academics
p. 4
Local Atmosphere
p. 10
Safety & Security
p. 16
Computers
p. 21
Facilities
p. 26
Campus Dining
p. 31
Off-Campus Dining
p. 37
Campus Housing
p. 45
Off-Campus Housing
p. 53
Diversity
p. 57
Guys & Girls
p. 62
Athletics
p. 67
Nightlife
p. 74
Greek Life
p. 81
Drug Scene
p. 86
Campus Strictness
p. 90
Parking
p. 94
Transportation
p. 99
Weather
p. 105
Report Card Summary
p. 109
Overall Experience
p. 110
The Inside Scoop
p. 114
Finding a Job or Internship
p. 120
Alumni
p. 122
Student Organizations
p. 124
The Best & Worst
p. 128
Visiting
p. 130
Words to Know
p. 136
Table of Contents provided by Ingram. All Rights Reserved.