Note: Supplemental materials are not guaranteed with Rental or Used book purchases.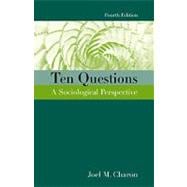 Ten Questions A Sociological Perspective
ISBN13:
9780534570514
by
Charon, Joel M.
Questions About This Book?
What version or edition is this?
This is the 4th edition with a publication date of 6/21/2000.
What is included with this book?
The New copy of this book will include any supplemental materials advertised. Please check the title of the book to determine if it should include any CDs, lab manuals, study guides, etc.
Summary
This book employs a unique approach to introducing and examining sociological principles by posing and answering in each chapter a question such as What does it mean to be human?; Are human beings free?; and Why is there misery in the world? The book examines the philosophies of classical sociologists such as Marx, Weber, Durkheim, Mead, and Berger and looks at how the field of sociology has approached these questions over the past 150 years.
Table of Contents
Preface
ix
Introduction
1
(6)

| | |
| --- | --- |
| | How Do Sociologists Study Society? |

7
(22)

| | |
| --- | --- |
| | Researching the Social World |

| | |
| --- | --- |
| | The Beginnings of Rational Proof |

7
(2)

| | |
| --- | --- |
| | Proof, Science, and Sociology |

9
(10)

| | |
| --- | --- |
| | Two Assumptions of Science |

19
(3)

| | |
| --- | --- |
| | Sociology: Understanding the Puzzle of Society |

22
(1)
23
(2)

| | |
| --- | --- |
| | How Do Sociologists Study Society? |

25
(1)
25
(4)

| | |
| --- | --- |
| | What Does It Mean to Be Human? |

29
(18)

| | |
| --- | --- |
| | Human Nature, Society, and Culture |

| | |
| --- | --- |
| | Human Beings Are Social Beings |

31
(9)

| | |
| --- | --- |
| | Human Beings Are Cultural Beings |

40
(2)
42
(1)
43
(1)

| | |
| --- | --- |
| | What Does It Mean to Be Human? |

44
(1)
44
(3)
47
(56)

| | |
| --- | --- |
| | The Basis for Social Order |

| | |
| --- | --- |
| | Societies and Nations: Social Organization vs. Political Organization |

48
(3)

| | |
| --- | --- |
| | Society Is Possible Through Social Interaction |

51
(4)

| | |
| --- | --- |
| | Society Depends on Social Patterns |

55
(8)

| | |
| --- | --- |
| | Society Is Made Possible Through Feelings of Loyalty |

63
(3)

| | |
| --- | --- |
| | Conflict and Change Help Preserve Society |

66
(1)
67
(1)
68
(1)
69
(4)

| | |
| --- | --- |
| | Why Are People Unequal in Society? |

| | |
| --- | --- |
| | The Origin and Perpetuation of Social Inequality |

73
(30)
73
(2)

| | |
| --- | --- |
| | Why Does Inequality Emerge in the First Place? |

75
(12)

| | |
| --- | --- |
| | Why Does Inequality Continue? |

87
(9)
96
(1)

| | |
| --- | --- |
| | Why Are People Unequal in Society? |

97
(1)
97
(6)

| | |
| --- | --- |
| | Why Do We Believe What We Do? |

103
(22)

| | |
| --- | --- |
| | The Creation of Social Reality |

104
(1)

| | |
| --- | --- |
| | The Social Construction of Reality |

105
(6)

| | |
| --- | --- |
| | Social Structure and Reality |

111
(5)

| | |
| --- | --- |
| | The Changing Nature of the Individual's Reality |

116
(2)

| | |
| --- | --- |
| | The Importance of Our Past |

118
(1)

| | |
| --- | --- |
| | Do Individuals Form Their Own Ideas? |

119
(1)
120
(1)

| | |
| --- | --- |
| | Why Do We Believe What We Do? |

121
(1)
121
(4)
125
(28)

| | |
| --- | --- |
| | The Possibility for Freedom in Society |

| | |
| --- | --- |
| | The Meaning of Freedom and Responsibility |

126
(1)

| | |
| --- | --- |
| | Freedom as a Value in American Culture |

127
(1)

| | |
| --- | --- |
| | The Sociological View: The Power of Society |

128
(4)

| | |
| --- | --- |
| | Freedom: Thought and Action |

132
(1)

| | |
| --- | --- |
| | Society and the Control of Thought |

133
(3)

| | |
| --- | --- |
| | Summary: Freedom and Thinking |

136
(1)

| | |
| --- | --- |
| | Society and the Control of Action |

137
(8)

| | |
| --- | --- |
| | Social Forces and the Individual: A Summary |

145
(1)
145
(4)
149
(1)
149
(1)
149
(4)

| | |
| --- | --- |
| | Why Can't Everyone Be Just Like Us? |

153
(22)

| | |
| --- | --- |
| | The Dilemma of Ethnocentrism |

154
(1)

| | |
| --- | --- |
| | Values and Making Value Judgments |

155
(3)
158
(1)

| | |
| --- | --- |
| | The Reasons for Ethnocentrism |

159
(7)
166
(4)
170
(2)

| | |
| --- | --- |
| | Why Can't Everyone Be Just Like Us? |

172
(1)
172
(3)

| | |
| --- | --- |
| | Why Is There Misery in the World? |

175
(34)

| | |
| --- | --- |
| | Society as an Important Source of Human Problems |

| | |
| --- | --- |
| | The First Cause of Misery: Social Inequality |

180
(9)

| | |
| --- | --- |
| | The Second Cause of Misery: Destructive Social Conflict |

189
(4)

| | |
| --- | --- |
| | The Third Cause of Misery: Socialization |

193
(3)

| | |
| --- | --- |
| | The Fourth Cause of Misery: Alienation |

196
(4)
200
(2)

| | |
| --- | --- |
| | Why Is There Misery in the World? |

202
(1)
203
(6)

| | |
| --- | --- |
| | Does the Individual Really Make a Difference? |

209
(26)

| | |
| --- | --- |
| | An Introduction to Social Change |

| | |
| --- | --- |
| | The Individual's Influence on His or Her Own Life |

210
(1)

| | |
| --- | --- |
| | The Individual's Influence on Other Individuals |

211
(4)

| | |
| --- | --- |
| | The Individual Versus Social Organization |

215
(6)

| | |
| --- | --- |
| | Social Change: A Sociological View |

221
(8)

| | |
| --- | --- |
| | Some Implications for Living |

229
(1)
230
(1)

| | |
| --- | --- |
| | Does the Individual Really Make a Difference? |

231
(1)
231
(4)
235
(12)

| | |
| --- | --- |
| | The Necessity for a Critical Understanding of Society |

| | |
| --- | --- |
| | Sociology and a Liberal Arts Education |

235
(1)
236
(7)
243
(1)
244
(1)
245
(2)
Afterword
247
(20)

| | |
| --- | --- |
| | Should We Generalize About People? |

| | |
| --- | --- |
| | Categories and Generalizations |

248
(5)
253
(3)

| | |
| --- | --- |
| | Social Science: A Reaction to Stereotypes |

256
(6)
262
(2)

| | |
| --- | --- |
| | Should We Generalize About People? |

264
(1)
265
(2)
Glossary
267
(16)
Index
283