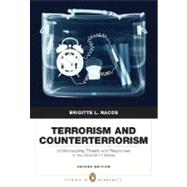 Terrorism and Counterterrorism : Understanding Threats and Responses in the Post-9/11 World
by
Nacos, Brigitte L
Summary
Focusing on the phenomenon of terrorism in the post-Cold War and post-9/11 era,Terrorism and Counterterrorismlooks at this form of political violence in an international and American context and in light of new and historical trends. Broadly addressing the question "What is terrorism?," Brigitte Nacos, a renowned expert in the field, clearly defines and discusses terrorismrs"s many causes, actors, and strategies as well as anti- and counter-terrorist responses. In addition, this text uniquely investigates terrorismrs"s relationship with the media and the public. Comprehensive and highly readable,Terrorism and Counterterrorismintroduces students to key concepts in the study of terrorism and political violence and helps them challenge preconceptions of this complex and vital issue.
Table of Contents
Introduction: The Terrorist Threat
Terrorism
The Perennial Debate: What is Terrorism?
Terrorism in the Global Context
Terrorism in the American Context
Religious Terrorism: Political Violence in the Name of God
The Making of a Terrorists: Causes, Conditions, Influences
From State Sponsors to Involuntary Hosts
Common Thread: Goals, Targets, Tactics
Organizational Structures and the Financing of Terror
Anti- and Counter-Terrorism
Balancing Security, Liberty, and Human Rights
Military and Non-Military Responses
Preparedness and Prevention
The Media and the Public
Terrorist Propaganda and the Media
Terror and Hate in Cyberspace
Anti- and Counter-Terrorism in the News
Terrorism and the Public
Conclusion: Living with Terrorist Threats
Appendix. Major Terrorist Incidents Since the Early 1970s
Table of Contents provided by Publisher. All Rights Reserved.