Note: Supplemental materials are not guaranteed with Rental or Used book purchases.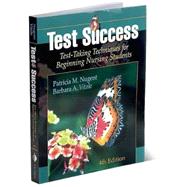 Questions About This Book?
What version or edition is this?
This is the 4th edition with a publication date of 3/1/2004.
What is included with this book?
The Used copy of this book is not guaranteed to include any supplemental materials. Typically, only the book itself is included.
Summary
Test Success is the only book that offers students solid, reliable, advice about studying for nursing exams to develop the skills and confidence they need to maximize success. They will learn time management, effective studying habits, and critical problem solving. The book's proven techniques for enhancing performance, along with classroom-tested practice questions, will guide students through the mastery of the examination process.
Table of Contents
Illustration Credits
xiii
How to Use This Book to Maximize Success
xv
1 Empowerment
1
(8)

| | |
| --- | --- |
| | Develop a Positive Mental Attitude, |

1
(5)

| | |
| --- | --- |
| | Establish a Positive Internal Locus of Control, |

2
(1)

| | |
| --- | --- |
| | Challenge Negative Thoughts, |

2
(1)

| | |
| --- | --- |
| | Use Controlled Breathing (Diaphragmatic Breathing), |

3
(1)

| | |
| --- | --- |
| | Desensitize Yourself to the Fear Response, |

4
(1)

| | |
| --- | --- |
| | Perform Muscle Relaxation, |

5
(1)
5
(1)
6
(1)
6
(1)

| | |
| --- | --- |
| | Establish Control Before and During the Test, |

6
(2)

| | |
| --- | --- |
| | Manage Your Daily Routine Before the Test, |

7
(1)

| | |
| --- | --- |
| | Manage Your Study Habits Before the Test, |

7
(1)

| | |
| --- | --- |
| | Manage Your Travel the Day of the Test, |

7
(1)

| | |
| --- | --- |
| | Manage the Supplies You Need for the Test, |

7
(1)

| | |
| --- | --- |
| | Manage Your Personal Comfort, |

7
(1)

| | |
| --- | --- |
| | Manage the Test Environment, |

8
(1)

| | |
| --- | --- |
| | Maintain a Positive Mental Attitude, |

8
(1)

| | |
| --- | --- |
| | Manage Your Physical and Emotional Responses, |

8
(1)
8
(1)
2 Critical Thinking
9
(10)

| | |
| --- | --- |
| | Definition of Critical Thinking, |

10
(1)

| | |
| --- | --- |
| | Critical Thinking in Nursing, |

10
(3)

| | |
| --- | --- |
| | Left-Brain and Right-Brain Hemisphere Information Functioning, |

11
(1)
12
(1)

| | |
| --- | --- |
| | Levels of Critical Thinking, |

12
(1)

| | |
| --- | --- |
| | Practice Critical Thinking, |

13
(4)

| | |
| --- | --- |
| | Apply Critical Thinking to Multiple-Choice Questions, |

14
(3)
17
(1)

| | |
| --- | --- |
| | Answers and Rationales for Sample Items in Chapter 2, |

17
(2)
3 Time Management
19
(16)

| | |
| --- | --- |
| | Time Management Equals Self-Management, |

19
(1)

| | |
| --- | --- |
| | Take the Time to Assess Your Time Management Abilities, |

19
(3)

| | |
| --- | --- |
| | Assessment of Inconsistencies Between Values and Behavior, |

19
(1)

| | |
| --- | --- |
| | Personal Time/Activity Journal, |

20
(1)

| | |
| --- | --- |
| | Self-Assessment of Barriers to Productivity, |

21
(1)

| | |
| --- | --- |
| | Maximize Your Productivity, |

22
(12)

| | |
| --- | --- |
| | Identify Goals and Priorities, |

23
(1)
24
(2)
26
(4)
27
(1)
28
(2)
30
(1)

| | |
| --- | --- |
| | Achieve a Personal Balance, |

30
(1)
31
(1)

| | |
| --- | --- |
| | Overcome Procrastination, |

32
(2)
34
(1)
4 Study Techniques
35
(16)

| | |
| --- | --- |
| | General Study Techniques, |

35
(4)
35
(1)

| | |
| --- | --- |
| | Set Short- and Long-Term Goals, |

36
(1)

| | |
| --- | --- |
| | Simulate a School Environment, |

36
(1)

| | |
| --- | --- |
| | Control Internal and External Distractors, |

36
(1)
37
(1)
37
(1)

| | |
| --- | --- |
| | Identify Learning Domains, |

37
(1)
38
(1)
38
(1)
38
(1)
38
(1)

| | |
| --- | --- |
| | Use Appropriate Resources, |

38
(1)

| | |
| --- | --- |
| | Balance Sacrifices and Rewards, |

39
(1)

| | |
| --- | --- |
| | Specific Study Techniques, |

39
(9)

| | |
| --- | --- |
| | Cognitive Levels of Nursing Questions, |

39
(1)
40
(2)
41
(1)
41
(1)
41
(1)
42
(1)
42
(2)

| | |
| --- | --- |
| | Explore "Whys" and "Hows," |

43
(1)
43
(1)
44
(1)

| | |
| --- | --- |
| | Relate New Information to Prior Learning, |

45
(1)
45
(1)
45
(7)
46
(1)
46
(2)

| | |
| --- | --- |
| | Answers and Rationales for Sample Items in Chapter 4, |

48
(3)
5 The Multiple-Choice Question
51
(14)

| | |
| --- | --- |
| | Components of a Multiple-Choice Question, |

52
(1)
52
(4)

| | |
| --- | --- |
| | The Stem That Is a Complete Sentence, |

53
(1)

| | |
| --- | --- |
| | The Stem That Is an Incomplete Sentence, |

53
(1)

| | |
| --- | --- |
| | The Stem with a Positive Polarity, |

54
(1)

| | |
| --- | --- |
| | The Stem with a Negative Polarity, |

55
(1)
56
(4)

| | |
| --- | --- |
| | The Option That Is a Sentence, |

56
(1)

| | |
| --- | --- |
| | The Option That Completes the Sentence Begun in the Stem, |

57
(1)

| | |
| --- | --- |
| | The Option That Is an Incomplete Sentence, |

58
(1)

| | |
| --- | --- |
| | The Option That Is a Word, |

59
(1)

| | |
| --- | --- |
| | Answers and Rationales for Sample Items in Chapter 5, |

60
(5)
6 The Nursing Process
65
(32)
65
(5)
66
(3)
69
(1)

| | |
| --- | --- |
| | Communicate Information About Assessments, |

70
(1)

| | |
| --- | --- |
| | Analysis/Nursing Diagnosis, |

70
(4)
71
(1)
72
(1)
72
(1)

| | |
| --- | --- |
| | Identify and Communicate Nursing Diagnoses, |

73
(1)
74
(4)
75
(1)

| | |
| --- | --- |
| | Project Expected Outcomes, |

75
(1)
76
(1)
76
(2)

| | |
| --- | --- |
| | Ensure That Health-Care Needs Will Be Met Appropriately, |

78
(1)

| | |
| --- | --- |
| | Modify the Plan of Care as Needed, |

78
(1)

| | |
| --- | --- |
| | Collaborate with Other Health Team Members, |

79
(1)
79
(6)
81
(4)
85
(4)

| | |
| --- | --- |
| | Identify Patient Responses (Actual Outcomes), |

85
(2)

| | |
| --- | --- |
| | Compare Actual Outcomes with Expected Outcomes to Determine Goal Achievement, 86 |

| | |
| --- | --- |
| | Analyze Factors That Affect Actual Outcomes of Care, |

87
(1)
87
(2)

| | |
| --- | --- |
| | Answers and Rationales for Sample Items in Chapter 6, |

89
(8)
89
(2)

| | |
| --- | --- |
| | Analysis/Nursing Diagnosis, |

91
(1)
92
(1)
93
(2)
95
(2)
7 Test Taking Techniques
97
(28)

| | |
| --- | --- |
| | Specific Test-Taking Techniques, |

97
(17)

| | |
| --- | --- |
| | Identify Key Words in the Stem That Indicate Negative Polarity, |

98
(1)

| | |
| --- | --- |
| | Identify Key Words in the Stem That Set a Priority, |

99
(2)

| | |
| --- | --- |
| | Identify Clues in the Stem, |

101
(1)

| | |
| --- | --- |
| | Identify the Central Person in the Question, |

102
(2)

| | |
| --- | --- |
| | Identify Patient-Centered Options, |

104
(1)

| | |
| --- | --- |
| | Identify Specific Determiners in Options, |

105
(1)

| | |
| --- | --- |
| | Identify Opposites in Options, |

106
(2)

| | |
| --- | --- |
| | Identify Equally Plausible or Unique Options, |

108
(1)

| | |
| --- | --- |
| | Identify the Global Option, |

109
(1)

| | |
| --- | --- |
| | Identify Duplicate Facts Among the Options, |

110
(1)

| | |
| --- | --- |
| | Identify Options That Deny Patient Feelings, Concerns, and Needs, |

111
(1)

| | |
| --- | --- |
| | Use Multiple Test-Taking Techniques, |

112
(2)

| | |
| --- | --- |
| | General Test-Taking Techniques, |

114
(5)

| | |
| --- | --- |
| | Follow Your Regular Routine the Night Before a Test, |

114
(1)

| | |
| --- | --- |
| | Arrive on Time for the Examination, |

114
(1)

| | |
| --- | --- |
| | Bring the Appropriate Tools, |

114
(1)

| | |
| --- | --- |
| | Understand All the Directions for the Test Before Starting, |

115
(1)

| | |
| --- | --- |
| | Manage the Allotted Time to Your Advantage, |

115
(1)

| | |
| --- | --- |
| | Concentrate on the Simple Before the Complex, |

116
(1)

| | |
| --- | --- |
| | Avoid Reading into the Question, |

116
(1)
117
(1)

| | |
| --- | --- |
| | Maintain a Positive Mental Attitude, |

118
(1)

| | |
| --- | --- |
| | Check Your Answers and Answer Sheet, |

118
(1)

| | |
| --- | --- |
| | Answers and Rationales for Sample Items in Chapter 7, |

119
(6)
8 Testing Formats Other Than Multiple-Choice Questions
125
(34)

| | |
| --- | --- |
| | Structured-Response Questions, |

126
(6)

| | |
| --- | --- |
| | Multiple Multiple-Choice Questions, |

126
(1)
127
(4)
131
(1)

| | |
| --- | --- |
| | Restricted-Response Questions, |

132
(2)
133
(1)
133
(1)

| | |
| --- | --- |
| | Extended Essay Questions, |

134
(2)
135
(1)
136
(1)
136
(3)

| | |
| --- | --- |
| | The Performance of a Procedure, |

137
(1)

| | |
| --- | --- |
| | The Performance of Part of a Procedure Via a Realistic Image, |

137
(2)

| | |
| --- | --- |
| | Alternate Question Formats Reflective of NCLEX, |

139
(9)
148
(1)

| | |
| --- | --- |
| | Answers and Rationales for Sample Items in Chapter 8, |

149
(10)
9 Computer Applications in Education and Evaluation
159
(6)

| | |
| --- | --- |
| | The Computer as a Resource Tool, |

160
(1)

| | |
| --- | --- |
| | The Computer as an Information Manager, |

160
(1)

| | |
| --- | --- |
| | The Computer as an Instructor, |

160
(1)

| | |
| --- | --- |
| | The Computer as a Tool for Distance Education, |

161
(1)

| | |
| --- | --- |
| | The Computer as a Simulator, |

162
(1)

| | |
| --- | --- |
| | The Computer as an Evaluator, |

162
(1)
163
(2)
10 Fundamentals of Nursing Practice Tests
165
(30)

| | |
| --- | --- |
| | Introduction to Practice Tests, |

165
(30)
166
(10)

| | |
| --- | --- |
| | Answers and Rationales for Practice Test A, |

171
(5)
176
(9)

| | |
| --- | --- |
| | Answers and Rationales for Practice Test B, |

180
(5)
185
(11)

| | |
| --- | --- |
| | Answers and Rationales for Practice Test C, |

189
(6)
11 Analyze Your Test Performance
195
(10)

| | |
| --- | --- |
| | How to Use the Test-Analysis Tools, |

196
(3)

| | |
| --- | --- |
| | Identify Information Processing Errors, |

197
(1)

| | |
| --- | --- |
| | Identify Knowledge Deficits, |

198
(1)
199
(2)

| | |
| --- | --- |
| | Corrective Action Guide for Information Processing Errors, |

199
(2)

| | |
| --- | --- |
| | Corrective Action to Address Problem Personal Performance Trends, |

201
(2)
203
(2)
12 Practice Questions with Answers and Rationales
205
(182)

| | |
| --- | --- |
| | The World of the Patient and Nurse, |

205
(13)
206
(6)
212
(6)

| | |
| --- | --- |
| | Common Theories Related to Meeting Patients' Basic Human Needs, |

218
(12)
218
(6)
224
(6)

| | |
| --- | --- |
| | Communication and Meeting Patients' Emotional Needs, |

230
(13)
231
(6)
237
(6)

| | |
| --- | --- |
| | Physical Assessment of Patients, |

243
(12)
244
(5)
249
(6)

| | |
| --- | --- |
| | Meeting Patients' Physical Safety and Mobility Needs, |

255
(13)
256
(6)
262
(6)

| | |
| --- | --- |
| | Meeting Patients' Hygiene, Comfort, Rest, and Sleep Needs, |

268
(12)
268
(6)
274
(6)

| | |
| --- | --- |
| | Meeting Patients' Fluid and Nutritional Needs, |

280
(12)
280
(6)
286
(6)

| | |
| --- | --- |
| | Meeting Patients' Elimination Needs, |

292
(13)
292
(6)
298
(7)

| | |
| --- | --- |
| | Meeting Patients' Oxygen Needs, |

305
(13)
305
(6)
311
(7)

| | |
| --- | --- |
| | Administration of Medications, |

318
(14)
318
(7)
325
(7)

| | |
| --- | --- |
| | Meeting the Needs of Perioperative Patients, |

332
(12)
332
(6)
338
(6)

| | |
| --- | --- |
| | Meeting Patients' Microbiologic Safety Needs, |

344
(14)
345
(6)
351
(7)

| | |
| --- | --- |
| | Meeting the Needs of Patients in the Community Setting, |

358
(14)
358
(6)
364
(8)
372
(15)
373
(6)
379
(8)
Bibliography,
387
(2)
Index,
389