Note: Supplemental materials are not guaranteed with Rental or Used book purchases.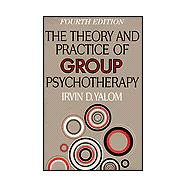 The Theory and Practice of Group Psychotherapy
ISBN13:
9780465084487
by
Yalom, Irvin D.
Summary
Hailed by Jerome Frank as "the best book that exists on the subject, today and for the foreseeable future," Irvin D. Yalom's The Theory and Practice of Group Psychotherapy has long been the standard text in its field. Indeed, in a survey reported in the American Journal of Psychiatry, it was cited as one of the ten most influential psychiatry publications of the past decade, and it was one of the very few judged to be of "seminal or lasting value."In this completely revised and expanded fourth editionupdated to reflect the American Psychiatric Association's latest diagnostic manual, the DSM-IVDr. Yalom presents the most recent developments in the field, drawing on nearly a decade of new research as well as his own broad clinical wisdom and experience. This edition features new sections on combining individual and group therapy, the latest information about brief group therapy, and how to modify group work to deal with the newly emerging homogeneous focal groups (including survivor groups), as well as updated references and new clinical vignettes drawn from the author's recent practice.Throughout, Dr. Yalom has updated the style and content of the chapters, while retaining valid research and clinical observations. Illustrating the text are vivid cases from nearly two thousand group sessions that he has led over the past decade.The Theory and Practice of Group Psychotherapyis an informative text that is at once scholarly and lively. This new edition is the most up-to-date, incisive, and comprehensive text on group therapy available today.
Table of Contents
Preface
xi

| | |
| --- | --- |
| | 1. The Therapeutic Factors |

1
(16)
4
(1)
5
(3)
8
(4)
12
(1)

| | |
| --- | --- |
| | The Corrective Recapitulation of the Primary Family Group |

13
(2)

| | |
| --- | --- |
| | Development of Socializing Techniques |

15
(1)
16
(1)

| | |
| --- | --- |
| | 2. Interpersonal Learning |

17
(30)

| | |
| --- | --- |
| | The Importance of Interpersonal Relationships |

17
(7)

| | |
| --- | --- |
| | The Corrective Emotional Experience |

24
(4)

| | |
| --- | --- |
| | The Group as Social Microcosm |

28
(9)

| | |
| --- | --- |
| | The Social Microcosm: A Dynamic Interaction |

37
(2)

| | |
| --- | --- |
| | Recognition of Behavioral Patterns in the Social Microcosm |

39
(2)

| | |
| --- | --- |
| | The Social Microcosm--Is It Real? |

41
(1)
42
(2)
44
(3)
47
(22)

| | |
| --- | --- |
| | The Importance of Group Cohesiveness |

49
(5)
54
(13)
67
(2)

| | |
| --- | --- |
| | 4. The Therapeutic Factors: An Integration |

69
(37)

| | |
| --- | --- |
| | Comparative Value of the Therapeutic Factors: The Patient's View |

71
(26)

| | |
| --- | --- |
| | Comparative Value of the Therapeutic Factors: Differences Between Patients' and Therapists' Views |

97
(2)

| | |
| --- | --- |
| | Therapeutic Factors: Modifying Forces |

99
(7)

| | |
| --- | --- |
| | 5. The Therapist: Basic Tasks |

106
(23)

| | |
| --- | --- |
| | Creation and Maintenance of the Group |

107
(2)
109
(3)

| | |
| --- | --- |
| | How Does the Leader Shape Norms? |

112
(6)

| | |
| --- | --- |
| | Examples of Therapeutic Group Norms |

118
(11)

| | |
| --- | --- |
| | 6. The Therapist: Working in the Here-and-Now |

129
(60)
130
(7)

| | |
| --- | --- |
| | Process Focus: The Power Source of the Group |

137
(2)

| | |
| --- | --- |
| | The Therapist's Tasks in the Here-and-Now |

139
(4)

| | |
| --- | --- |
| | Techniques of Here-and-Now Activation |

143
(7)

| | |
| --- | --- |
| | Techniques of Process Illumination |

150
(1)
151
(9)

| | |
| --- | --- |
| | Helping Patients Assume a Process Orientation |

160
(2)

| | |
| --- | --- |
| | Helping Patients Accept Process-Illuminating Comments |

162
(2)

| | |
| --- | --- |
| | Process Commentary: A Theoretical Overview |

164
(9)
173
(4)

| | |
| --- | --- |
| | Mass Group Process Commentary |

177
(12)

| | |
| --- | --- |
| | 7. The Therapist: Transference and Transparency |

189
(28)

| | |
| --- | --- |
| | Transference in the Therapy Group |

193
(9)

| | |
| --- | --- |
| | The Psychotherapist and Transparency |

202
(15)

| | |
| --- | --- |
| | 8. The Selection of Patients |

217
(27)
219
(16)
235
(4)

| | |
| --- | --- |
| | An Overview of the Selection Procedure |

239
(3)
242
(2)

| | |
| --- | --- |
| | 9. The Composition of Therapy Groups |

244
(22)

| | |
| --- | --- |
| | The Prediction of Group Behavior |

245
(8)

| | |
| --- | --- |
| | Principles of Group Composition |

253
(7)
260
(4)
264
(2)

| | |
| --- | --- |
| | 10. Creation of the Group: Place, Time, Size, Preparation |

266
(27)

| | |
| --- | --- |
| | Preliminary Considerations |

266
(12)

| | |
| --- | --- |
| | Preparation for Group Therapy |

278
(15)
293
(33)

| | |
| --- | --- |
| | Formative Stages of the Group |

293
(14)
307
(19)
326
(43)
326
(18)

| | |
| --- | --- |
| | Conflict in the Therapy Group |

344
(9)
353
(8)
361
(8)
369
(35)
369
(6)
375
(2)
377
(2)

| | |
| --- | --- |
| | The Help-Rejecting Complainer |

379
(3)
382
(7)

| | |
| --- | --- |
| | The Characterologically Difficult Patient |

389
(10)
399
(5)

| | |
| --- | --- |
| | 14. The Therapist: Specialized Formats and Procedural Aids |

404
(45)

| | |
| --- | --- |
| | Concurrent Individual and Group Therapy |

404
(10)
414
(5)
419
(2)
421
(5)
426
(3)
429
(6)

| | |
| --- | --- |
| | Therapist Self-Disclosure |

435
(7)
442
(7)

| | |
| --- | --- |
| | 15. The Specialized Therapy Group |

449
(32)

| | |
| --- | --- |
| | Modification of Traditional Group Therapy for Specialized Clinical Situations: Basic Steps |

451
(4)

| | |
| --- | --- |
| | The Acute Inpatient Therapy Group |

455
(26)

| | |
| --- | --- |
| | 16. Group Therapy and the Encounter Group |

481
(30)

| | |
| --- | --- |
| | Antecedents and Evolution of the Encounter Group |

486
(4)

| | |
| --- | --- |
| | From T-Group to Encounter Group |

490
(3)

| | |
| --- | --- |
| | The Effectiveness of the Encounter Group |

493
(6)

| | |
| --- | --- |
| | The Evolution of Group Therapy |

499
(1)

| | |
| --- | --- |
| | The Relationship Between the Encounter Group and the Therapy Group |

500
(11)

| | |
| --- | --- |
| | 17. Training the Group Therapist |

511
(22)

| | |
| --- | --- |
| | Observation of Experienced Clinicians |

512
(3)
515
(3)

| | |
| --- | --- |
| | A Group Experience for Trainees |

518
(8)
526
(2)
528
(1)
529
(4)
Notes
533
(54)
Index
587