Note: Supplemental materials are not guaranteed with Rental or Used book purchases.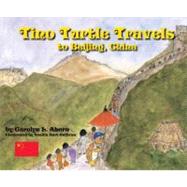 Summary
Tino Turtle Travels is an award-winning educational children's travel book series combining fiction and facts, allowing children to explore their minds while learning about foreign language, geography, history, and music in a fun and exciting way. Tino Turtle, a desert tortoise with a dream of traveling the world, is brought to life by author Carolyn L. Ahern and illustrator Neallia Burt-Sullivan. Each book takes the reader to a famous place as Tino's Fairy God Turtle grants his wish to see the world. The reader discovers, along with Tino, historical landmarks and unique cultural highlights of interesting locations. Each tale will leave Tino's "world travel companions" with memories of friendships made along the way and a vision of another wonderful destination. Travel destinations include London, Paris, Mexico, Kenya (Safari), and Beijing, China. Each title is also available as Book/CD/Beanie gift set.
Author Biography
Carolyn L. Ahern is a wife, homemaker, and Registered Nurse, with a BA in psychology. She has traveled extensively with her husband, entrepreneur Don Ahern, on his business trips. While Don was in business meetings, or during sight-seeing tours, Carolyn would write down ideas for children's books and take notes on her travelsąthus a 'seed' was planted.The idea for her Tino Turtle Travels series of books came to her as a perfect way to share her travels with children. As an advocate of early childhood literacy, she has lovingly developed the character Tino Turtle, desert tortoise and adventure traveler! With each book, Carolyn hopes to nurture children's minds with true and historical facts as they explore new travel destinations with Tino.