Note: Supplemental materials are not guaranteed with Rental or Used book purchases.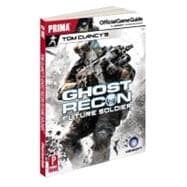 Summary
*Extensive walkthrough and combat strategies to keep you and your Ghost Recon teammates safe for all missions! *Labeled area maps with waypoints, enemy encounters, and other areas of interest! *Complete breakdown of all four classes and their weapons. Everything from the Commando's seeking missiles to the Engineer's UAV drone, we have you covered! *Developer multiplayer tips and strategies!
Excerpts
 As a member of the elite Ghost Recon, you are among the few who possess the power, the adaptability, and the cognitive fortitude of the future soldier. Specialized in every area of combat, equipped for survival, and trained in absolute discretion, you are entrusted with the missions no other soldier can handle. Armed to the teeth with an arsenal of real-world high-tech weaponry only in prototype today, you are an F-16 on legs, trained to lock-on to your objective even in the world's most complex, high-risk war zones.