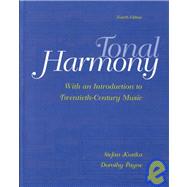 Tonal Harmony: Revised Edition
by
KOSTKA S
List Price: $70.68
Usually Ships in 2-3 Business Days

More New and Used
from Private Sellers
Questions About This Book?
What version or edition is this?
This is the 4th edition with a publication date of 2/18/2000.
What is included with this book?
The Used copy of this book is not guaranteed to inclue any supplemental materials. Typically, only the book itself is included.
Summary
Designed to meet the needs of the two-semester theory curriculum for music majors, Tonal Harmony is a straightforward book that emphasizes practicality and ease-of-use for both the student and the professor. By focusing on the core elements of the theory curriculum in a single-volume format, the text is both a complete coursebook and a handy and cost-saving manual for students. On the professor'¬"s side, the supplements package (with a collection of CD audio examples and an extensive Instructor'¬"s Manual) makes the book easy to use and to teach.
Table of Contents
About the Authors
v
Preface
vii
To the Student
xi
PART I Fundamentals
1
(72)
3
(25)

| | |
| --- | --- |
| | The Keyboard and Octave Registers |

3
(1)
4
(2)
6
(3)
9
(4)
13
(1)
14
(4)
18
(1)
19
(1)

| | |
| --- | --- |
| | Perfect, Major, and Minor Intervals |

20
(3)

| | |
| --- | --- |
| | Augmented and Diminished Intervals |

23
(1)
23
(1)

| | |
| --- | --- |
| | Consonant and Dissonant Intervals |

24
(1)
25
(3)
28
(16)
28
(1)
28
(1)
29
(1)
29
(2)
31
(1)
32
(2)
34
(3)

| | |
| --- | --- |
| | Time Signatures Summarized |

37
(1)

| | |
| --- | --- |
| | More on Durational Symbols |

38
(2)
40
(4)

| | |
| --- | --- |
| | Introduction to Triads and Seventh Chords |

44
(17)
44
(1)
44
(3)
47
(2)
49
(1)

| | |
| --- | --- |
| | Inversion Symbols and Figured Bass |

50
(2)
52
(3)

| | |
| --- | --- |
| | Recognizing Chords in Various Textures |

55
(2)
57
(4)

| | |
| --- | --- |
| | Diatonic Chords in Major and Minor Keys |

61
(12)
61
(1)
61
(2)
63
(1)
64
(4)

| | |
| --- | --- |
| | Diatonic Seventh Chords in Major |

68
(1)

| | |
| --- | --- |
| | Diatonic Seventh Chords in Minor |

69
(1)
70
(3)
PART II Diatonic Triads
73
(132)

| | |
| --- | --- |
| | Principles of Voice Leading |

75
(15)
75
(1)
75
(3)
78
(1)
78
(4)
82
(5)
87
(3)

| | |
| --- | --- |
| | Root Position Part Writing |

90
(15)
90
(1)

| | |
| --- | --- |
| | Root Position Part Writing with Repeated Roots |

91
(1)
91
(1)
91
(1)

| | |
| --- | --- |
| | Root Position Part Writing with Roots a 4th (5th) Apart |

92
(3)
92
(2)
94
(1)

| | |
| --- | --- |
| | Root Position Part Writing with Roots a 3rd (6th) Apart |

95
(2)
95
(1)
96
(1)

| | |
| --- | --- |
| | Root Position Part Writing with Roots a 2nd (7th) Apart |

97
(4)
97
(1)
98
(3)

| | |
| --- | --- |
| | Instrumental Ranges and Transpositions |

101
(1)
102
(3)
105
(19)
105
(1)

| | |
| --- | --- |
| | Sequences and the Circle of Fifths |

105
(4)
109
(1)
110
(1)
111
(1)
112
(1)
113
(1)
114
(2)
116
(1)

| | |
| --- | --- |
| | Differences in the Minor Mode |

116
(1)

| | |
| --- | --- |
| | Progressions Involving Seventh Chords |

117
(1)

| | |
| --- | --- |
| | Harmonizing a Simple Melody |

117
(1)
118
(1)
119
(5)

| | |
| --- | --- |
| | Triads in First Inversion |

124
(20)
124
(1)
125
(1)

| | |
| --- | --- |
| | Substituted First Inversion Triads |

126
(2)
128
(2)

| | |
| --- | --- |
| | Part Writing First Inversion Triads |

130
(3)
130
(2)
132
(1)

| | |
| --- | --- |
| | Soprano-Bass Counterpoint |

133
(5)
138
(6)

| | |
| --- | --- |
| | Triads in Second Inversion |

144
(12)
144
(1)

| | |
| --- | --- |
| | Bass Arpeggiation and the Melodic Bass |

145
(1)
146
(3)
149
(2)
151
(1)

| | |
| --- | --- |
| | Part Writing for Second Inversion Triads |

152
(1)
153
(3)

| | |
| --- | --- |
| | Cadences, Phrases, and Periods |

156
(21)
156
(1)
156
(5)

| | |
| --- | --- |
| | Cadences and Harmonic Rhythm |

161
(1)
162
(2)

| | |
| --- | --- |
| | Mozart: ``An die Freude'' |

164
(7)
171
(6)
177
(16)
177
(1)

| | |
| --- | --- |
| | Classification of Non-Chord Tones |

178
(1)
179
(2)
181
(1)

| | |
| --- | --- |
| | Suspensions and Retardations |

182
(4)

| | |
| --- | --- |
| | Figured Bass and Lead Sheet Symbols |

186
(1)

| | |
| --- | --- |
| | Embellishing a Simple Texture |

187
(2)
189
(4)
193
(12)
193
(2)
195
(1)
195
(1)
196
(1)
197
(2)

| | |
| --- | --- |
| | Special Problems in the Analysis of Non-Chord Tones |

199
(2)
201
(4)
PART III Diatonic Seventh Chords
205
(50)
207
(19)
207
(1)

| | |
| --- | --- |
| | General Voice-Leading Considerations |

207
(2)
209
(3)
212
(1)

| | |
| --- | --- |
| | Other Resolutions of the V7 |

213
(4)
217
(1)
218
(1)
219
(1)
220
(1)

| | |
| --- | --- |
| | The Approach to the Seventh |

221
(1)
222
(4)
226
(15)
226
(1)
227
(2)
229
(2)
231
(4)
235
(6)

| | |
| --- | --- |
| | Other Diatonic Seventh Chords |

241
(14)
241
(2)
243
(3)
246
(1)
247
(1)

| | |
| --- | --- |
| | Seventh Chords and the Circle-of-Fifths Progression |

248
(2)
250
(5)
PART IV Chromaticism 1
255
(98)
257
(18)

| | |
| --- | --- |
| | Chromaticism and Altered Chords |

257
(1)
258
(1)

| | |
| --- | --- |
| | Secondary Dominant Chords |

258
(2)

| | |
| --- | --- |
| | Spelling Secondary Dominants |

260
(1)

| | |
| --- | --- |
| | Recognizing Secondary Dominants |

261
(1)

| | |
| --- | --- |
| | Secondary Dominants in Context |

262
(4)
266
(9)
275
(25)

| | |
| --- | --- |
| | Secondary Leading-Tone Chords |

275
(1)

| | |
| --- | --- |
| | Spelling Secondary Leading-Tone Chords |

276
(1)

| | |
| --- | --- |
| | Recognizing Secondary Leading-Tone Chords |

277
(1)

| | |
| --- | --- |
| | Secondary Leading-Tone Chords in Context |

278
(6)

| | |
| --- | --- |
| | Sequences Involving Secondary Functions |

284
(4)

| | |
| --- | --- |
| | Deceptive Resolutions of Secondary Functions |

288
(2)

| | |
| --- | --- |
| | Other Secondary Functions |

290
(3)
293
(7)

| | |
| --- | --- |
| | Modulations Using Diatonic Common Chords |

300
(17)

| | |
| --- | --- |
| | Modulation and Change of Key |

300
(1)

| | |
| --- | --- |
| | Modulation and Tonicization |

300
(2)
302
(2)
304
(2)

| | |
| --- | --- |
| | Analyzing Common-Chord Modulation |

306
(4)
310
(7)

| | |
| --- | --- |
| | Some Other Modulatory Techniques |

317
(18)

| | |
| --- | --- |
| | Altered Chords as Common Chords |

317
(1)
318
(3)

| | |
| --- | --- |
| | Modulation by Common Tone |

321
(5)
326
(1)
327
(2)
329
(6)
335
(18)
335
(1)
335
(3)
338
(3)
341
(2)
343
(1)
344
(3)
347
(6)
PART V Chromaticism 2
353
(104)
355
(16)
355
(1)
355
(1)

| | |
| --- | --- |
| | The Use of ♭6 in Major |

356
(2)

| | |
| --- | --- |
| | Other Borrowed Chords in Major |

358
(4)

| | |
| --- | --- |
| | Modulations Involing Mode Mixture |

362
(1)
363
(8)
371
(14)
371
(1)

| | |
| --- | --- |
| | Conventional Use of the Neapolitan |

371
(3)

| | |
| --- | --- |
| | Other Uses of the Neapolitan |

374
(5)
379
(6)
385
(17)

| | |
| --- | --- |
| | The Interval of the Augmented Sixth |

385
(1)

| | |
| --- | --- |
| | The Italian Augmented Sixth Chord |

386
(1)

| | |
| --- | --- |
| | The French Augmented Sixth Chord |

387
(2)

| | |
| --- | --- |
| | The German Augmented Sixth Chord |

389
(3)

| | |
| --- | --- |
| | Other Uses of Conventional Augmented Sixth Chords |

392
(2)
394
(8)
402
(11)
402
(1)
402
(2)
404
(1)

| | |
| --- | --- |
| | Resolutions to Other Scale Degrees |

405
(2)

| | |
| --- | --- |
| | Resolutions to Other Chord Members |

407
(1)

| | |
| --- | --- |
| | Other Types of Augmented Sixth Chords |

408
(1)
409
(4)

| | |
| --- | --- |
| | Enharmonic Spellings and Enharmonic Modulations |

413
(17)
413
(2)

| | |
| --- | --- |
| | Enharmonic Reinterpretation |

415
(2)

| | |
| --- | --- |
| | Enharmonic Modulations Using the Major-Minor Seventh Sonority |

417
(1)

| | |
| --- | --- |
| | Enharmonic Modulations Using the Diminished Seventh Chord |

418
(3)

| | |
| --- | --- |
| | Other Examples of Enharmonicism |

421
(1)
422
(8)

| | |
| --- | --- |
| | Further Elements of the Harmonic Vocabulary |

430
(27)
430
(1)

| | |
| --- | --- |
| | The Dominant with a Substituted 6th |

430
(3)

| | |
| --- | --- |
| | The Dominant with a Raised 5th |

433
(3)

| | |
| --- | --- |
| | Ninth, Eleventh, and Thirteenth Chords |

436
(2)

| | |
| --- | --- |
| | The Common-Tone Diminished Seventh Chord |

438
(7)
445
(2)

| | |
| --- | --- |
| | Coloristic Chord Successions |

447
(2)
449
(8)
PART VI Late Romanticism and the Twentieth Century
457
(112)

| | |
| --- | --- |
| | Tonal Harmony in the Late Nineteenth Century |

459
(31)
459
(1)
460
(6)

| | |
| --- | --- |
| | Treatment of Dominant Harmony |

466
(3)
469
(3)
472
(8)
480
(10)

| | |
| --- | --- |
| | An Introduction to Twentieth-Century Practices |

490
(79)
490
(1)
491
(1)
492
(10)
502
(8)
510
(4)
514
(6)
520
(9)
529
(6)

| | |
| --- | --- |
| | The Twelve-Tone Technique |

535
(13)
548
(3)
551
(6)

| | |
| --- | --- |
| | Texture and Expanded Instrumental Resources |

557
(3)
560
(6)
566
(3)
Appendix A Instrumental Ranges and Transpositions
569
(2)
Appendix B Answers to Self-Tests
571
(102)
Index of Music Examples
673
(3)
Subject Index
676