Note: Supplemental materials are not guaranteed with Rental or Used book purchases.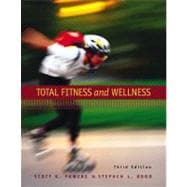 Summary
Using an active learning approach for the evaluation of fitness levels and nutritional status, Total Fitness and Wellness, Third Edition teaches students how to bring about lifestyle/behavior changes to achieve optimal fitness and wellness. Authors Scott Powers and Stephen Dodd, who have each taught for over 20 years and won various teaching awards, bring their expertise in exercise physiology to this text. In addition to covering the primary concepts of physical fitness and wellness, they provide a strong foundation in both exercise physiology and nutrition and address important issues such as exercise-related injuries, exercise and the environment, and exercise for special populations. A complete media package includes NutriFit nutrition and fitness management software and the Fitness and Wellness Web Site , to help students understand, plan, and implement a comprehensive fitness and wellness program.
Table of Contents
1. Understanding Health-Related Fitness and Wellness.
2. Fitness Evaluation: Self-Testing.
3. General Principles of Exercise for Health and Fitness.
4. Exercise Prescription Guidelines: Cardiorespiratory Fitness.
5. Improving Muscular Strength and Endurance.
6. Improving Flexibility.
7. Nutrition, Health, and Fitness.
8. Exercise, Diet, and Weight Control.
9. Prevention of Cardiovascular Disease.
10. Stress Management and Modifying Unhealthy Behavior.
11. Exercise and the Environment.
12. Exercise for Special Populations.
13. Prevention and Rehabilitation of Exercise-Related Injuries.
14. Prevention of Cancer.
15. Sexually Transmitted Diseases and Drug Abuse.
16. Life Time Fitness.
Appendix A: Healthy People 2010.
Appendix B: Nutritional Content of Common Foods and Beverages.
Appendix C: Nutritional Content of Fast Foods.
Glossary.
Index.