Note: Supplemental materials are not guaranteed with Rental or Used book purchases.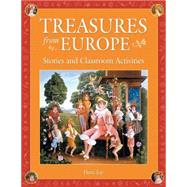 Treasures from Europe : Stories and Classroom Activities
ISBN13:
9781563089633
by
Joy, Flora
Questions About This Book?
What version or edition is this?
This is the edition with a publication date of 5/30/2003.
What is included with this book?
The New copy of this book will include any supplemental materials advertised. Please check the title of the book to determine if it should include any CDs, lab manuals, study guides, etc.
Summary
This fabulous collection of nine European folktales, presented by well-known storytellers with European roots, makes a perfect teaching tool to help educators, librarians, and storytellers acquaint students with different European countries and cultures. These stories, along with an abundance of related classroom activities, will allow students to gain a greater understanding and appreciation of European values, customs, and cultural elements. Each story is accompanied by background information about the contributor, discussion questions, and numerous related follow-up activities that are easily adaptable to different levels and learning environments. There are also reproducible pages for student use, as well as information about the country and its people, a brief historical background, a glossary where applicable, and resources for further study. Folktales include: BL DENMARK: A Treasure for Anders (Roger Petersen) BL IRELAND: The Three Reeds (Maggi Peirce) BL GERMANY: The Lorelei (Wendy Welch) BL BULGARIA: Clever Peter and the Sultan (Priscilla Howe) BL ROMANIA: Pacala (Sam Yada Cannarozzi) BL ICELAND: Gilitrutt (Jenni Woodroffe) BL MACEDONIA: Nasreddin Odjah's Clothes (Steven Kardaleff) BL RUSSIA: Leaving for America (Roslyn Bresnick-Perry) BL SCOTLAND: The Coal Basket (Wendy Welch) A valuable teaching tool and timesaver, this book is an excellent vehicle for cultural exploration in classrooms or with listening audiences.
Author Biography
FLORA JOY is Professor Emeritus in the Storytelling Division of the Department of Curriculum and Instruction at East Tennessee State University. She has been described as a "founder" in the world of storytelling. She received her Bachelor's, Master's, and Doctoral degrees all in the field of communication and education. She began teaching elementary reading/language arts in Knox County, Tennessee, in the early l960s.
Table of Contents
Foreword
xi
How to Use This Book
xiii
Part I-FOLKTALES

| | |
| --- | --- |
| | 1-A Treasure for Anders (Denmark) |

3
(22)
4
(1)

| | |
| --- | --- |
| | A Treasure for Anders (Denmark)-Cultural Background |

5
(9)

| | |
| --- | --- |
| | Notable Facts About Denmark |

5
(1)

| | |
| --- | --- |
| | National Data for Denmark |

5
(1)
6
(1)
6
(1)
7
(1)

| | |
| --- | --- |
| | Highlights of Danish History |

7
(1)

| | |
| --- | --- |
| | Denmark's Churches and Bells |

8
(1)

| | |
| --- | --- |
| | Resources for Further Study |

9
(5)

| | |
| --- | --- |
| | A Treasure for Anders (Retold by Roger Petersen) |

10
(4)

| | |
| --- | --- |
| | Follow-Up Information and Activities |

14
(1)
15
(1)
16
(1)

| | |
| --- | --- |
| | Investigation Cards for A Treasure for Anders |

17
(1)

| | |
| --- | --- |
| | Drama Activity Cards for A Treasure for Anders |

18
(2)

| | |
| --- | --- |
| | Creative Writing Cards for A Treasure for Anders |

20
19
(6)
20
(5)

| | |
| --- | --- |
| | 2-The Three Reeds (Ireland) |

25
(14)
26
(1)

| | |
| --- | --- |
| | The Three Reeds (Ireland)-Cultural Background |

27
(3)
27
(3)

| | |
| --- | --- |
| | The Three Reeds (Retold by Maggi Kerr Peirce) |

28
(2)

| | |
| --- | --- |
| | Follow-Up Information and Activities |

30
(1)

| | |
| --- | --- |
| | Irish Homes and Care for the Elderly |

31
(1)
32
(1)
33
(1)
34
(5)
34
(5)
39
(20)
40
(1)

| | |
| --- | --- |
| | The Lorelei (Germany)-Cultural Background |

41
(5)
41
(1)

| | |
| --- | --- |
| | Story Setting: The Crusades |

41
(1)

| | |
| --- | --- |
| | Background: Women and Romance |

42
(4)

| | |
| --- | --- |
| | The Lorelei (Retold by Wendy Welch) |

43
(3)

| | |
| --- | --- |
| | Follow-Up Information and Activities |

46
(1)

| | |
| --- | --- |
| | The Rhine and Other Rivers |

47
(1)
48
(1)
49
(1)
50
(1)

| | |
| --- | --- |
| | Answer Guide for "An Information Scavenger Hunt" |

51
(4)
51
(1)
51
(1)
51
(1)
52
(1)

| | |
| --- | --- |
| | Byzantium (the Byzantine Empire) |

52
(1)
52
(1)

| | |
| --- | --- |
| | The Second Crusade Disaster |

52
(1)

| | |
| --- | --- |
| | Philip II (Philip Augustus) |

53
(1)

| | |
| --- | --- |
| | Richard the Lionhearted (Richard Coeur de Lion) |

53
(1)
54
(1)
54
(1)
55
(4)
55
(4)

| | |
| --- | --- |
| | 4-Clever Peter and the Sultan (Bulgaria) |

59
(12)
60
(1)

| | |
| --- | --- |
| | Clever Peter and the Sultan (Bulgaria)-Cultural Background |

61
(4)

| | |
| --- | --- |
| | Glossary and Pronunciation Guide |

61
(1)

| | |
| --- | --- |
| | Exploring Bulgarian Culture |

62
(3)

| | |
| --- | --- |
| | Clever Peter and the Sultan (Retold by Priscilla Howe) |

64
(1)

| | |
| --- | --- |
| | Follow-Up Information and Activities |

65
(1)
66
(5)
66
(5)
71
(14)
72
(1)

| | |
| --- | --- |
| | Pacala (Romania)-Cultural Background |

73
(5)

| | |
| --- | --- |
| | Romania's Stories and Tales |

73
(1)

| | |
| --- | --- |
| | A Personal Note from Sam yada Cannarozzi |

74
(1)

| | |
| --- | --- |
| | Glossary and Pronunciation Information |

74
(4)

| | |
| --- | --- |
| | Pacala (As Recounted to Sam yada Cannarozzi by Florina Dobrescu) |

75
(3)

| | |
| --- | --- |
| | Follow-Up Information and Activities |

| | |
| --- | --- |
| | The Geography and Culture of Romania |

78
(1)
79
(1)
80
(5)
80
(5)
85
(14)
86
(1)

| | |
| --- | --- |
| | Gilitrutt (Iceland)-Cultural Background |

87
(3)

| | |
| --- | --- |
| | The Cultural Significance of Names |

87
(3)

| | |
| --- | --- |
| | Gilitrutt (Retold by Jenni Woodroffe) |

88
(2)

| | |
| --- | --- |
| | Follow-Up Information and Activities |

90
(2)

| | |
| --- | --- |
| | The Power of Names in Other Cultures |

92
(1)

| | |
| --- | --- |
| | Cultural Extensions: Icelandic Holidays |

93
(1)
94
(5)
94
(5)

| | |
| --- | --- |
| | 7-Nasreddin Odjah's Clothes (Macedonia) |

99
(18)
100
(1)

| | |
| --- | --- |
| | Nasreddin Odjah's Clothes (Macedonia)-Cultural Background |

101
(4)
101
(1)
101
(1)
102
(3)

| | |
| --- | --- |
| | Nasreddin Odjah's Clothes (Retold by Steven Kardaleff) |

103
(2)

| | |
| --- | --- |
| | Follow-Up Information and Activities |

105
(1)
106
(1)

| | |
| --- | --- |
| | Beyond the Story: Macedonian Marriages |

107
(1)

| | |
| --- | --- |
| | More About Macedonian Culture |

108
(1)
109
(8)
109
(8)
Part II-CHALLENGE STORIES

| | |
| --- | --- |
| | 8-Leaving for America (Russia) |

117
(12)
118
(1)

| | |
| --- | --- |
| | Leaving for America (Russia)-Cultural Background |

119
(7)
119
(1)

| | |
| --- | --- |
| | Story Background: Belarus |

119
(1)

| | |
| --- | --- |
| | Jewish History in Belarus |

119
(7)

| | |
| --- | --- |
| | Leaving for America (By Roslyn Bresnick-Perry) |

122
(4)

| | |
| --- | --- |
| | Follow-Up Information and Activities |

126
(3)

| | |
| --- | --- |
| | 9-The Coal Basket (Scotland) |

129
(18)
130
(1)

| | |
| --- | --- |
| | The Coal Basket (Scotland)-Cultural Background |

131
(9)

| | |
| --- | --- |
| | Background Facts for Scotland |

131
(1)
132
(8)

| | |
| --- | --- |
| | The Coal Basket (Retold by Wendy Welch) |

133

| | |
| --- | --- |
| | Follow-Up Information and Activities |

| | |
| --- | --- |
| | Match These Names with Their Descriptions |

140
(1)
141
(1)
142
(2)

| | |
| --- | --- |
| | Scotland and You: The Bigger Picture |

144
(3)
Indexes
147