Note: Supplemental materials are not guaranteed with Rental or Used book purchases.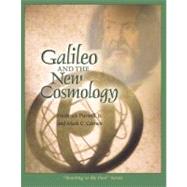 Summary
The Trial of Galileo: Aristotelianism, the "New Cosmology," and the Catholic Church,1616-1633shows the confrontation between Copernicanism, as brilliantly propounded by Galileo, and the elegant cosmology of Aristotle, as defended energetically by conservatives within the Inquisition. Part of the "Reacting to the Past" series, this text consists of a game in which students are assigned roles, informed by classic texts, set in a particular moment of intellectual and social ferment. The issues range from the nature of faith and the meaning of the Bible to the scientific principles and methods as advanced by Copernicus, Tycho Brahe, Giordano Bruno, and Galileo. The game includes several optional science labs in optics and astronomy.
Table of Contents
A Walk to the University
Introduction to the Game
Ways in which the Game Departs from History
Combination of the Holy Office and the Index
1632-1633 Trial Conducted by Holy Office Rather than Special Papal Tribunal
Players in the Game
Factions
Role Allocation by Class Size
Allocation of Positions Within the Major Factions
Cast of Characters
Members of the Conservative Faction
Members of the Moderate Faction
Members (And Supporters) of the Galileans (Linceans)
Robert Bellarmine
Indeterminates
Cardinals O'Neill And/or Delatier
Other Indeterminates
Miscellaneous
Pope Paul v and Pope Urban VIII
Two Phases of the Game
First Phase, 1615-1616
"Grim Reaper Lottery" and Assignment of New Roles
Choosing a Pope to Succeed Paul V
Second Phase
1632-1633. Winning the Game
Final Decision Made by Pope Urban VIII
Strategy Advisory
On Winning
Key Elements of the Game
Sessions of the Holy Office
Game Issues
Questioning Deponents and the Application of Torture
Congregation of the Holy Office, in Spring of 1615 (by Faction and Class Size)
Acquisition of Esteem and Patron Credits
Debates Within the Academies
Prince Cesi's Party
Writing Assignments
Class Sequence
Set Up Classes (First 3)
First Class?
Introduction to the Game
Second Class
Third Class
Game Phase I
Sessions 1-4
Fourth Class (Game Session 1)
At the College of Rome
Fifth Class (Game Session 2): At the Holy Office
Sixth Class (Game Session 3): At Prince Cesi's Palace
Seventh Class (Game Session 4): At the Holy Office
Eighth Class (Time Passes: Perhaps Included as an Additional Game Session)
Game Phase II
1632-1633
Ninth Class (Game Session 5): At the Holy Office
Tenth Class (Game Session 6): At the Holy Office
Eleventh Class
Post-Mortem
Twelfth Class (Optional)
Primary Source Documents
Aristotle, on the Heavens
Introduction to Aristotle
Book I
[The World Is Not Infinite]. Book I
[Why there is only one universe.]. Book I
[Why the heavens do not change and decay]
Council of Trent (1546 Session)
Decree Concerning the Editing and Use of Sacred Books (1546)
Galielo's Letter To Grand Duchess Christina (1615)
Galileo Galilei, The Starry Messenger (1610)
Bibliography
Table of Contents provided by Publisher. All Rights Reserved.