Note: Supplemental materials are not guaranteed with Rental or Used book purchases.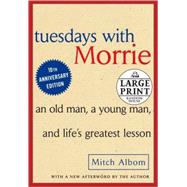 Questions About This Book?
What version or edition is this?
This is the Large edition with a publication date of 5/18/2010.
What is included with this book?
The New copy of this book will include any supplemental materials advertised. Please check the title of the book to determine if it should include any CDs, lab manuals, study guides, etc.
Summary
It's been ten years since Mitch Albom first shared the wisdom of Morrie Schwartz with the world. Nowtwelve million copies laterin a new afterword, Mitch Albom reflects again on the meaning of Morrie's life lessons and the gentle, irrevocable impact of their Tuesday sessions all those years ago. . . _____ Maybe it was a grandparent, or a teacher, or a colleague. Someone older, patient and wise, who understood you when you were young and searching, helped you see the world as a more profound place, gave you sound advice to help you make your way through it. For Mitch Albom, that person was Morrie Schwartz, his college professor from nearly twenty years ago. Maybe, like Mitch, you lost track of this mentor as you made your way, and the insights faded, and the world seemed colder. Wouldn't you like to see that person again, ask the bigger questions that still haunt you, receive wisdom for your busy life today the way you once did when you were younger? Mitch Albom had that second chance. He rediscovered Morrie in the last months of the older man's life. Knowing he was dying, Morrie visited with Mitch in his study every Tuesday, just as they used to back in college. Their rekindled relationship turned into one final "class": lessons in how to live. Tuesdays with Morrieis a magical chronicle of their time together, through which Mitch shares Morrie's lasting gift with the world.
Author Biography
Mitch Albom writes for the Detroit Free Press, and has been voted America's No. 1 sports columnist ten times by the Associated Press Sports Editors. Albom, a former professional musician, hosts a daily radio show on WJR in Detroit and appears regularly on ESPN's "The Sports Reporters." He is the author of Bo and Fab Five, both national bestsellers, and has also published four collections of his columns. He lives with his wife, Janine, in Michigan.


From the Hardcover edition.
Excerpts
The Curriculum
The last class of my old professor's life took place once a week in his house, by a window in the study where he could watch a small hibiscus plant shed its pink leaves.  The class met on Tuesdays. It began after breakfast. The subject was The Meaning of Life. It was taught from experience.  
No grades were given, but there were oral exams each week. You were expected to respond to questions, and you were expected to pose questions of your own. You were also required to perform physical tasks now and then, such as lifting the professor's head to a comfortable spot on the pillow or placing his glasses on the bridge of his nose. Kissing him good-bye earned you extra credit.  
No books were required, yet many topics were covered, including love, work, community, family, aging, forgiveness, and, finally, death. The last lecture was brief, only a few words.  
A funeral was held in lieu of graduation.  
Although no final exam was given, you were expected to produce one long paper on what was learned. That paper is presented here.  
The last class of my old professor's life had only one student.
I was the student.
It is the late spring of 1979, a hot, sticky Saturday afternoon. Hundreds of us sit together, side by side, in rows of wooden folding chairs on the main campus lawn. We wear blue nylon robes. We listen impatiently to long speeches. When the ceremony is over, we throw our caps in the air, and we are officially graduated from college, the senior class of Brandeis University in the city of Waltham, Massachusetts. For many of us, the curtain has just come down on childhood.  

Afterward, I find Morrie Schwartz, my favorite professor, and introduce him to my parents. He is a small man who takes small steps, as if a strong wind could, at any time, whisk him up into the clouds. In his graduation day robe, he looks like a cross between a biblical prophet and a Christmas elf. He has sparkling blue-green eyes, thinning silver hair that spills onto his forehead, big ears, a triangular nose, and tufts of graying eyebrows. Although his teeth are crooked and his lower ones are slanted back--as if someone had once punched them in--when he smiles it's as if you'd just told him the first joke on earth.  

He tells my parents how I took every class he taught.  He tells them, "You have a special boy here."  Embarrassed, I look at my feet. Before we leave, I hand my professor a present, a tan briefcase with his initials on the front. I bought this the day before at a shopping mall.  I didn't want to forget him. Maybe I didn't want him to forget me.  

    "Mitch, you are one of the good ones," he says, admiring the briefcase. Then he hugs me. I feel his thin arms around my back. I am taller than he is, and when he holds me, I feel awkward, older, as if I were the parent and he were the child.  

He asks if I will stay in touch, and without hesitation I say, "Of course."  

When he steps back, I see that he is crying.
The Syllabus
His death sentence came in the summer of 1994. Looking back, Morrie knew something bad was coming long before that. He knew it the day he gave up dancing.  
He had always been a dancer, my old professor. The music didn't matter. Rock and roll, big band, the blues. He loved them all. He would close his eyes and with a blissful smile begin to move to his own sense of rhythm. It wasn't always pretty. But then, he didn't worry about a partner.  Morrie danced by himself.  
He used to go to this church in Harvard Square every Wednesday night for something called "Dance Free."  They had flashing lights and booming speakers and Morrie would wa
---

Excerpted from Tuesdays with Morrie: An Old Man, A Young Man and Life's Greatest Lesson by Mitch Albom
All rights reserved by the original copyright owners. Excerpts are provided for display purposes only and may not be reproduced, reprinted or distributed without the written permission of the publisher.