Note: Supplemental materials are not guaranteed with Rental or Used book purchases.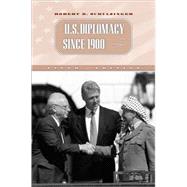 Summary
U.S. Diplomacy Since 1900 has long been admired as the most comprehensive and accessible survey available. Now in its fifth edition, the book traces the major events in the history of U.S. foreign relations, from the Spanish-American War to the present. Schulzinger explains how U.S. foreignpolicy is made and discusses public ideas about foreign relations. The engaging narrative places U.S. foreign relations in the context of the growing interdependence and globalization of international affairs. Updated to include a complete account of the Clinton administration, this new edition provides balanced coverage of both the Clinton and Bush administrations' efforts to deal with the extraordinary changes in international affairs after the Cold War. New material has been added on the ways inwhich Americans remember the Vietnam War, and the selected bibliography has undergone its most extensive revisions since the book was first published. In this text, students will find the most recent scholarship, much of which has been informed by insights from related disciplines in the socialsciences and humanities. Distinguished by its combination of narrative and analysis and by its in-depth explanations of how and why policy is made, the fifth edition of U.S. Diplomacy Since 1900 is an invaluable resource for students of diplomatic history, foreign relations, and politicalscience.
Table of Contents
The Setting of American Foreign Policy
The United States as a World Power, 1898-1908
The Diplomacy of the Dollar, 1909-1920
The Politics of Neutrality, 1914-1917
America in the Great War, 1917-1918
Politics and Diplomacy of Peacemaking, 1919-1920
The Triumph of Conservative Internationalism, 1921-1929
The Diplomacy of Depression, 1930-1939
The Politics of Coalition Warfare, 1940-1945
The Early Cold War, 1945-1952
Eisenhower's New Look, 1953-1960
Globalism Triumphant, 1961-1968
The Cold War Takes a Holiday, 1969-1976
The Resurrection and Death of the Cold War, 1977-1987
Toward the Twenty-first Century, 1989-1996
Selected Bibliography
Index
Table of Contents provided by Publisher. All Rights Reserved.