Note: Supplemental materials are not guaranteed with Rental or Used book purchases.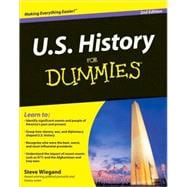 Summary
U.S. History For Dummies, 2nd Edition provides readers with relevant and factual information on the history of the United States. This new edition includes 25 percent new and revised material that includes coverage of the 2008 elections, the attacks of September 11th, 2001, the current wars in Iraq and Afghanistan and other recent events that have shaped U.S. history.
Author Biography
Steve Wiegand is an award-winning political journalist and history writer. He currently writes a thrice-weekly political column for the Sacramento Bee.
Table of Contents
Introduction
Getting There, Getting Settled, and Getting Free
America: A Short Biography
Native Americans and Explorers: 12,000 BC(?)-1607
Pilgrims
Progress: The English Colonies, 1607-1700
You Say You Want a Revolution. . .: 1700-1775
Yankee Doodlin: 1775-1783
Blueprints and Birth Pains: 1783-1800
Growing Pains
Long Tom" and One Weird War: 1800-1815
Pulling Together to Keep from Falling Apart: 1815-1844
War, Gold, and a Gathering Storm: 1845-1860
A Most Uncivil War: 1861-1865
Putting the Country Back Together: 1865-1876
Coming of Age
Growing Up: 1876-1898
Growing into the 20th Century: 1899-1918
Gin, Jazz, and Lucky Lindy: 1919-1929
Uncle Sams Depressed: 1930-1940
The World at War: 1941-1945
America in Adulthood
TV, Elvis, and Reds under the Bed: 1946-1960
Camelot to Watergate: 1961-1974
Hold the Malaise, or, Ayatollah So: 1975-1992
No Sex, Please, Im the President: 1993-1999
Its A Small World, After All: Entering the 21st Century
The Part of Tens
Ten American Inventions that Changed Life as We Know It
Ten Events that Defi ned American Culture
Ten Events in U.S. History They Keep Making into Movies
Appendixes
The Bill of Rights: Amendments 1-10 of the Constitution
The Declaration of Independence
Index
Table of Contents provided by Publisher. All Rights Reserved.