Note: Supplemental materials are not guaranteed with Rental or Used book purchases.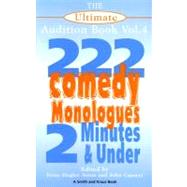 Ultimate Audition Book, Volume 4 : 222 Comedy Monologues, 2 Minutes and Under
ISBN13:
9781575254203
by
Aston, Irene Ziegler
Summary
The Hottest Collection of Comedy Monologues Available! If you've ever searched for a good comic monologue-whether for a professional audition, a class, or a competition-you know how frustrating the hunt can be. We've combed over some of the world's best comic writing to bring you 222 Comic Monologues: Two Minutes and Under. It's all funny stuff here: classic and contemporary works; roles for men and women ages 7 to 100; entertaining voices from writers as varied as Christopher Durang and Langston Hughes, orothy Parker and Steve Martin, Margaret Cho and Molière. You'll find shades of comedy from light to dark: situational humor, word play, absurdity, and surrealism. These monologues are alternately romantic, silly, militant, downright zany-first-rate character work by both new and established comic writers.
Author Biography
IRENE ZIEGLER ASTON is an actor, teacher, playwright, and novelist. Most recently, she played Maggie Runyon in The Contender (nominated for two academy awards) and can currently be seen as Mrs. Laughlin in Showtime's series, Going to California. She has taught speech, oral interpretation, and acting at Eastern Michigan University, Old Dominion University, and the University of Richmond, where she was an Artist in Residence.JOHN CAPECCI holds a Ph.D. in Speech Communication and has nearly twenty years experience coaching, teaching, and presenting public performances. John has taught communication techniques and performance theory and practice to high school, undergraduate, graduate, and adult learners. He is an editor, along with Irene Ziegler, of The Ultimate Audition Book II: 222 Monologues from Literature, Two Minutes and Under, The Ultimate Audition Book III: 222 Monologues, Two Minutes and Under from the Movies, The Ultimate Audition Book IV: 222 Monologues, Two Minutes and Under. He also has published essays on the performance of literature.
Table of Contents
Introduction
xi
WOMEN'S COMIC MONOLOGUES

| | |
| --- | --- |
| | Absence of Gray Matter, Weckesser |

2
(2)

| | |
| --- | --- |
| | All Mistaken, or The Mad Couple (2), Howard |

4
(3)

| | |
| --- | --- |
| | The Altruists, (2), Silver |

7
(2)

| | |
| --- | --- |
| | Always Ridiculous, Echegaray |

9
(1)

| | |
| --- | --- |
| | The Arkansas Tornado, Rogers |

10
(1)

| | |
| --- | --- |
| | As You Like It, Shakespeare |

11
(1)
12
(1)

| | |
| --- | --- |
| | Battle of the Sexes, Heimel |

13
(2)

| | |
| --- | --- |
| | The Beaux' Stratagem, Farquhar |

15
(1)
16
(1)
17
(2)
19
(1)

| | |
| --- | --- |
| | But the One on the Right, Parker |

20
(1)

| | |
| --- | --- |
| | Butterflies are Free, Gershe |

21
(1)
22
(1)

| | |
| --- | --- |
| | The Casket Comedy, Plautus |

23
(1)

| | |
| --- | --- |
| | Catholic Schoolgirls, Kurtti |

24
(1)
25
(1)

| | |
| --- | --- |
| | The Coal Diamond, (2), Lauro |

26
(2)

| | |
| --- | --- |
| | Confessions of a Shopaholic, Kinsella |

28
(1)

| | |
| --- | --- |
| | The Country Wife, Wycherly |

29
(2)

| | |
| --- | --- |
| | Cuthbert's Last Stand, (2), Biss |

31
(3)
34
(2)

| | |
| --- | --- |
| | The Double-Dealer, Congreve |

36
(1)
37
(1)

| | |
| --- | --- |
| | The Dutch Courtesan, (2), Marston |

38
(2)

| | |
| --- | --- |
| | The Ecclesiazus, Aristophanes |

40
(1)
41
(1)
42
(1)
43
(1)
44
(1)

| | |
| --- | --- |
| | Desdemona (Good Morning Juliet), MacDonald |

45
(2)

| | |
| --- | --- |
| | Half Asleep in Frog Pajamas, Robbins |

47
(1)

| | |
| --- | --- |
| | He Said, Then I Said, Edwards |

48
(1)
49
(2)

| | |
| --- | --- |
| | Hold Please, (2), Weisman |

51
(2)
53
(1)

| | |
| --- | --- |
| | I'm the One that I Want, Cho |

54
(1)

| | |
| --- | --- |
| | The Importance of Being Earnest, Wilde |

55
(1)

| | |
| --- | --- |
| | Jesus Loves Good Christians, Dawes |

56
(2)

| | |
| --- | --- |
| | Juno Agonistes, De Christopher |

58
(1)
59
(1)
60
(2)

| | |
| --- | --- |
| | Lady Windermere's Fan, Wilde |

62
(2)

| | |
| --- | --- |
| | Love Allways, Taylor and Bologna |

64
(2)
66
(1)

| | |
| --- | --- |
| | Make Me Laugh, Clown, Notaro |

67
(1)
68
(1)
69
(2)
71
(1)

| | |
| --- | --- |
| | Once Upon a Mattress, Thompson, Barer, and Fuller |

72
(1)

| | |
| --- | --- |
| | Picasso at the Lapin Agile, Martin |

73
(2)
75
(1)
76
(1)

| | |
| --- | --- |
| | Pretzels and Longing, Eisenstein |

77
(1)

| | |
| --- | --- |
| | The Provoked Wife, Vanbrugh |

78
(1)
79
(1)

| | |
| --- | --- |
| | Ruling Passion, (2), Horton |

80
(4)

| | |
| --- | --- |
| | Screaming Violet, Grimberg |

84
(1)

| | |
| --- | --- |
| | Seating and Other Arrangements, Kahn |

85
(2)
87
(1)

| | |
| --- | --- |
| | Three Weeks After Marriage, Foote |

88
(1)

| | |
| --- | --- |
| | True Story, (2), Williams |

89
(3)
92
(1)
93
(2)
95
(2)

| | |
| --- | --- |
| | The Way of the World, Congreve |

97
(1)
98
(2)

| | |
| --- | --- |
| | Where's My Money?, Shanley |

100
(1)
101
(1)

| | |
| --- | --- |
| | Why Women Need Big, Strong Rich Men, Heitman |

102
(1)

| | |
| --- | --- |
| | Winner of the National Book Award, Willett |

103
(2)

| | |
| --- | --- |
| | A Woman of No Importance, Wilde |

105
(3)
FEMALE SERIOCOMIC MONOLOGUES

| | |
| --- | --- |
| | Angels in America: Millennium Approaches, Kushner |

108
(1)
109
(1)

| | |
| --- | --- |
| | The Brothers, (2), Collins |

110
(2)

| | |
| --- | --- |
| | The Bubbly Black Girl Sheds Her Chameleon Skin, Childs |

112
(1)
113
(1)
114
(2)
116
(1)

| | |
| --- | --- |
| | Hey for Honesty, Randolph |

117
(1)

| | |
| --- | --- |
| | Hot Flashes, Cold Horses, Lavine |

118
(1)
119
(4)

| | |
| --- | --- |
| | Kimberly Akimbo, Lindsay-Abaire |

123
(1)

| | |
| --- | --- |
| | Lady Windemere's Fan, Wilde |

124
(2)

| | |
| --- | --- |
| | The Last Cigarette, Kramer |

126
(2)
128
(1)
129
(1)
130
(1)

| | |
| --- | --- |
| | Omnium Gatherum, Rebeck and Gersten-Vassilaros |

131
(1)
132
(1)
133
(2)
135
(2)

| | |
| --- | --- |
| | Says I, Says He, Hutchinson |

137
(1)

| | |
| --- | --- |
| | The School of Beauty and Charm, Sumner |

138
(1)

| | |
| --- | --- |
| | Screaming Violet, Grimberg |

139
(1)
140
(1)
141
(2)
143
(2)

| | |
| --- | --- |
| | To Die for Want of Lobster, McNickle |

145
(1)
146
(2)
148
(2)
150
(4)
MALE COMIC MONOLOGUES

| | |
| --- | --- |
| | The 72-Ounce Steak, Kramer |

154
(2)
156
(1)
157
(1)
158
(1)

| | |
| --- | --- |
| | Anton in Show Business, (2), Jane Martin |

159
(2)

| | |
| --- | --- |
| | The Arkansas Tornado, Rogers |

161
(1)

| | |
| --- | --- |
| | The Bachelor's Soliloquoy, Anonymous |

162
(2)

| | |
| --- | --- |
| | The Bad-Tempered Man, Menander |

164
(1)
165
(2)

| | |
| --- | --- |
| | Bigfoot Stole My Wife, Carlson |

167
(1)
168
(1)

| | |
| --- | --- |
| | Black Thang, (2), Essandoh |

169
(2)
171
(2)
173
(2)
175
(1)
176
(1)

| | |
| --- | --- |
| | The Casket Comedy, Plautus |

177
(1)

| | |
| --- | --- |
| | Changes in the Memory After Fifty, Steve Martin |

178
(1)

| | |
| --- | --- |
| | The Clawfoot Interviews, Trieschmann |

179
(1)

| | |
| --- | --- |
| | The Clouds, (3), Aristophanes |

180
(5)

| | |
| --- | --- |
| | The Constant Couple, Farquhar |

185
(1)
186
(1)
187
(1)
188
(1)

| | |
| --- | --- |
| | The Customs Collector in Baggy Pants, Ferlinghetti |

189
(1)
190
(1)
191
(2)
193
(2)

| | |
| --- | --- |
| | The Doctor in Spite of Himself, Molière |

195
(2)
197
(2)
199
(2)
201
(1)
202
(2)

| | |
| --- | --- |
| | Good Evening, Cook and Moore |

204
(1)

| | |
| --- | --- |
| | Half Asleep in Frog Pajamas, (2), Robbins |

205
(3)

| | |
| --- | --- |
| | An Indignation Dinner, Corrothers |

208
(2)

| | |
| --- | --- |
| | Life Without Leann, Doyle |

210
(2)
212
(1)

| | |
| --- | --- |
| | The Mathematics of Change, Kornbluth |

213
(1)
214
(1)
215
(1)
216
(1)

| | |
| --- | --- |
| | My Heart and the Real World, White |

217
(1)
218
(2)

| | |
| --- | --- |
| | The Old Bachelor, (2), Congreve |

220
(2)

| | |
| --- | --- |
| | Picasso at the Lapin Agile, (2), Steve Martin |

222
(2)
224
(1)

| | |
| --- | --- |
| | Psycho Beach Party, Busch |

225
(1)

| | |
| --- | --- |
| | Red Diaper Baby, Kornbluth |

226
(2)
228
(1)
229
(1)
230
(2)
232
(1)
233
(2)

| | |
| --- | --- |
| | Stick a Fork in It, Pal, Knight |

235
(1)
236
(1)
237
(1)

| | |
| --- | --- |
| | Where's My Money?, Shanley |

238
(2)
MALE SERIOCOMIC MONOLOGUES
240
(1)

| | |
| --- | --- |
| | Baby With the Bathwater, Durang |

241
(1)
242
(1)
243
(2)

| | |
| --- | --- |
| | Beeperless Remote, Whitfield |

245
(1)

| | |
| --- | --- |
| | The Commissioner, Courteline |

246
(1)
247
(2)

| | |
| --- | --- |
| | The Country Wife, Wycherly |

249
(1)

| | |
| --- | --- |
| | Crush Everlasting, Ulrich |

250
(1)

| | |
| --- | --- |
| | The Fair Maid of the Exchange, Heywood |

251
(1)

| | |
| --- | --- |
| | The Fairy Garden, Kondoleon |

252
(1)

| | |
| --- | --- |
| | The Great Galeoto, Echegaray |

253
(1)
254
(1)

| | |
| --- | --- |
| | Jails, Hospitals and Hip-Hop, Hoch |

255
(2)

| | |
| --- | --- |
| | Kimberly Akimbo, Lindsay-Abaire |

257
(1)

| | |
| --- | --- |
| | Lady of the Lyons, Bulwer-Lytton |

258
(1)

| | |
| --- | --- |
| | The Lady's Last Stake, Cibber |

259
(1)
260
(2)
262
(1)

| | |
| --- | --- |
| | The Magic Realists, Terry |

263
(1)
264
(1)
265
(1)
266
(2)

| | |
| --- | --- |
| | Much Ado About Nothing, Shakespeare |

268
(1)

| | |
| --- | --- |
| | The Picture of Dorian Gray, Wilde |

269
(2)

| | |
| --- | --- |
| | Population Growth, Stratford |

271
(1)

| | |
| --- | --- |
| | Scotch and Donuts, Longenbaugh |

272
(1)

| | |
| --- | --- |
| | Sleepin' at Doug's, White |

273
(2)
275
(2)
277
(1)
278
(1)
279
(1)

| | |
| --- | --- |
| | Two Gentlemen of Verona, (2), Shakespeare |

280
(4)
Female/Male MONOLOGUES

| | |
| --- | --- |
| | Acme Temporary Services, Eisenstein |

284
(2)

| | |
| --- | --- |
| | America (It's Gotta Be the Cheese), Kadosh |

286
(2)

| | |
| --- | --- |
| | A Midsummer's Night Dream, Shakespeare |

288
(1)
289
(1)
290
(2)
292
(1)

| | |
| --- | --- |
| | Till We Meet Again, Crowther |

293
(2)
Indices

| | |
| --- | --- |
| | Monologues by Age and Gender |

295
(4)

| | |
| --- | --- |
| | Classic and Contemporary Monologues by Gender |

299
(3)
302
(1)

| | |
| --- | --- |
| | Permission Acknowledgments |

303