Note: Supplemental materials are not guaranteed with Rental or Used book purchases.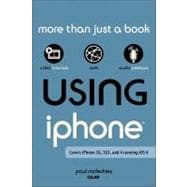 Using the iPhone (covers 3G, 3Gs and 4 running iOS4)
ISBN13:
9780789745255
by
McFedries, Paul
Summary
"Using the iPhone" is a customized, media-rich learning experience designed to help new users master the device quickly. This exceptional resource is fully integrated with an unprecedented collection of online learning resources designed to reinforce key concepts.
Author Biography
Paul McFedries is an iPhone expert and full-time technical writer. Paul has been authoring computer books since 1991 and has more than 70 books to his credit, which combined have sold more than 3 million copies worldwide. His titles include the Que Publishing books USING the Microsoft Office Web Apps, Formulas and Functions with Microsoft Excel 2010; Tricks of the Microsoft Office 2007 Gurus; and Tweak It and Freak It: A Killer Guide to Making Windows Run Your Way, as well as the Sams Publishing book Windows 7 Unleashed. Paul is also the proprietor of Word Spy (http://www.wordspy.com), a website devoted to lexpionage, the sleuthing of new words and phrases that have entered the English language.
Table of Contents
Introduction . . . . . . . . . . . . . . . . . . . . . . . . . . . . . . . . . . . . . . . . . . . . . . . . . . . . . . . . . . . . . . . . . . . . . . . .1
1 Getting to Know Your iPhone . . . . . . . . . . . . . . . . . . . . . . . . . . . . . . . . . . . . . . . . . . . .5
Using the Home Button . . . . . . . . . . . . . . . . . . . . . . . . . . . . . . . . . . . . . . . . . . . . . . . . . . . . . . . . . .5
Working with the Sleep/Wake Button . . . . . . . . . . . . . . . . . . . . . . . . . . . . . . . . . . . . . . . . .6
Sleeping and Waking the iPhone . . . . . . . . . . . . . . . . . . . . . . . . . . . . . . . . . . . . . . . . . .7
Powering the iPhone On and Off . . . . . . . . . . . . . . . . . . . . . . . . . . . . . . . . . . . . . . . . . .8
Working with the Ring/Silent Switch . . . . . . . . . . . . . . . . . . . . . . . . . . . . . . . . . . . . . . . . . .9
Operating the Volume Controls . . . . . . . . . . . . . . . . . . . . . . . . . . . . . . . . . . . . . . . . . . . . . . .10
Getting to Know the Rest of the iPhone . . . . . . . . . . . . . . . . . . . . . . . . . . . . . . . . . . . .10
Connecting Your iPhone to Your Computer . . . . . . . . . . . . . . . . . . . . . . . . . . . . . . . .13
Charging Your iPhone . . . . . . . . . . . . . . . . . . . . . . . . . . . . . . . . . . . . . . . . . . . . . . . . . . . . . . . . . . .14
2 Learning iPhone Basics . . . . . . . . . . . . . . . . . . . . . . . . . . . . . . . . . . . . . . . . . . . . . . . . . . .17
Operating the Touchscreen . . . . . . . . . . . . . . . . . . . . . . . . . . . . . . . . . . . . . . . . . . . . . . . . . . . .17
Navigating the Touchscreen . . . . . . . . . . . . . . . . . . . . . . . . . . . . . . . . . . . . . . . . . . . . . . .17
Typing on the Keyboard . . . . . . . . . . . . . . . . . . . . . . . . . . . . . . . . . . . . . . . . . . . . . . . . . . . .18
Working with the Special Keys . . . . . . . . . . . . . . . . . . . . . . . . . . . . . . . . . . . . . . . . . . . .19
Using the Suggestion Feature . . . . . . . . . . . . . . . . . . . . . . . . . . . . . . . . . . . . . . . . . . . .21
Navigating the Home Screen . . . . . . . . . . . . . . . . . . . . . . . . . . . . . . . . . . . . . . . . . . . . . . . . . .21
Searching the iPhone . . . . . . . . . . . . . . . . . . . . . . . . . . . . . . . . . . . . . . . . . . . . . . . . . . . . . . . . . . .21
Running a Spotlight Search . . . . . . . . . . . . . . . . . . . . . . . . . . . . . . . . . . . . . . . . . . . . . . .23
Cutting, Copying, and Pasting Data . . . . . . . . . . . . . . . . . . . . . . . . . . . . . . . . . . . . . . . . . .24
Selecting Text . . . . . . . . . . . . . . . . . . . . . . . . . . . . . . . . . . . . . . . . . . . . . . . . . . . . . . . . . . . . . . . . .24
Copying and Pasting Text . . . . . . . . . . . . . . . . . . . . . . . . . . . . . . . . . . . . . . . . . . . . . . . . . .26
Copying and Pasting an Image . . . . . . . . . . . . . . . . . . . . . . . . . . . . . . . . . . . . . . . . . . .27
Undoing a Paste . . . . . . . . . . . . . . . . . . . . . . . . . . . . . . . . . . . . . . . . . . . . . . . . . . . . . . . . . . . . .27
Connecting to a Wireless Network . . . . . . . . . . . . . . . . . . . . . . . . . . . . . . . . . . . . . . . . . . .28
Connecting to a Wireless Network . . . . . . . . . . . . . . . . . . . . . . . . . . . . . . . . . . . . . . .28
Synchronizing Your iPhone and Your Computer . . . . . . . . . . . . . . . . . . . . . . . . . .30
Configuring Your iPhone for Syncing . . . . . . . . . . . . . . . . . . . . . . . . . . . . . . . . . . . .31
3 Placing and Receiving Phone Calls . . . . . . . . . . . . . . . . . . . . . . . . . . . . . . . . . .33
Placing Calls . . . . . . . . . . . . . . . . . . . . . . . . . . . . . . . . . . . . . . . . . . . . . . . . . . . . . . . . . . . . . . . . . . . . . .33
Dialing a Call . . . . . . . . . . . . . . . . . . . . . . . . . . . . . . . . . . . . . . . . . . . . . . . . . . . . . . . . . . . . . . . . . .33
Redialing a Recent Call . . . . . . . . . . . . . . . . . . . . . . . . . . . . . . . . . . . . . . . . . . . . . . . . . . . . .35
Dialing a Contact . . . . . . . . . . . . . . . . . . . . . . . . . . . . . . . . . . . . . . . . . . . . . . . . . . . . . . . . . . . .36
Dialing via the Favorites List . . . . . . . . . . . . . . . . . . . . . . . . . . . . . . . . . . . . . . . . . . . . . . .38
Dialing a Call from a Web Page . . . . . . . . . . . . . . . . . . . . . . . . . . . . . . . . . . . . . . . . . . .39
Dialing a Call from an Email Message . . . . . . . . . . . . . . . . . . . . . . . . . . . . . . . . . . .41
Using Your Voice to Dial a Call . . . . . . . . . . . . . . . . . . . . . . . . . . . . . . . . . . . . . . . . . . . .42
Receiving Calls . . . . . . . . . . . . . . . . . . . . . . . . . . . . . . . . . . . . . . . . . . . . . . . . . . . . . . . . . . . . . . . . . . .42
Answering a Call . . . . . . . . . . . . . . . . . . . . . . . . . . . . . . . . . . . . . . . . . . . . . . . . . . . . . . . . . . . . .43
Declining a Call . . . . . . . . . . . . . . . . . . . . . . . . . . . . . . . . . . . . . . . . . . . . . . . . . . . . . . . . . . . . . .44
Silencing a Call . . . . . . . . . . . . . . . . . . . . . . . . . . . . . . . . . . . . . . . . . . . . . . . . . . . . . . . . . . . . . . .44
Putting a Caller on Hold to Answer Another Call . . . . . . . . . . . . . . . . . . . . .45
Setting Up a Conference Call . . . . . . . . . . . . . . . . . . . . . . . . . . . . . . . . . . . . . . . . . . . . . .47
Working with Visual Voicemail . . . . . . . . . . . . . . . . . . . . . . . . . . . . . . . . . . . . . . . . . . . . . . . .49
Recording Your Visual Voicemail Greeting . . . . . . . . . . . . . . . . . . . . . . . . . . . . . .49
Listening to Visual Voicemail Messages . . . . . . . . . . . . . . . . . . . . . . . . . . . . . . . . .50
Pairing Your iPhone to a Bluetooth Headset . . . . . . . . . . . . . . . . . . . . . . . . . . . . . . .52
Pairing Your iPhone to a Bluetooth Headset . . . . . . . . . . . . . . . . . . . . . . . . . . .52
4 Surfing the Web on Your iPhone . . . . . . . . . . . . . . . . . . . . . . . . . . . . . . . . . . . . . .55
Surfing Web Pages . . . . . . . . . . . . . . . . . . . . . . . . . . . . . . . . . . . . . . . . . . . . . . . . . . . . . . . . . . . . . .55
Entering a Web Page Address . . . . . . . . . . . . . . . . . . . . . . . . . . . . . . . . . . . . . . . . . . . . .56
Tapping Links . . . . . . . . . . . . . . . . . . . . . . . . . . . . . . . . . . . . . . . . . . . . . . . . . . . . . . . . . . . . . . . . .58
Opening a Link in a New Page . . . . . . . . . . . . . . . . . . . . . . . . . . . . . . . . . . . . . . . . . . . .59
Surfing with the History List . . . . . . . . . . . . . . . . . . . . . . . . . . . . . . . . . . . . . . . . . . . . . . .60
Searching the Web . . . . . . . . . . . . . . . . . . . . . . . . . . . . . . . . . . . . . . . . . . . . . . . . . . . . . . . . . .61
Working with Web Pages . . . . . . . . . . . . . . . . . . . . . . . . . . . . . . . . . . . . . . . . . . . . . . . . . . . . . . .62
Scrolling a Web Page . . . . . . . . . . . . . . . . . . . . . . . . . . . . . . . . . . . . . . . . . . . . . . . . . . . . . . . .62
Zooming a Web Page . . . . . . . . . . . . . . . . . . . . . . . . . . . . . . . . . . . . . . . . . . . . . . . . . . . . . . .63
Saving a Web Page as a Bookmark . . . . . . . . . . . . . . . . . . . . . . . . . . . . . . . . . . . . . . .63
Synchronizing Bookmarks . . . . . . . . . . . . . . . . . . . . . . . . . . . . . . . . . . . . . . . . . . . . . . . . .65
Adding a Web Page to the Home Screen . . . . . . . . . . . . . . . . . . . . . . . . . . . . . . .66
Sending a Web Page Link via Email . . . . . . . . . . . . . . . . . . . . . . . . . . . . . . . . . . . . . .67
Saving a Web Page Image to Your iPhone . . . . . . . . . . . . . . . . . . . . . . . . . . . . . .68
Working with Online Forms . . . . . . . . . . . . . . . . . . . . . . . . . . . . . . . . . . . . . . . . . . . . . . . . . . .68
Filling In a Form . . . . . . . . . . . . . . . . . . . . . . . . . . . . . . . . . . . . . . . . . . . . . . . . . . . . . . . . . . . . . .69
Using AutoFill to Save Form Data . . . . . . . . . . . . . . . . . . . . . . . . . . . . . . . . . . . . . . . .70
5 Sending and Receiving Email Messages . . . . . . . . . . . . . . . . . . . . . . . . . .71
Synchronizing Email Accounts . . . . . . . . . . . . . . . . . . . . . . . . . . . . . . . . . . . . . . . . . . . . . . . .71
Synchronizing Email Accounts . . . . . . . . . . . . . . . . . . . . . . . . . . . . . . . . . . . . . . . . . . . .71
Working with Email Accounts . . . . . . . . . . . . . . . . . . . . . . . . . . . . . . . . . . . . . . . . . . . . . . . . .72
Creating a New Email Account . . . . . . . . . . . . . . . . . . . . . . . . . . . . . . . . . . . . . . . . . . . .72
Editing an Email Account . . . . . . . . . . . . . . . . . . . . . . . . . . . . . . . . . . . . . . . . . . . . . . . . . .81
Deleting an Email Account . . . . . . . . . . . . . . . . . . . . . . . . . . . . . . . . . . . . . . . . . . . . . . . .82
Sending Messages . . . . . . . . . . . . . . . . . . . . . . . . . . . . . . . . . . . . . . . . . . . . . . . . . . . . . . . . . . . . . . .83
Creating and Sending an Email Message . . . . . . . . . . . . . . . . . . . . . . . . . . . . . . .83
Customizing Your Email Signature . . . . . . . . . . . . . . . . . . . . . . . . . . . . . . . . . . . . . . .85
Receiving and Managing Messages . . . . . . . . . . . . . . . . . . . . . . . . . . . . . . . . . . . . . . . . . .86
Checking for New Messages . . . . . . . . . . . . . . . . . . . . . . . . . . . . . . . . . . . . . . . . . . . . . .86
Reading Messages . . . . . . . . . . . . . . . . . . . . . . . . . . . . . . . . . . . . . . . . . . . . . . . . . . . . . . . . . . .87
Replying to a Message . . . . . . . . . . . . . . . . . . . . . . . . . . . . . . . . . . . . . . . . . . . . . . . . . . . . . .89
Forwarding a Message . . . . . . . . . . . . . . . . . . . . . . . . . . . . . . . . . . . . . . . . . . . . . . . . . . . . .90
Saving an Email Image to Your iPhone . . . . . . . . . . . . . . . . . . . . . . . . . . . . . . . . . .91
Deleting Messages . . . . . . . . . . . . . . . . . . . . . . . . . . . . . . . . . . . . . . . . . . . . . . . . . . . . . . . . . .93
6 Managing Music on Your iPhone . . . . . . . . . . . . . . . . . . . . . . . . . . . . . . . . . . . . .95
Synchronizing Music . . . . . . . . . . . . . . . . . . . . . . . . . . . . . . . . . . . . . . . . . . . . . . . . . . . . . . . . . . . .95
Synchronizing Music . . . . . . . . . . . . . . . . . . . . . . . . . . . . . . . . . . . . . . . . . . . . . . . . . . . . . . . .96
Playing Music Using the iPod App . . . . . . . . . . . . . . . . . . . . . . . . . . . . . . . . . . . . . . . . . . .97
Navigating the iPod App . . . . . . . . . . . . . . . . . . . . . . . . . . . . . . . . . . . . . . . . . . . . . . . . . . .97
Playing Music . . . . . . . . . . . . . . . . . . . . . . . . . . . . . . . . . . . . . . . . . . . . . . . . . . . . . . . . . . . . . . . . .99
Playing Music via Voice Commands . . . . . . . . . . . . . . . . . . . . . . . . . . . . . . . . . . . .101
Listening to Music Through a Bluetooth Headset . . . . . . . . . . . . . . . . . . .103
Creating a Playlist . . . . . . . . . . . . . . . . . . . . . . . . . . . . . . . . . . . . . . . . . . . . . . . . . . . . . . . . . .103
Creating a Genius Playlist . . . . . . . . . . . . . . . . . . . . . . . . . . . . . . . . . . . . . . . . . . . . . . . .105
Downloading Music Using the iTunes App . . . . . . . . . . . . . . . . . . . . . . . . . . . . . . .106
Navigating the iTunes Store . . . . . . . . . . . . . . . . . . . . . . . . . . . . . . . . . . . . . . . . . . . . .107
Searching for Music . . . . . . . . . . . . . . . . . . . . . . . . . . . . . . . . . . . . . . . . . . . . . . . . . . . . . . . .108
Sampling Music . . . . . . . . . . . . . . . . . . . . . . . . . . . . . . . . . . . . . . . . . . . . . . . . . . . . . . . . . . . .109
Purchasing Music . . . . . . . . . . . . . . . . . . . . . . . . . . . . . . . . . . . . . . . . . . . . . . . . . . . . . . . . . .110
7 Managing Contacts on Your iPhone . . . . . . . . . . . . . . . . . . . . . . . . . . . . . . .113
Synchronizing Contacts . . . . . . . . . . . . . . . . . . . . . . . . . . . . . . . . . . . . . . . . . . . . . . . . . . . . . . .113
Synchronizing Contacts . . . . . . . . . . . . . . . . . . . . . . . . . . . . . . . . . . . . . . . . . . . . . . . . . . .114
Creating a New Contact . . . . . . . . . . . . . . . . . . . . . . . . . . . . . . . . . . . . . . . . . . . . . . . . . . . . . .115
Starting a New Contact . . . . . . . . . . . . . . . . . . . . . . . . . . . . . . . . . . . . . . . . . . . . . . . . . . .116
Adding a Phone Number to a Contact . . . . . . . . . . . . . . . . . . . . . . . . . . . . . . . . .116
Adding an Email Address to a Contact . . . . . . . . . . . . . . . . . . . . . . . . . . . . . . . .118
Adding a Web Page Address to a Contact . . . . . . . . . . . . . . . . . . . . . . . . . . . .118
Adding a Street Address to a Contact . . . . . . . . . . . . . . . . . . . . . . . . . . . . . . . . .118
Assigning a Photo to a Contact . . . . . . . . . . . . . . . . . . . . . . . . . . . . . . . . . . . . . . . . .120
Adding Other Fields to a Contact . . . . . . . . . . . . . . . . . . . . . . . . . . . . . . . . . . . . . . .121
Completing the New Contact . . . . . . . . . . . . . . . . . . . . . . . . . . . . . . . . . . . . . . . . . . .121
Editing a Contact . . . . . . . . . . . . . . . . . . . . . . . . . . . . . . . . . . . . . . . . . . . . . . . . . . . . . . . . . . . . . . .121
Editing a Contact . . . . . . . . . . . . . . . . . . . . . . . . . . . . . . . . . . . . . . . . . . . . . . . . . . . . . . . . . . .122
Deleting a Contact . . . . . . . . . . . . . . . . . . . . . . . . . . . . . . . . . . . . . . . . . . . . . . . . . . . . . . . . . . . . .123
Deleting a Contact . . . . . . . . . . . . . . . . . . . . . . . . . . . . . . . . . . . . . . . . . . . . . . . . . . . . . . . . .123
8 Tracking Appointments and Events . . . . . . . . . . . . . . . . . . . . . . . . . . . . . . .125
Synchronizing Calendars . . . . . . . . . . . . . . . . . . . . . . . . . . . . . . . . . . . . . . . . . . . . . . . . . . . . .125
Synchronizing Calendars . . . . . . . . . . . . . . . . . . . . . . . . . . . . . . . . . . . . . . . . . . . . . . . . .125
Navigating the Calendar . . . . . . . . . . . . . . . . . . . . . . . . . . . . . . . . . . . . . . . . . . . . . . . . . . . . . .126
Adding Events to the Calendar . . . . . . . . . . . . . . . . . . . . . . . . . . . . . . . . . . . . . . . . . . . . . .127
Adding a Basic Event . . . . . . . . . . . . . . . . . . . . . . . . . . . . . . . . . . . . . . . . . . . . . . . . . . . . . .129
Adding an All-Day Event . . . . . . . . . . . . . . . . . . . . . . . . . . . . . . . . . . . . . . . . . . . . . . . . . .131
Adding a Repeating Event . . . . . . . . . . . . . . . . . . . . . . . . . . . . . . . . . . . . . . . . . . . . . . .131
Adding an Alert to an Event . . . . . . . . . . . . . . . . . . . . . . . . . . . . . . . . . . . . . . . . . . . . .134
Follow Another Person's Calendar . . . . . . . . . . . . . . . . . . . . . . . . . . . . . . . . . . . . . . . . . .135
Follow Another Person's Calendar . . . . . . . . . . . . . . . . . . . . . . . . . . . . . . . . . . . . . .136
Using Your iPhone's Clock . . . . . . . . . . . . . . . . . . . . . . . . . . . . . . . . . . . . . . . . . . . . . . . . . . . .137
Viewing the Current Time in Another City . . . . . . . . . . . . . . . . . . . . . . . . . . . .137
Setting an Alarm . . . . . . . . . . . . . . . . . . . . . . . . . . . . . . . . . . . . . . . . . . . . . . . . . . . . . . . . . . .138
Timing an Event . . . . . . . . . . . . . . . . . . . . . . . . . . . . . . . . . . . . . . . . . . . . . . . . . . . . . . . . . . . .140
Setting Up a Countdown Timer . . . . . . . . . . . . . . . . . . . . . . . . . . . . . . . . . . . . . . . . .142
9 Navigating Your World with Maps . . . . . . . . . . . . . . . . . . . . . . . . . . . . . . . . .145
Mapping Locations . . . . . . . . . . . . . . . . . . . . . . . . . . . . . . . . . . . . . . . . . . . . . . . . . . . . . . . . . . . .145
Mapping Your Current Location . . . . . . . . . . . . . . . . . . . . . . . . . . . . . . . . . . . . . . . . .145
Mapping a Place or an Address . . . . . . . . . . . . . . . . . . . . . . . . . . . . . . . . . . . . . . . . .146
Mapping a Contact's Address . . . . . . . . . . . . . . . . . . . . . . . . . . . . . . . . . . . . . . . . . . . .148
Changing the Map View . . . . . . . . . . . . . . . . . . . . . . . . . . . . . . . . . . . . . . . . . . . . . . . . . .149
Pinning a Location . . . . . . . . . . . . . . . . . . . . . . . . . . . . . . . . . . . . . . . . . . . . . . . . . . . . . . . . .150
Working with Locations . . . . . . . . . . . . . . . . . . . . . . . . . . . . . . . . . . . . . . . . . . . . . . . . . . . . . . .152
Getting Directions to a Location . . . . . . . . . . . . . . . . . . . . . . . . . . . . . . . . . . . . . . . .152
Saving a Location as a Bookmark . . . . . . . . . . . . . . . . . . . . . . . . . . . . . . . . . . . . . . .154
Sending a Location . . . . . . . . . . . . . . . . . . . . . . . . . . . . . . . . . . . . . . . . . . . . . . . . . . . . . . . .155
Viewing Traffic Information . . . . . . . . . . . . . . . . . . . . . . . . . . . . . . . . . . . . . . . . . . . . . .157
10 Taking and Viewing Photos . . . . . . . . . . . . . . . . . . . . . . . . . . . . . . . . . . . . . . . . . . .159
Synchronizing Photos . . . . . . . . . . . . . . . . . . . . . . . . . . . . . . . . . . . . . . . . . . . . . . . . . . . . . . . . .159
Synchronizing Photos from Computer to iPhone . . . . . . . . . . . . . . . . . . .159
Synchronizing Photos from iPhone to Mac . . . . . . . . . . . . . . . . . . . . . . . . . . .161
Synchronizing Photos from iPhone to Windows . . . . . . . . . . . . . . . . . . . . .162
Taking Photos with the Camera . . . . . . . . . . . . . . . . . . . . . . . . . . . . . . . . . . . . . . . . . . . . .162
Taking a Photo with the Camera . . . . . . . . . . . . . . . . . . . . . . . . . . . . . . . . . . . . . . . .163
Working with Photos . . . . . . . . . . . . . . . . . . . . . . . . . . . . . . . . . . . . . . . . . . . . . . . . . . . . . . . . . .164
Viewing Photos . . . . . . . . . . . . . . . . . . . . . . . . . . . . . . . . . . . . . . . . . . . . . . . . . . . . . . . . . . . . .164
Viewing Photos by Album . . . . . . . . . . . . . . . . . . . . . . . . . . . . . . . . . . . . .165
Viewing Photos by Event . . . . . . . . . . . . . . . . . . . . . . . . . . . . . . . . . . . . . . . . . . . . . . . . .166
Viewing Photos by Face . . . . . . . . . . . . . . . . . . . . . . . . . . . . . . . . . . . . . . . . . . . . . . . . . .166
Viewing Photos by Place . . . . . . . . . . . . . . . . . . . . . . . . . . . . . . . . . . . . . . . . . . . . . . . . .167
Running a Photo Slide Show . . . . . . . . . . . . . . . . . . . . . . . . . . . . . . . . . . . . . . . . . . . .168
Running a Photo Slide Show . . . . . . . . . . . . . . . . . . . . . . . . . . . . . . . . . . . . . . . . . . . .169
Assigning a Photo to a Contact . . . . . . . . . . . . . . . . . . . . . . . . . . . . . . . . . . . . . . . . .169
Assigning a Photo to a Contact . . . . . . . . . . . . . . . . . . . . . . . . . . . . . . . . . . . . . . . . .169
Sending a Photo . . . . . . . . . . . . . . . . . . . . . . . . . . . . . . . . . . . . . . . . . . . . . . . . . . . . . . . . . . . .170
Sending a Photo via Email . . . . . . . . . . . . . . . . . . . . . . . . . . . . . . . . . . . . . . . . . . . . . . .170
Sending a Photo via MMS . . . . . . . . . . . . . . . . . . . . . . . . . . . . . . . . . . . . . . . . . . . . . . . .171
Sending a Photo to Your MobileMe Account . . . . . . . . . . . . . . . . . . . . . . . . .171
Deleting a Photo . . . . . . . . . . . . . . . . . . . . . . . . . . . . . . . . . . . . . . . . . . . . . . . . . . . . . . . . . . . . . . .172
Deleting a Photo . . . . . . . . . . . . . . . . . . . . . . . . . . . . . . . . . . . . . . . . . . . . . . . . . . . . . . . . . . .172
11 Recording and Playing Videos . . . . . . . . . . . . . . . . . . . . . . . . . . . . . . . . . . . . . . .173
Synchronizing Videos . . . . . . . . . . . . . . . . . . . . . . . . . . . . . . . . . . . . . . . . . . . . . . . . . . . . . . . . .173
Synchronizing Videos from Computer to iPhone . . . . . . . . . . . . . . . . . . . .173
Synchronizing Videos from iPhone to Mac . . . . . . . . . . . . . . . . . . . . . . . . . . .174
Synchronizing Videos from iPhone to Windows . . . . . . . . . . . . . . . . . . . . .175
Recording Videos with the iPhone Camera . . . . . . . . . . . . . . . . . . . . . . . . . . . . . . .176
Recording a Video with the iPhone Camera . . . . . . . . . . . . . . . . . . . . . . . . . .176
Editing iPhone Videos . . . . . . . . . . . . . . . . . . . . . . . . . . . . . . . . . . . . . . . . . . . . . . . . . . . . . . . .178
Editing an iPhone Video . . . . . . . . . . . . . . . . . . . . . . . . . . . . . . . . . . . . . . . . . . . . . . . . . .178
Working with Videos on Your iPhone . . . . . . . . . . . . . . . . . . . . . . . . . . . . . . . . . . . . . .179
Playing a Video . . . . . . . . . . . . . . . . . . . . . . . . . . . . . . . . . . . . . . . . . . . . . . . . . . . . . . . . . . . . .180
Playing a Video . . . . . . . . . . . . . . . . . . . . . . . . . . . . . . . . . . . . . . . . . . . . . . . . . . . . . . . . . . . . .180
Sending a Video . . . . . . . . . . . . . . . . . . . . . . . . . . . . . . . . . . . . . . . . . . . . . . . . . . . . . . . . . . . .180
Sending a Video via Email . . . . . . . . . . . . . . . . . . . . . . . . . . . . . . . . . . . . . . . . . . . . . . . .181
Sending a Video via MMS . . . . . . . . . . . . . . . . . . . . . . . . . . . . . . . . . . . . . . . . . . . . . . . .182
Sending a Video to Your MobileMe Account . . . . . . . . . . . . . . . . . . . . . . . . .183
Sending a Video to YouTube . . . . . . . . . . . . . . . . . . . . . . . . . . . . . . . . . . . . . . . . . . . . .183
Deleting a Video . . . . . . . . . . . . . . . . . . . . . . . . . . . . . . . . . . . . . . . . . . . . . . . . . . . . . . . . . . . .184
Deleting a Video . . . . . . . . . . . . . . . . . . . . . . . . . . . . . . . . . . . . . . . . . . . . . . . . . . . . . . . . . . . .185
12 Working with Apps and the App Store . . . . . . . . . . . . . . . . . . . . . . . . . . .187
Getting to Know the Rest of the iPhone Apps . . . . . . . . . . . . . . . . . . . . . . . . . . .187
Sending Text Messages . . . . . . . . . . . . . . . . . . . . . . . . . . . . . . . . . . . . . . . . . . . . . . . . . . .187
Sending Text Messages . . . . . . . . . . . . . . . . . . . . . . . . . . . . . . . . . . . . . . . . . . . . . . . . . . .188
Calculating with Calculator . . . . . . . . . . . . . . . . . . . . . . . . . . . . . . . . . . . . . . . . . . . . . .189
Using the Compass to Learn Which Way You're Facing . . . . . . . . . . . . .191
Taking Notes . . . . . . . . . . . . . . . . . . . . . . . . . . . . . . . . . . . . . . . . . . . . . . . . . . . . . . . . . . . . . . . .191
Writing a Note . . . . . . . . . . . . . . . . . . . . . . . . . . . . . . . . . . . . . . . . . . . . . . . . . . . . . . . . . . . . . .192
Tracking Your Stocks . . . . . . . . . . . . . . . . . . . . . . . . . . . . . . . . . . . . . . . . . . . . . . . . . . . . . . .193
Adding a Stock to the Stocks App . . . . . . . . . . . . . . . . . . . . . . . . . . . . . . . . . . . . . .193
Recording Voice Memos . . . . . . . . . . . . . . . . . . . . . . . . . . . . . . . . . . . . . . . . . . . . . . . . . .193
Recording a Voice Memo . . . . . . . . . . . . . . . . . . . . . . . . . . . . . . . . . . . . . . . . . . . . . . . . .194
Getting the Weather Forecast . . . . . . . . . . . . . . . . . . . . . . . . . . . . . . . . . . . . . . . . . . .196
Getting the Weather Forecast for a City . . . . . . . . . . . . . . . . . . . . . . . . . . . . . . .197
Watching YouTube Videos . . . . . . . . . . . . . . . . . . . . . . . . . . . . . . . . . . . . . . . . . . . . . . . .197
Watching a YouTube Video . . . . . . . . . . . . . . . . . . . . . . . . . . . . . . . . . . . . . . . . . . . . . . .199
Playing with Game Center . . . . . . . . . . . . . . . . . . . . . . . . . . . . . . . . . . . . . . . . . . . . . . .199
Setting Up Your Game Center Account . . . . . . . . . . . . . . . . . . . . . . . . . . . . . . . .200
Send a Friend Request . . . . . . . . . . . . . . . . . . . . . . . . . . . . . . . . . . . . . . . . . . . . . . . . . . . .201
Accept a Friend Request . . . . . . . . . . . . . . . . . . . . . . . . . . . . . . . . . . . . . . . . . . . . . . . . . .201
Multitasking Apps . . . . . . . . . . . . . . . . . . . . . . . . . . . . . . . . . . . . . . . . . . . . . . . . . . . . . . . . . . . . . .202
Multitasking Apps . . . . . . . . . . . . . . . . . . . . . . . . . . . . . . . . . . . . . . . . . . . . . . . . . . . . . . . . .202
Extending Your iPhone with the App Store . . . . . . . . . . . . . . . . . . . . . . . . . . . . . . .203
Installing an App . . . . . . . . . . . . . . . . . . . . . . . . . . . . . . . . . . . . . . . . . . . . . . . . . . . . . . . . . . .205
Syncing Apps . . . . . . . . . . . . . . . . . . . . . . . . . . . . . . . . . . . . . . . . . . . . . . . . . . . . . . . . . . . . . . .205
13 Customizing Your iPhone . . . . . . . . . . . . . . . . . . . . . . . . . . . . . . . . . . . . . . . . . . . . . .207
Customizing the Home Screen . . . . . . . . . . . . . . . . . . . . . . . . . . . . . . . . . . . . . . . . . . . . . .207
Rearranging the Home Screen Icons . . . . . . . . . . . . . . . . . . . . . . . . . . . . . . . . . . .208
Creating Home Screen App Folders . . . . . . . . . . . . . . . . . . . . . . . . . . . . . . . . . . . .209
Putting the iPhone in Airplane Mode . . . . . . . . . . . . . . . . . . . . . . . . . . . . . . . . . . . . . .210
Putting the iPhone in Airplane Mode . . . . . . . . . . . . . . . . . . . . . . . . . . . . . . . . . .210
Customizing the iPhone's Sounds . . . . . . . . . . . . . . . . . . . . . . . . . . . . . . . . . . . . . . . . . .210
Customizing the iPhone's Sounds . . . . . . . . . . . . . . . . . . . . . . . . . . . . . . . . . . . . . .211
Setting the Screen Brightness . . . . . . . . . . . . . . . . . . . . . . . . . . . . . . . . . . . . . . . . . . . . . . .212
Setting the Screen Brightness . . . . . . . . . . . . . . . . . . . . . . . . . . . . . . . . . . . . . . . . . . .213
Customizing the iPhone Wallpaper . . . . . . . . . . . . . . . . . . . . . . . . . . . . . . . . . . . . . . . . .213
Applying a Predefined Wallpaper . . . . . . . . . . . . . . . . . . . . . . . . . . . . . . . . . . . . . . .213
Applying a Photo as a Wallpaper . . . . . . . . . . . . . . . . . . . . . . . . . . . . . . . . . . . . . . .214
Configuring the iPhone Keyboard . . . . . . . . . . . . . . . . . . . . . . . . . . . . . . . . . . . . . .215
Configuring the iPhone Keyboard . . . . . . . . . . . . . . . . . . . . . . . . . . . . . . . . . . . . . .215
Configuring Your iPhone's Sleep Setting . . . . . . . . . . . . . . . . . . . . . . . . . . . . . . . . . .216
Configuring Your iPhone's Sleep Setting . . . . . . . . . . . . . . . . . . . . . . . . . . . . . .216
Protecting Your iPhone with a Passcode Lock . . . . . . . . . . . . . . . . . . . . . . . . . . . .216
Protecting Your iPhone with a Passcode Lock . . . . . . . . . . . . . . . . . . . . . . . .217
Activating Parental Restrictions . . . . . . . . . . . . . . . . . . . . . . . . . . . . . . . . . . . . . . . . . . . . .217
Activating Parental Restrictions . . . . . . . . . . . . . . . . . . . . . . . . . . . . . . . . . . . . . . . . .218
TOC, 8/30/2010, 9780789745255