Note: Supplemental materials are not guaranteed with Rental or Used book purchases.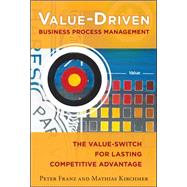 Value-Driven Business Process Management: The Value-Switch for Lasting Competitive Advantage
ISBN13:
9780071791717
by
Franz, Peter
;
Kirchmer, Mathias
Related Products
Summary
Praise for Value-Driven Business Process Management "The book goes well beyond a traditional methods-and-tools perspective to present the most current, broadly informed view of BPM as a management discipline. . . ." Paul O'Flaherty, Finance Director, Eskom "Franz and Kirchmer go directly to the heart of the role of BPM in business by focusing on value as the driver, management discipline as the requirement, and translating strategy into execution as the measure of success. . . ." Richard Maltsbarger, SVP of Strategy & BPM, Lowe's Companies, Inc. "If your CEO has delivered a set of strategic imperatives, you are ready for Value-Driven BPM. This book provides the vision of how to win in the integrated global economy by building a core BPM discipline in your company to simplify the delivery of business strategy. . . ." Kathleen Donahue, Senior Director of Business Process Management, Pfizer Inc. "Business Process Management (BPM) has to be implemented as a management discipline and linked to the strategic imperatives of an organization in order to achieve the best business impact. Franz and Kirchmer show how this can be achieved. . . . I recommend the book to top executives, BPM practitioners, as well as the academic world." Professor Dr. Drs. h.c. August-Wilhelm Scheer, BPM Thought Leader and Entrepreneur " Value-Driven Business Process Managementis a game-changing book. . . ." Larry M. Starr, Ph.D., Executive Director and Academic Chair, Organizational Dynamics Graduate Studies, University of Pennsylvania "Franz and Kirchmer provide a strong foundation for readers in every phase of their BPM life cycle." Alan Trefler, Founder and CEO, Pegasystems Inc. "Value-driven BPM, as defined by Franz and Kirchmer, is an insightful way to use the available methods and tools to get real business impact through process management. It is a fresh approach to quickly move from strategy into execution." Dr. Wolfram Jost, CTO, Software AG About the Book: Business Process Management (BPM) is a powerful management discipline for driving efficiency and innovation, as well as achieving strategic imperatives. When you develop a business strategy that is supported by a pragmatic application of BPM, your processes become important assetsand business success soon follows. It's called value-driven BPM, and this game-changing guide takes you step by step through the entire process. A team of BPM experts from the global management consulting company Accenture provides some of the key ingredients you need to achieve the highest levels of differentiation and performance. Franz and Kirchmer explain how to launch value-driven BPM in synchronicity with existing BPM efforts, and they reveal common roadblocks along with clear steps for overcoming them. With Value-Driven Business Process Management, you have in your hands a full-suite guide to: Achieving immediate business benefi ts while building lasting BPM capabilities Putting the right team and infrastructure in place to build an organization designed for an outcome and value-based BPM capability Assessing and prioritizing process improvements in alignment with the overall business strategy to meet the most vital needs and deliver the most value The authors include several end-to-end case studies from a range of industries. These deliver valuable insight into successfully linking processes to value. If your goal is to empower every employee at every level to express his or her virtuosity in a way that is aligned with strategy, this book is for you. If you seek to create innovative products and services that meet changing customer requirements, this book is for you. If you want your people and technological capabilities to execute the new paradigm with excellence, and thus realize unprecedented value, this book is for you. If you want to seize the competitive edge nowand maintain it for years to come Value-Driven Business Process Managementis for you.
Table of Contents
Preface
p. ix
Strategy and Planning for Value-Driven BPM
Value-Driven BPM: Why You Need It Now
p. 3
The Impact of Value-Driven BPM
p. 21
The Process of Process Management
p. 33
Developing Your Roadmap to Value-Driven BPM
p. 57
How Value-Driven BPM Optimizes the Impact of Process Improvement Initiatives
p. 81
Building a Value-Driven Organization
Building an Organization for Value-Driven BPM
p. 101
Information Technology for Value-Driven BPM
p. 121
Managing Information Models for Value-Driven BPM
p. 145
The Present and the Future of Value-Driven BPM
Value-Driven BPM In Practice
p. 171
The Future of Value-Driven BPM
p. 187
Abbreviations
p. 207
Bibliography
p. 209
Index
p. 213
Table of Contents provided by Ingram. All Rights Reserved.