Note: Supplemental materials are not guaranteed with Rental or Used book purchases.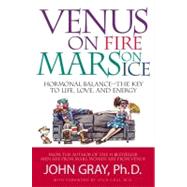 Venus on Fire, Mars on Ice: Hormonal Balance-the Key to Life, Love and Energy
ISBN13:
9780978279738
by
Gray, John
Summary
In Venus on Fire, Mars on Ice, Dr. John Gray advises men and women of the best ways to harness the connection between stress, blood sugar, body fat, and behavior to create lifelong passion and better health. Dr. Gray reveals that the differences between the sexes, and how they relate to one another, are biochemically based and can be explained - and managed - by our hormones. Dr. Gray provides small steps for super-stimulating the hormones necessary to nourish a vibrant life. He explores how communication, romance, "a superfood diet, super exercise, and super sleep," can be incorporated into any lifestyle, and result in a whole new way of life. For example, Dr. Gray reveals: The unique ways in which men and women deal with stress; How stress hormones can damage our health and complicate our relationships; The importance of "superfoods" and good nutrition in replenishing hormones; Why menopause-and 'man-o-pause' don't have to be relationship stressors; How balancing blood sugar is intricately connected to balancing our hormones; and How achieving hormonal balance will not only improve relationships but provide strength and energy to cope with the challenges of modern life.
Author Biography
JOHN GRAY, PhD, is the bestselling relationship author of all time and author of 16 previous books, including Men are from Mars, Women are from Venus, which USA Today called ๔one of the top-ten most influential books of the last 25 years.๖ Over 50 million Mars Venus books have been sold in 45 languages throughout the world to date. An internationally recognized expert in the fields of communication and relationships, Dr. Gray's unique focus is assisting men and women in understanding, respecting, and appreciating their differences. He lives with his wife and family in Northern California.
Table of Contents
Introduction
p. ix
Chapter
Venus on Fire, Mars on Ice—Why?
p. 1
Venus and Mars Under Stress
p. 15
Venus and Mars Out of Orbit
p. 31
Cooling Down Venus, Heating Up Mars
p. 47
Venus and Mars, Changing Places?!?
p. 69
Why Venus Stops Talking and Mars Stops Listening
p. 89
Emergency Man—The Real Reason Women Need You
p. 105
Venus and Mars Collide Into Love
p. 123
Menopause is from Venus, "Man-O-Pause" is from Mars
p. 147
Super Fuel to Balance the Planets—Nutrition for Healthy Hormones
p. 165
Venus and Mars at Rest
p. 183
Love, Sex and Happiness
p. 199
Afterword
p. 233
For More Information
p. 235
Appendix
One Hundred Oxytocin-Producing Activities A Woman Can Engage In
p. 237
Grounded to the Earth
p. 243
Herbal Supplements for Increased Sexual Desire and Enhanced Performance
p. 249
Table of Contents provided by Ingram. All Rights Reserved.