Note: Supplemental materials are not guaranteed with Rental or Used book purchases.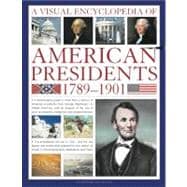 Visual Encyclopedia of American Presidents 1789-1901 : A Chronological Guide to More Than a Century of American Presidents from George Washington's Uncontested and Popular Election in 1789 to William Mckinley's Untimely Assassination In 1901
by
Roper
Summary
This fascinating guide to the early presidents of America looks at the roll call of men voted to high office. Their social backgrounds, education, military or legal training and career path to the presidency are presented along with an insightful analysis of the success each made of the role as statesman and politician. Each presidency is presented within the context of national and international tensions, wars and social developments, as well as the expansion of America westward. For anyone interested in the formation of the United States and the political leaders who helped to steer a course through a century of domestic and international history, this volume is the perfect read.