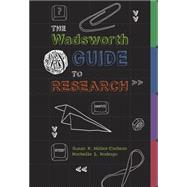 Questions About This Book?
What version or edition is this?
This is the 1st edition with a publication date of 9/5/2008.
What is included with this book?
The eBook copy of this book is not guaranteed to include any supplemental materials. Typically only the book itself is included.
Summary
Develop the research skills you need for success in academic, career, and everyday situations with THE WADSWORTH GUIDE TO RESEARCH. Recognizing that technology is a part of your daily life, the authors will show you how to apply the research skills you use every day (buying a car, choosing a movie, etc.) to academic and professional settings. Annotated student samples, Research in Action scenarios, and Techno Tips show you the "how" and "why" of researching, and the key research technologies important to success.
Table of Contents
Preparing for Research
Why Research? Recognizing Research Contexts
Reflect: How Have You Conducted Research Before? Identifying Research Purposes
Reflect: How Do Research Processes Compare? Considering Elements of the Rhetorical Situation
Reflect: How Do Rhetorical Situations Compare? Entering a Conversation
Techno Tip: Listen to Conversations in Progress
Research and Writing Processes
Processes and Rhetorical Situations
Myths about Writing and Research Processes
Writing Processes
Foundations in Classical Rhetoric
Invention
Researching
Drafting
Reflect: How Do You Write Best? Peer Review
Techno Tip: Conduct Peer Reviews
Revising
Editing
Techno Tip: Read Your Writing Out Loud Proofreading
Reflect: What Are Your Writing Idiosyncrasies? Publishing
Research Processes
Disciplinary Approaches
Write: Discover Disciplinary Patterns and Conventions
Identifying a Topic
Analyzing the Writing Situation
Taking Advantage of Kairos
Write: Identify Kairos
Considering the Rhetorical Situation
Write: Analyze the Rhetorical Situation
Generating Topics
Write: What's Important to You? Write: Generate Topic Ideas
Write: Consider Audience and Purpose
Techno Tip: Use Technology to Explore What You Already Know
Exploring and Narrowing a Potential Topic
Techno Tip: Use the Internet to Explore a Possible Topic
Reflect: How Can I Make a Topic Manageable? Write: Focus Your Research Topic
Developing a Research Question
Write: Write a Research Question
Situating the Writer in the Research
Reflect: What Is the Writer's Place in the Rhetorical Situation? Your Knowledge of Your Topic
Write: Take an Inventory of What You Know
Research in Progress: Writing a Research Proposal
The Assignment
Features of a Research Proposal
Staring Your Research Proposal
Examples of Research Proposals
Example 1: Tsz Lee "Can I Have a Clone?"
Example 2: Megan Trevizo, "Is Breast Always Best?"
Conducting Research
Finding Resources through Secondary Research
Conducting Research
Identifying the Information You Need to Find
Primary and Secondary Research
Conducting Primary or Secondary Research
Reflect: Should You Conduct Primary or Secondary Research? Locating Resources
Specific Search Terms
Internet Search Engines
Expanding and Focusing Search Terms
Write: List Alternative Key Terms
Write: Develop a List of Search Terms
Search Engines and Web Directories
Techno Tip: Refine Your Search Results
Types of Resources
How Texts Change over Time
How Texts Are Reviewed
Library Resources vs
Internet Resources
Techno Tip: Edit and Review the History of a Wikipedia Page
Static Resources
Books
Write: Search the Library Catalog
Websites
Audio and Video Files
Microfilm and Microfiche
Syndicated Resources
Periodicals
Write: Search for Resources in Periodicals
Podcasts
Blogs and RSS Feeds
Techno Tip: Set up RSS Feeds
Dynamic Resources
Email Lists and Newsgroups
Social Networking Sites
Online Communities
Wikis
Write: Search for a Variety of Resources
Developing a Research Plan
Reflect: What's Your Plan?
Conducting Primary Research
Observations
Including Observation in Your Research Plan
Conducting an Observation
Write: Practice Observing Your Subject
Techno Tip: Record Your Observation
Interviews
Including Interviews in Your Research Plan
Conducting an Interview
Write: Draft Interview Questions
Techno Tip: Conduct Interviews Online
Surveys
Including a Survey in Your Research Plan
Conducting a Survey
Write: Draft Survey Questions
Reflect: Is the Survey Valid and Reliable? Distributing Surveys and Collecting Responses
Techno Tip: Consider Online Survey Services
Ethical Considerations
Techno Tip: Gather Data Online
Interpretation of Data
Analyzing Quantitative Data
Analyzing Qualitative Data
Presenting the Results of Primary Research
Write: Decide What Type of Primary Data to Collect
Reflect: What Does Your Research Plan Look Like Now?
Reading Resources Rhe
Table of Contents provided by Publisher. All Rights Reserved.