Note: Supplemental materials are not guaranteed with Rental or Used book purchases.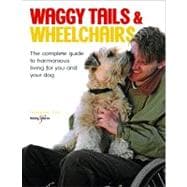 Waggy Tails & Wheelchairs: The Complete Guide to Harmonious Living for You and Your Dog
ISBN13:
9781845842925
by
Epp, Alexander
Summary
Confined to a wheelchair but still want a dog - is that a good idea? Indeed it is, as the author - whors"s wheelchair dependant - ably demonstrates. Here, everything that mobility-impaired potential dog owners need to consider to enable them to own and care for their very own canine companion, even if finances are restricted; or they do not have their own car or assistance, is described and illustrated in detail. Wheelchair and mobility scooter users face their own particular challenges when it comes to dog ownership: how will they walk their dog; train and teach it; play games with it, and all importantly, pick up that poop? From his unique viewpoint, the author answers all of these questions and concerns, and more besides, allowing readers to assess and determine whether they can share their special lifestyle with a dog, and what they can do in preparation of this happy circumstance.
Author Biography
Alexander Epp became confined to a wheelchair at the age of 21 after a car accident. However, this didn't prevent him from undertaking many tours on a handbike, complete with tent and accompanied by one or more stray dogs. These 'village dogs' lived completely independent loves, without benefit of training or human companionship, and yet chose to follow Alexander on his adventures, developing a close bond with him as they did. This experience led to Alexander writing his first book 'Friendship instead of dominance' (Kynos, 2003), and acquiring his own dog, the German Shepherd Ferro, who features in this book. Sadly, at the age of just six, Ferro succumbed to a congenital heart defect and died. Alexander does not have a dog at the moment as he feels that none could replace his beloved Ferro. Also written by Alexander is 'All about Wheelchairs' Trias verlag, 1998).