Note: Supplemental materials are not guaranteed with Rental or Used book purchases.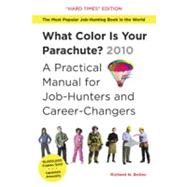 What Color Is Your Parachute?: A Practical Manual for Job-Hunters and Career-Changers:The 2010 "Job-Hunting in Hard Times" Edition
ISBN13:
9781580089876
by
Bolles, Richard N.
Summary
What Color Is Your Parachute?has been the bestselling job-search book in the world for more than three decades, in good times and bad, and it continues to be a fixture on best-seller lists, fromNew York TimestoBusinessWeek. It has sold more than 10 million copies and has been translated into 20 languages around the world.What Color Is Your Parachute?is streamlined this year to help those struggling to find part-time and full-time employment in these hard economic times acquire the job-search tools they need faster and more efficiently. This classic job-search book is, as always, updated and relevant to todayrs"s job market. Career guru Richard N. Bolles leads job-searchers to find meaningful employment. He asks, WHAT skills do you most love to use?Where-in what field-would you most love to use them? Andhowdo you search for such a job without depending on employment agencies and ads? This book is not only about finding a job in hard times. Itrs"s about finding your passion. In the words ofFortunemagazine: "What Color Is Your Parachute?remains the gold standard of career guides." ThisNew York TimesandBusinessWeekbestseller answers such questions as: bull; I was just laid off from my current job. What do I do first? bull; What are the most helpful job sites on the Internet, out of the thousands that are there? bull; What are the five bestand worstways to hunt for a job? bull; I havenrs"t a clue how to do salary negotiation. Help! bull; In general, what are employers looking for? bull; What interview questions can I expect to be asked, and how do I answer them? bull; Irs"m over 50. What special problems do I face when I go job-hunting? bull; How do I survive financially while Irs"m out of work, and how do I find health insurance when I have no employer? [This is the trade paperback edition.]
Author Biography
RICHARD N. BOLLES has been a leader in the career development field for more than thirty-five years. He was trained in chemical engineering at Massachusetts Institute of Technology, and holds a bachelor's degree cum laude in physics from Harvard University and a master's in sacred theology from General Theological (Episcopal) Seminary in New York City. He lives in the San Francisco Bay Area with his wife, Marci.
Excerpts
Part I
Finding a Job . . .
It was the best of times,
It was the worst of times,
It was the age of wisdom,
It was the age of foolishness,
It was the epoch of belief,
It was the epoch of incredulity,
It was the season of light,
It was the season of darkness,
It was the spring of hope,
It was the winter of despair,
We had everything before us,
We had nothing before us,
We were all going direct to heaven,
We were all going direct the other way . . .

Charles Dickens
A Tale of Two Cities
1. Finding a Job . . . Even in Hard Times:
Rejection Shock

Charles Dickens had it right. For some of us, this is the worst of times. Our house has been foreclosed, or seen its value drop dramatically. Fuel costs are killing us. Rice is scarce, and getting scarcer. Food prices are soaring. Businesses are folding. Companies are cutting their work force dramatically. Millions are out of work.
But there are others who are barely touched by any of this. They cannot understand what we are going through. At least 138,000,000 people still have jobs, in the U.S. Some of them, well-paying jobs. They are well off, and in some cases, have money to burn. For them, this is the best of times. They cannot understand our pain.
But we, when we are out of work, go looking for another job; but we, when we are finding it difficult to feed our families, go looking for a better-paying job. And that is when we run into the nature of the job-market, and the nature of the job-hunt. It isn't as easy as we thought it was going to be.
Tom Jackson has well characterized the nature of the job-hunt as one long process of rejection. In job-interview after job-interview, what some of us hear the employer say is:
NO NO NO NO NO NO NO NO NO NO NO NO NO NO NO NO NO NO NO NO NO NO NO NO NO NO NO NO NO NO NO NO NO NO NO NO NO NO NO NO NO NO NO NO NO NO NO NO NO NO NO NO NO NO NO NO NO NO YES.
Before we get to that final YES–or if we are lucky, two YESES, so that we have a choice–before we get there, the job-hunt is nothing but one long process of rejection. And we, so unprepared for this, go into a kind of Rejection Shock.
Naturally, we have questions.
I just lost my job. How many others are in the same predicament?


Well, you've got lots of company. As of June 2009, the number of people out of work totaled at least 14,500,000 individuals. And that's a government figure. In the U.S. there are always many more people out of work than the government will ever admit–regardless of which party is in power.
Will I need a computer and Internet access, to go about my job-hunt in this twenty-first century?

It's not mandatory, and if you don't have a computer, there are non-Internet job-hunting resources, of course. For example, if because you lack a computer you can't access Job-Postings by employers on the Internet, you can always look at the Help Wanted Ads in your local newspaper, especially the Sunday edition.
There are also regional papers devoted to nothing but job openings, such as
JobDig,
which, at this writing, publishes fourteen local weekly newspapers in twelve states, mostly midwestern (from Minnesota down to Texas). A subscription for thirteen weeks costs job-hunters $65. Call 877-456-2344 to see whether or not there's a local paper covering your part of the country.
According to the latest figures, however, at least 74.7 percent of Americans use the Internet, which adds up to 227 million users. Others, of course, usually have a friend who can go on the Internet for them.
Moreover, if you know how to use a computer but just don't happen to own one at the moment, many public libraries as well as Internet cafés can let you use their computer for a fee. (To locate the Internet café nearest you, have a friend
---

Excerpted from What Color Is Your Parachute? 2010: A Practical Manual for Job-Hunters and Career-Changers by Richard N. Bolles
All rights reserved by the original copyright owners. Excerpts are provided for display purposes only and may not be reproduced, reprinted or distributed without the written permission of the publisher.