Note: Supplemental materials are not guaranteed with Rental or Used book purchases.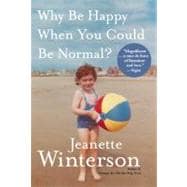 Summary
Jeanette Winterson's novels have establishing her as a major figure in world literature. She has written some of the most admired books of the past few decades, including her internationally bestselling first novel, Oranges Are Not the Only Fruit, the story of a young girl adopted by Pentecostal parents that is now often required reading in contemporary fiction. Why Be Happy When You Could Be Normal? is a memoir about a life's work to find happiness. It's a book full of stories: about a girl locked out of her home, sitting on the doorstep all night; about a religious zealot disguised as a mother who has two sets of false teeth and a revolver in the dresser, waiting for Armageddon; about growing up in an north England industrial town now changed beyond recognition; about the Universe as Cosmic Dustbin. It is the story of how a painful past that Jeanette thought she'd written over and repainted rose to haunt her, sending her on a journey into madness and out again, in search of her biological mother. Witty, acute, fierce, and celebratory, Why Be Happy When You Could Be Normal? is a tough-minded search for belonging—for love, identity, home, and a mother.
Author Biography
Born in Manchester in 1959 and adopted into a firmly religious family, Jeanette Winterson put herself through higher education and studied at Oxford University. She is the author of numerous novels, including Oranges Are Not the Only Fruit, Sexing the Cherry, and The Passion. Winterson lives in Gloucestershire, UK. Visit her website at jeanettewinterson.com
Table of Contents
The Wrong Crib
p. 1
My Advice to Anybody is: Get Born
p. 13
In The Beginning was the Word
p. 26
The Trouble with a Book...
p. 33
At Home
p. 44
Church
p. 65
Accrington
p. 85
The Apocalypse
p. 100
English Literature A-Z
p. 115
This is the Road
p. 131
Art and Lies
p. 142
Intermission
p. 153
The Night Sea Voyage
p. 155
This Appointment Takes Place in the Past
p. 178
Strange Meeting
p. 207
The Wound
p. 220
Coda
p. 226
Table of Contents provided by Ingram. All Rights Reserved.