Note: Supplemental materials are not guaranteed with Rental or Used book purchases.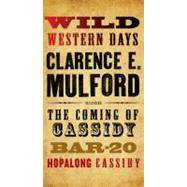 Wild Western Days : The Coming of Cassidy, Bar-20, Hopalong Cassidy
ISBN13:
9780765323071
by
Mulford, Clarence E.
Summary
"The outfit of the Bar-20 was, perhaps, the most famous of all from Canada to the Rio Grande. The foreman, Buck Peters, controlled a crowd of men (who had all the instincts of boys) that had shown no quarter to rustlers, and who, while always carefree and easygoing (even fighting with great good humor and carelessness), had established the reputation of being the most reckless gang of daredevil gunfighters that ever pounded leather." (fromBar-20) Included in this big omnibus are three long novels,Bar-20,Hopalong Cassidy, andThe Coming of Cassidy. These are Clarence Mulford's first three Cassidy novels, stories that helped to establish the genre conventions of the Western in the first decade of the twentieth century, and which introduced the famous character, Hopalong Cassidy. Cassidy, was of course, the hero of many films, and a classic, long-running network television show, starring silver-haired William Boyd and his horse, Topper.
Author Biography
Clarence E. Mulford is the creator of the character Hopalong Cassidy, who appeared in sixty-six films, twenty-eight novels, and a long-running television series. Mulford died in 1956.
Table of Contents
"The Mulford stories about Cassidy are rousing adventures, with some of the best action sequences in early Western fiction."
---Bill Pronzini, editor of
Wild Westerns


"The stories teem with wildly exciting events. . . .  They are among the best of their kind."
--The New York Times
on
The Coming of Cassidy


"Hopalong Cassidy, introduced in a 1907 novel by the Illinois-born writer Clarence E . Mulford, is as durable a Western hero as Max Brand's Destry or Owen Wister's Virginian. Mulford's Hoppy, a profane cowboy with a limp (thus "Hop-a-Long"), was a far cry from the black-clad, cleaned-up, soft-spoken, character portrayed by William Boyd in over sixty movies, but Boyd's Hoppy is the one best remembered today. This omnibus collection of three of the original Mulford novels should win a new and appreciative audience for these grand Western stories."
—Dale L. Walker, Western historian, past-president of Western Writers of America
"Thanks to Forge Books, three of the first real Hopalong novels are now available in a handsome 576-page keeper of a book, Wild Western Days. . . .  The Hopalong stories give the reader a grand tour of the Golden Age of what has become known as the "traditional" Western story, of which Mulford was a master."
--Roundup Magazine