Note: Supplemental materials are not guaranteed with Rental or Used book purchases.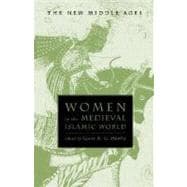 Questions About This Book?
What version or edition is this?
This is the edition with a publication date of 10/29/1999.
What is included with this book?
The New copy of this book will include any supplemental materials advertised. Please check the title of the book to determine if it should include any CDs, lab manuals, study guides, etc.
Summary
Women often appear invisible in what is widely perceived as the male-oriented society of Islam. Women in the Medieval Islamic World seeks to redress the balance with a series of original essays on women in the pre-modern phase of Islamic history. The reader will encounter here a colorful portrait gallery of rulers, politicians, poets and patrons, as well as some larger than life fictitious females from the pages of Arabic, Persian and Turkish literature. No less authentic are the accounts of quiet or troubled lives of ordinary women preserved in the court records of Mamluk Egypt and Ottoman Turkey, reminders that historical research can resuscitate the lives of subaltern as well as elite women from the past.
Author Biography
Gavin R.G. Hambly is Professor of History at the University of Texas at Dallas.

Table of Contents
Preface * Medieval Islamic Women in Historiography and History--Gavin R.G. Hambly * The Roles and Images of Women in Sasanian Iran--Jenny Rose * Women in Pre-Islamic Central Asia--Richard N. Frye * Zaynab Bint 'Ali and the Place of the Women of the Households of the First Imams in Shi'ite Devotional Literature--David Pinault * Women and 'Fitna' in the 'Sirat Dhat al-Himma'--Remke Kruk * Sayyida Hurra: The Isma'ili Sulayhid Queen of Yemen--Farhad Daftary * Women's Lamentations as Protest in the Shahnama--Olga M. Davidson * Heroines and Others in the Heroic Age of the Turks--Geoffrey Lewis * Female Piety and Patronage in the Medieval Hajj--Marina Tolmacheva * Sultan Radiyya Bint Iltutmish--Peter Jackson * Timurid Women: A Cultural Perspective--Priscilla P. Soucek * Conjugal Rights Versus Class Prerogatives: A Divorce Case in Mamluk Cairo--Carl F. Petty * Invisible Women: Residents of Early Sixteenth-Century Istanbul--Yvonne J. Seng * Orality, Honor, and Representation in the Ottoman Court of 'Aintab--Leslie Peirce * Women and the Public Eye in 18th Century Istanbul--Fariba Zarinebaf-Shahr * Learned Ladies and Princess Politicians in the Provinces of Early Safavid Iran--Maria Szuppe * A Glimpse at Safavid Women in Local Isfahani Culture--Kathryn Babyan * Women in Safavid Iran: Impressions of European Travelers--Ronald W. Ferrier * Women Builders in Safavid Isfahan and Mughal Shahjahanabad--Stephen P. Blake * Armed Female Retainers in the Zenanas of Indo-Muslim Rulers--Gavin R.G. Hambly * Private Lives and Public Piety--Gregory C. Kozlowski * Women and the Feminine in the Court and High Culture of Awadh, 1720-1856--Michael H. Fisher * Women as Power Brokers in Early Modern India--Richard B. Barnett * Sitt Nasra Bint 'Adlan: A Sudanese Noblewoman in History and Tradition--Idris Salim al-Hasan and Neil McHugh * Bibliography *

Preface * Medieval Islamic Women in Historiography and History--Gavin R.G. Hambly * The Roles and Images of Women in Sasanian Iran--Jenny Rose * Women in Pre-Islamic Central Asia--Richard N. Frye * Zaynab Bint 'Ali and the Place of the Women of the Households of the First Imams in Shi'ite Devotional Literature--David Pinault * Women and 'Fitna' in the 'Sirat Dhat al-Himma'--Remke Kruk * Sayyida Hurra: The Isma'ili Sulayhid Queen of Yemen--Farhad Daftary * Women's Lamentations as Protest in the Shahnama--Olga M. Davidson * Heroines and Others in the Heroic Age of the Turks--Geoffrey Lewis * Female Piety and Patronage in the Medieval Hajj--Marina Tolmacheva * Sultan Radiyya Bint Iltutmish--Peter Jackson * Timurid Women: A Cultural Perspective--Priscilla P. Soucek * Conjugal Rights Versus Class Prerogatives: A Divorce Case in Mamluk Cairo--Carl F. Petty * Invisible Women: Residents of Early Sixteenth-Century Istanbul--Yvonne J. Seng * Orality, Honor, and Representation in the Ottoman Court of 'Aintab--Leslie Peirce * Women and the Public Eye in 18th Century Istanbul--Fariba Zarinebaf-Shahr * Learned Ladies and Princess Politicians in the Provinces of Early Safavid Iran--Maria Szuppe * A Glimpse at Safavid Women in Local Isfahani Culture--Kathryn Babyan * Women in Safavid Iran: Impressions of European Travelers--Ronald W. Ferrier * Women Builders in Safavid Isfahan and Mughal Shahjahanabad--Stephen P. Blake * Armed Female Retainers in the Zenanas of Indo-Muslim Rulers--Gavin R.G. Hambly * Private Lives and Public Piety--Gregory C. Kozlowski * Women and the Feminine in the Court and High Culture of Awadh, 1720-1856--Michael H. Fisher * Women as Power Brokers in Early Modern India--Richard B. Barnett * Sitt Nasra Bint 'Adlan: A Sudanese Noblewoman in History and Tradition--Idris Salim al-Hasan and Neil McHugh * Bibliography *