Note: Supplemental materials are not guaranteed with Rental or Used book purchases.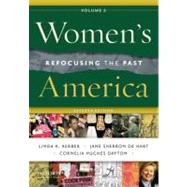 Summary
Featuring a mix of primary source documents, articles, and illustrations, Women's America: Refocusing the Past has long been an invaluable resource. Now in its seventh edition, the book has been extensively revised and updated to cover recent events in American women's history. New to this Edition * 33% new selections: Two extended photo essays: "Women in Public" and "Adorning the Body" * New design: provides a clearer distinction between essays, documents, and photo essays * Available for the first time in 2-volume splits: presents more flexibility for two-semester courses
Author Biography

Linda K. Kerber is May Brodbeck Professor in the Liberal Arts & Sciences at the University of Iowa. She is the author of several books, including No Constitutional Right to Be Ladies (1999) and Toward an Intellectual History of Women (1997). She has served as President of the Organization of American Historians and the American Studies Association and is a Fellow of the American Academy of Arts and Sciences.

Jane Sherron De Hart is Professor Emerita of History at the University of California, Santa Barbara. Co-author of Sex, Gender, and ERA: A State and the Nation (OUP, 1990), and winner of the American Political Science Association's Victoria Schuck Award (1991), she specializes in twentieth-century issues of gender, politics, and policy. She is currently completing a study of Justice Ruth Bader Ginsburg that blends biography and legal history.

Cornelia Hughes Dayton is Associate Professor of History at the University of Connecticut. The author of Women Before the Bar (1995), she is currently writing a book about the life stories of those with mental disorders and their caretakers in eighteenth-century America. She recently launched a new website supplementing her essay "Taking the Trade" about a 1740s abortion trial.

Table of Contents

PART III: CREATING THE STATE IN AN INDUSTRIALIZED NATION: 1880-1945
Rebecca Edwards, Pioneers at the Polls: Woman Suffrage in the West
Patricia A. Schechter, Ida B. Wells and Southern Horrors
DOCUMENTS Claiming an Education
Zitkala-Sa (Gertrude Simmons Bonnin), " . . . this semblance of civilization . . ."
Mary McLeod Bethune, "How the Bethune-Cookman College campus started"
Peggy Pascoe, Ophelia Paquet, a Tillamook Indian Wife: Miscegenation Laws and the Privileges of Property
Glenda Gilmore, Forging Interracial Links in the Jim Crow South
Judy Yung, Unbound Feet: From China to San Francisco's Chinatown
Annelise Orleck, From the Russian Pale to Labor Organizing in New York City
Kathryn Kish Sklar, Florence Kelley and Women's Activism in the Progressive Era
DOCUMENTS Protecting Women Wage-Workers Muller v. Oregon, 1908
Pauline Newman, "We fought and we bled and we died . . ."
Ellen Carol Dubois, The Next Generation of Suffragists: Harriot Stanton Blatch and Grassroots Politics
DOCUMENTS Dimensions of Citizenship I
Mackenzie v. Hare, 1915
Equal Suffrage (Nineteenth) Amendment, 1920
Adkins v. Children's Hospital, 1923
Margaret Sanger, "I resolved that women should have knowledge of contraception . . ."
Nancy F. Cott, Equal Rights and Economic Roles: The Conflict over the Equal Rights Amendment in the 1920s
Joan Jacobs Brumberg, Fasting Girls: The Emerging Ideal of Slenderness in American Culture
Photo Essay: Adorning the Body
Vicki L. Ruiz, The Flapper and the Chaperone: Mexican American Teenagers in the Southwest
Ruth Schwartz Cowan, The "Industrial Revolution" in the Home: Household Technology and Social Change in the Twentieth Century
Jacquelyn Dowd Hall, Disorderly Women: Gender and Labor Militancy in the Appalachian South
Leslie J. Reagan, When Abortion Was a Crime: Reproduction and the Economy in the Great Depression
Jacqueline Jones, Harder Times: The Great Depression
DOCUMENT Struggling to Unionize
Genora Johnson Dollinger, ". . . Once she understands she is standing in defense of her family--well, God, don't fool around with that woman then"
Alice Kessler-Harris, Designing Women and Old Fools: Writing Gender into Social Security Law
Blanche Wiesen Cook, Storms on Every Front: Eleanor Roosevelt and Human Rights at Home and in Europe
Valerie Matsumoto, Japanese American Women during World War II
Beth Bailey and David Farber, Prostitutes on Strike: The Women of Hotel Street during World War II
Ruth Milkman, Gender at Work: The Sexual Division of Labor during World War II
PART IV: STRUGGLES AGAINST INJUSTICE: 1945-2010
Daniel Horowitz, Betty Friedan and the Origins of Feminism in Cold War America
Estelle Freedman, Miriam Van Waters and the Burning of Letters
Susan K. Cahn, "Mannishness," Lesbianism, and Homophobia in U.S. Women's Sports
Joyce Antler, Imagining Jewish Mothers in the 1950s
Amy Swerdlow, Ladies' Day at the Capitol: Women Strike for Peace versus HUAC
Charles Payne, A Woman's War: African American Women in the Civil Rights Movement
DOCUMENTS Dimensions of Citizenship II
Pauli Murray, "I had entered law school preoccupied with the racial struggle . . . but I graduated an unabashed feminist as well. . . ."
Goesaert v. Cleary, 1948
Hoyt v. Florida, 1961; Taylor v. Louisiana, 1975
Civil Rights Act, Title VII, 1964
Beth L. Bailey, Prescribing the Pill: The Coming of the Sexual Revolution in America's Heartland
Susan J. Douglas, Why the Shirelles Mattered: Girl Groups on the Cusp of a Feminist Awakening
Lisa Levenstein, Hard Choices at 1801 Vine: African American Women, Child Support, and Domestic Violence in Postwar Philadelphia
Jane Sherron De Hart, Second-Wave Feminists and the Dynamics of Social Change
DOCUMENTS Making the Personal Political
Betty Friedan, "The problem that has no name . . . I understood first as a woman . . ."
Carol Hanisch, "The protest of the Miss America Pageant". . . told the nation a new feminist movement is afoot. . . ."
Redstockings, "Male supremacy is the oldest, most basic form of domination."
Radicalesbians, "What is a lesbian?"
Pat Mainardi, The Politics of Housework
Jennie V. Chavez, "It has taken . . . a long time . . . to realize and speak out about the double oppression of Mexican-American women"
"Women in the Asian movement find that . . . stereotypes are still hovering over their heads . . . that [they] must play [the] old role[s] in order to get things done"
The Combahee River Collective, "We also find it difficult to separate race from class from sex oppression"
Kay Weiss, "One of the cruelest forms of sexism we live with today is . . . [that] of many doctors"
Phyllis Schlafly, "The thoughts of one who loves life as a woman . . ."
DOCUMENTS Dimensions of Citizenship III
Equal Rights Amendment, 1972
Title IX, Education Amendments of 1972
Frontiero v. Richardson, 1973
Roe v. Wade, 1973; Planned Parenthood of Southeastern Pennsylvania v. Casey, 1992; Carhart v. Gonzales, 2007
"We were the first American women sent to live and work in the midst of guerrilla warfare. . . ."
Rostker v. Goldberg, 1981
Meritor Savings Bank v. Mechelle Vinson et al., 1986
Violence against Women Act, 1994, 2000, 2005
DOCUMENTS Making Women's Studies
The Search for the American Woman: Anne Firor Scott's First Women's History Syllabus, University of Washington Summer Session, 1971
Founding the Committee for Women's Studies at Harvard University, 1986
Elizabeth L. Hillman, The Female Shape of the All-Volunteer Force
DOCUMENT The Changing Workplace
Susan Eisenberg, "Entering construction . . . was a little like falling in love with someone you weren't supposed to"
DOCUMENTS Rethinking Marriage
Loving v. Virginia, 1967; Griswold v. Connecticut, 1965; Defense of Marriage Act, 1996; Goodridge v. Massachusetts Department of Public Health, 2003
DOCUMENT Embracing Global Feminism
Hillary Clinton, "Women's Rights Are Human Rights," 1995
Judith Resnik, Sisterhood, Slavery, and Sovereignty: Transnational Women's Rights Movements from 1840 through the Beginning of the Twenty-first Century