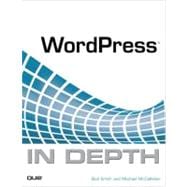 Summary
"WordPress In Depth" offers comprehensive guidance for every aspect of using WordPress, from downloading, installing, and securing it through blog design, templates, themes, posting entries, working with comments and e-mail, and managing WordPress blogs.
Author Biography
Bud Smith wrote his first book for Que about buying computers fifteen years ago–and had to do his online research for it using dial-up Internet. Since then, he's lived and worked in Silicon Valley; London, England; Auckland and Christchurch New Zealand; and San Francisco and written a dozen more books. And he does most of his online work at broadband speeds–except when he's using the Web on his cell phone, which is slower than his old dial-up modem. Bud runs a WordPress-based blog at gvDaily.com.
Michael McCallister is devoted to the idea that technology need not be feared and can be mastered by anyone. He has been writing about technology in general and open source software in particular, for the whole of the twenty-first century and part of the last century, too. He tries to help build the open source community, from which derives WordPress and so much else that is good, true, and pure in life (the parts of life that run on computers, anyway). While Bud has moved hither and yon, Michael has lived the relatively boring, stable life in the central United States (Milwaukee, Madison, and Boulder). Michael has been running "Notes from the Metaverse" on WordPress since 2006 at www.michaelmccallister.com.
Table of Contents
Introduction 1
Part I: Getting Started with Your Blog
Chapter 1: Getting Started with WordPress 9
Chapter 2: Starting Your Blog Right 27
Chapter 3: Creating Your Blog's Look 51
Part II: Running Your Blog
Chapter 4: Creating Your First Post 81
Chapter 5: Taking Posts Further 101
Chapter 6: Using HTML in Your Widgets and Blog 123
Chapter 7: Adding Features to Your Blog 147
Chapter 8: Tracking Statistics and Bringing In Visitors 167
Part III: Taking Your Blog Further
Chapter 9: Adding Graphics to Your Posts 191
Chapter 10: Adding Upgrades, Audio, and Video 209
Part IV: Building Your Own WordPress Installation
Chapter 11: Installing and Upgrading WordPress Software 229
Chapter 12: The WordPress Toolkit: Themes 257
Chapter 13: The WordPress Toolkit: Plug-Ins 271
Chapter 14: Style Sheets for Building Themes 287
Chapter 15: PHP Basics: Themes and Plug-Ins 321
Part V: Appendices
Appendix A: WordPress.com Versus WordPress.org 349
Appendix B: WordPress Documentation 357
Appendix C: Examples of WordPress Blogs 363
Appendix D: Examples of WordPress.com Blogs 367
Appendix E: WordPress Site Maps 371
Appendix F: Importing Content from Other Systems 385
Index 391