Note: Supplemental materials are not guaranteed with Rental or Used book purchases.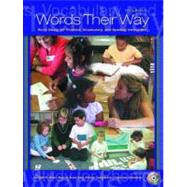 Summary
A core text or supplement for phonics and reading methods courses. Words Their Way, Third Edition is designed to help teachers address the needs of all readers and spellers, by setting out a clear way to accomodate each student's developmental level, then providing the best methods for teaching to that level. In support of this philosophy, the authors provide more than 250 ready-to-use activities for teaching word study, spelling, vocabulary, and phonics. The text is organized by developmental sequence, and activities appropriate for each level are inclusive within each chapter. Additional word sorts and directions for games are located in the Appendix.
Author Biography
Francine Johnston is Associate Professor in the School of Education at the University of North Carolina at Greensboro. Shane Templeton is Foundation Professor of Literacy Studies at the University of Nevada, Reno. Marcia Invemizzi is Director of the McGuffey Reading Center at the University of Virginia. Donald Bear is Director of the El Cord Foundation Center for Learning and Literacy at the University of Nevada, Reno.
Table of Contents
Introduction Why Word Study?
1
(2)

| | |
| --- | --- |
| | Word Study and the Development of Orthographic Knowledge |

3
(28)

| | |
| --- | --- |
| | Why Is Word Study Important? |

4
(1)

| | |
| --- | --- |
| | What Is the Purpose of Word Study? |

4
(1)

| | |
| --- | --- |
| | What Is the Basis for Word Study? |

5
(3)
5
(1)
6
(1)
6
(1)

| | |
| --- | --- |
| | What Students Need to Learn to Read and Spell English |

7
(1)

| | |
| --- | --- |
| | Word Study Is Developmental |

8
(2)

| | |
| --- | --- |
| | The Development of Orthographic Knowledge |

8
(2)
10
(1)

| | |
| --- | --- |
| | Stages of Spelling Development |

10
(11)

| | |
| --- | --- |
| | Stage I: Emergent Spelling |

11
(2)

| | |
| --- | --- |
| | Stage II: Letter Name-Alpliabetic Spelling |

13
(2)

| | |
| --- | --- |
| | Stage III: Within Word Pattern Spelling |

15
(2)

| | |
| --- | --- |
| | Stage IV: Syllables and Affixes Spelling |

17
(2)

| | |
| --- | --- |
| | Stage V: Derivational Relations Spelling |

19
(2)

| | |
| --- | --- |
| | The Synchrony of Literacy Development |

21
(4)
22
(1)
22
(1)
23
(1)

| | |
| --- | --- |
| | Intermediate and Advanced Readers |

23
(2)

| | |
| --- | --- |
| | Using Invented Spelling as a Guide for Instruction |

25
(1)
26
(1)
27
(4)
27
(4)

| | |
| --- | --- |
| | Getting Started: The Assessment of Orthographic Development |

31
(28)

| | |
| --- | --- |
| | Informal Observations to Assess Orthographic Knowledge |

32
(2)

| | |
| --- | --- |
| | Observe Students' Writing |

32
(1)

| | |
| --- | --- |
| | Observe Students' Reading |

33
(1)

| | |
| --- | --- |
| | Qualitative Spelling Inventories |

34
(4)

| | |
| --- | --- |
| | What Are Spelling Inventories? |

34
(2)

| | |
| --- | --- |
| | An Overview: Three Steps to Assess Spelling |

36
(2)

| | |
| --- | --- |
| | How to Administer Spelling Inventories |

38
(3)

| | |
| --- | --- |
| | Create a Relaxed Atmosphere |

38
(1)
38
(2)
40
(1)

| | |
| --- | --- |
| | How to Score and Analyze Spelling Inventories |

41
(7)
41
(1)

| | |
| --- | --- |
| | Common Confusions in Scoring |

42
(1)

| | |
| --- | --- |
| | Words Spelled Correctly and the Stages of Development |

43
(1)
43
(2)
45
(3)
48
(4)
48
(1)

| | |
| --- | --- |
| | Classroom Composite Chart |

48
(2)

| | |
| --- | --- |
| | Spelling-by-Stage Classroom Organization Chart |

50
(1)
50
(2)

| | |
| --- | --- |
| | More Information About Inventories |

52
(3)

| | |
| --- | --- |
| | Qualitative Spelling Checklist |

52
(1)
52
(1)

| | |
| --- | --- |
| | Kindergarten Spelling Inventory |

52
(1)

| | |
| --- | --- |
| | Primary Spelling Inventory |

53
(1)

| | |
| --- | --- |
| | Elementary Spelling Inventory-1 |

53
(1)

| | |
| --- | --- |
| | Intermediate Spelling Inventory |

53
(1)

| | |
| --- | --- |
| | Upper Level Spelling Inventory |

53
(1)

| | |
| --- | --- |
| | The McGuffey Spelling Inventory |

54
(1)

| | |
| --- | --- |
| | Spanish Spelling Inventory |

54
(1)

| | |
| --- | --- |
| | Spelling Among Students Who Speak Other Languages |

55
(1)

| | |
| --- | --- |
| | The Influence of Spanish on Spelling in English |

55
(1)

| | |
| --- | --- |
| | Word Study Teachers as Dialecticians |

56
(1)
56
(3)

| | |
| --- | --- |
| | Organizing for Word Study: Principles and Practices |

59
(35)
61
(2)
63
(10)
63
(2)
65
(1)
66
(2)
68
(5)

| | |
| --- | --- |
| | Guidelines for Preparing and Introducing Word Sorts |

73
(4)

| | |
| --- | --- |
| | Introducing a Class to Sorting |

73
(1)
73
(1)

| | |
| --- | --- |
| | Teacher-Directed Lesson Plan |

74
(2)

| | |
| --- | --- |
| | Making Sorts Harder or Easier |

76
(1)
77
(1)

| | |
| --- | --- |
| | Organization of Word Study Instruction |

77
(13)

| | |
| --- | --- |
| | Getting Materials Ready for Word Study Instruction |

77
(3)
80
(1)

| | |
| --- | --- |
| | Progressive Skill Development |

81
(1)
82
(1)

| | |
| --- | --- |
| | Betty Lee's Routine for Emergent to Early Letter Name-Alphabetic Spellers |

82
(2)

| | |
| --- | --- |
| | A Weekly Schedule for Students in the Primary and Elementary Grades |

84
(2)
86
(1)

| | |
| --- | --- |
| | Organizing Word Study in the Secondary Grades |

87
(1)

| | |
| --- | --- |
| | Integrating Word Study into the Language Arts Curriculum |

87
(1)

| | |
| --- | --- |
| | Selecting Written Word Study Activities: A Caveat Regarding Tradition |

87
(1)

| | |
| --- | --- |
| | Word Study Homework and Parental Expectations |

88
(1)

| | |
| --- | --- |
| | Expectations for Editing and Accuracy in Children's Written Work |

89
(1)

| | |
| --- | --- |
| | Spelling Tests and Grades |

90
(1)

| | |
| --- | --- |
| | Ten Principles of Word Study Instruction |

90
(4)

| | |
| --- | --- |
| | Word Study for Learners in the Emergent Stage |

94
(44)

| | |
| --- | --- |
| | From Speech to Print: The Synchromesh of Units |

95
(2)

| | |
| --- | --- |
| | The Phrase and Sentence Level |

96
(1)
96
(1)
96
(1)

| | |
| --- | --- |
| | Characteristics of the Emergent Stage of Reading and Spelling |

97
(4)
97
(1)

| | |
| --- | --- |
| | Emergent Writing and Spelling |

98
(1)

| | |
| --- | --- |
| | Emergence of Invented Spelling |

98
(2)

| | |
| --- | --- |
| | Early Literacy Learning and Instruction |

100
(1)

| | |
| --- | --- |
| | Components of Early Literacy Learning |

101
(14)

| | |
| --- | --- |
| | Vocabulary Growth and Concept Development |

102
(1)
103
(3)
106
(2)
108
(2)
110
(2)

| | |
| --- | --- |
| | Word Study Routines and Management |

112
(3)

| | |
| --- | --- |
| | Activities for Emergent Readers |

115
(1)
115
(3)

| | |
| --- | --- |
| | Thematic Units as a Starting Point for Concept Sorts |

118
(1)

| | |
| --- | --- |
| | Playing with Sounds to Develop Phonological Awareness |

119
(5)

| | |
| --- | --- |
| | Alphabet Activities and Games |

124
(7)

| | |
| --- | --- |
| | Working with Beginning Sounds |

131
(3)

| | |
| --- | --- |
| | Helping Children Acquire a Concept of Word |

134
(4)

| | |
| --- | --- |
| | Word Study for Beginners in the Letter Name-Alphabetic Stage |

138
(42)

| | |
| --- | --- |
| | Literacy Development of Letter Name-Alphabetic Students |

140
(1)

| | |
| --- | --- |
| | Reading and Writing in the Letter Name-Alphabetic Stage |

141
(1)

| | |
| --- | --- |
| | Supporting Beginning Literacy Learning |

141
(1)

| | |
| --- | --- |
| | Characteristics of Orthographic Development |

142
(1)

| | |
| --- | --- |
| | How Consonant Sounds Are Articulated in the Mouth |

143
(1)

| | |
| --- | --- |
| | The Issue of Vowels in the Letter Name-Alphabetic Stage |

144
(3)
144
(1)

| | |
| --- | --- |
| | How Vowels Are Articulated in the Mouth |

145
(1)

| | |
| --- | --- |
| | A Letter Name Strategy to Spell Short Vowels |

146
(1)

| | |
| --- | --- |
| | Other Orthographic Features |

147
(1)

| | |
| --- | --- |
| | Consonant Digraphs and Blends |

147
(1)
147
(1)
148
(1)

| | |
| --- | --- |
| | Word Study Instruction for the Letter Name-Alphabetic Stage |

148
(10)
148
(10)

| | |
| --- | --- |
| | Further Study of Vowels at the End of the Letter Name-Alphabetic Stage |

158
(1)

| | |
| --- | --- |
| | Word Study and English Language Learning in the Letter Name-Alphabetic Stage |

159
(1)

| | |
| --- | --- |
| | Word Study Routines and Management |

160
(2)

| | |
| --- | --- |
| | Activities for Beginning Readers in the Letter Name-Alphabetic Stage |

162
(1)

| | |
| --- | --- |
| | Development and Use of Personal Readers and Word Banks |

162
(4)

| | |
| --- | --- |
| | Review of Beginning Sounds Including Digraphs and Blends |

166
(4)

| | |
| --- | --- |
| | The Study of Word Families |

170
(6)
176
(4)

| | |
| --- | --- |
| | Word Study for Transitional Learners in the Within Word Pattern Stage |

180
(38)

| | |
| --- | --- |
| | Literacy Development and Instruction for Students in the Within Word Pattern Stage |

182
(2)
182
(1)

| | |
| --- | --- |
| | Literacy Learning and Instruction |

183
(1)

| | |
| --- | --- |
| | Characteristics of Orthographic Development During the Within Word Pattern Stage |

184
(4)

| | |
| --- | --- |
| | The Complexities of English Vowels |

184
(2)

| | |
| --- | --- |
| | The Influence of Consonants on Vowels |

186
(1)

| | |
| --- | --- |
| | Consonant Patterns and Another Look at Digraphs and Blends |

187
(1)

| | |
| --- | --- |
| | Homophones and Homographs |

187
(1)

| | |
| --- | --- |
| | Word Study Instruction for the Within Word Pattern Stage |

188
(3)
189
(2)

| | |
| --- | --- |
| | Word Study and English Language Learning in the Within Word Pattern Stage |

191
(1)

| | |
| --- | --- |
| | Word Study Routines and Management |

192
(6)

| | |
| --- | --- |
| | The Word Study Lesson Plan in the Within Word Pattern Stage |

192
(2)

| | |
| --- | --- |
| | Guidelines for Creating Word Sorts |

194
(1)
194
(1)

| | |
| --- | --- |
| | Word Study Notebooks in the Within Word Pattern Stage |

195
(1)

| | |
| --- | --- |
| | What about High Frequency Words? |

196
(2)

| | |
| --- | --- |
| | Activities for Students in the Within Word Pattern Stage |

198
(20)

| | |
| --- | --- |
| | Word Study for Intermediate Readers and Writers: The Syllables and Affixes Stage |

218
(31)

| | |
| --- | --- |
| | Literacy Development and Instruction for Students in the Syllables and Affixes Stage |

220
(3)

| | |
| --- | --- |
| | Characteristics of Orthographic Development During the Syllables and Affixes Stage |

223
(9)

| | |
| --- | --- |
| | Open/Closed Syllables and Syllable Patterns |

227
(2)
229
(1)

| | |
| --- | --- |
| | Base Words and Derivational Affixes |

230
(2)

| | |
| --- | --- |
| | Word Study Routines and Management |

232
(2)
232
(2)

| | |
| --- | --- |
| | Activities for Students in the Syllables and Affixes Stage |

234
(15)

| | |
| --- | --- |
| | Word Study for Advanced Readers and Writers: The Derivational Relations Stage |

249
(46)

| | |
| --- | --- |
| | Literacy Development and Instruction for Students in the Derivational Relations Stage |

250
(1)

| | |
| --- | --- |
| | Characteristics of Orthographic Development During the Derivational Relations Stage |

250
(13)

| | |
| --- | --- |
| | The Spelling-Meaning Connection |

250
(2)

| | |
| --- | --- |
| | Literacy Development for Spelling-Meaning Connections |

252
(5)
257
(3)
260
(2)
262
(1)
263
(1)

| | |
| --- | --- |
| | Word Study Routines and Management |

263
(3)

| | |
| --- | --- |
| | Teacher Directed Word Study Instruction |

264
(2)

| | |
| --- | --- |
| | Activities for Students in the Derivational Relations Stage |

266
(29)
295
(126)

| | |
| --- | --- |
| | Assessment Materials for Chapter 2 |

296
(32)
328
(2)

| | |
| --- | --- |
| | Pictures for Sorts and Games |

330
(45)

| | |
| --- | --- |
| | Sample Word Sorts by Spelling Stage |

375
(8)
383
(22)

| | |
| --- | --- |
| | Templates for Sorts and Games |

405
(4)
409
(9)
418
(3)
Glossary
421
(7)
References
428
(6)
Index
434
Excerpts
Words Their Way: Word Study for Phonics, Vocabulary, and Spelling Instruction,Third Edition, provides a practical way to study words with students. Based on research on developmental spelling and word knowledge, the framework of this text is keyed to five stages and instructional levels. Ordered in this way,Words Their Waycomplements the use of any existing phonics, spelling, and vocabulary curricula. The third edition of our text broadens and strengthens an already acute vision of today's classrooms. We provide more support for upper elementary, middle, and secondary students and their teachers, and add a new focus on English Language Learners. Issues of classroom management are also examined in every chapter, beginning with a deep focus in Chapter 3. SPECIAL FEATURES New!ELL Teaching Notes throughout chapters help you to adapt your word study lessons to better suit English Language Learners. New!CD-ROM integration. Notes throughout each chapter point to ways to integrate the materials found on the free CD-ROM with chapter content. New!Companion Website margin notes integrate this great online supplement with the text, leading you to additional related content to be found on our Companion Website, available at http://www.prenhall.com/bear An "Adaptable for Other Stages" symbol indicates activities that can be adapted to other developmental levels. TEXT ORGANIZATION We have organized this text so that it can be easily used in 4 number of ways. To explore the nature of word study and the type of classroom organization and environment that enhances implementation of word study, we suggest you begin reading this text at the beginning--with Chapter 1. If you want to jump right in and explore word study activities with your students, we recommend that you skim Chapters 3 through 8, look for activities related to the developmental levels of your students, and examine a few closely. Then try one or two out with a small group'of students. Remember that additional materials are available on the free CD-ROM enclosed in the text. Chapter 1:The first chapter presents an overview of how words are learned, a discussion of reading, spelling, and writing development, and a rationale for word study phonics, spelling, and vocabulary instruction in the classroom. Chapter 2:The second chapter presents the assessment process in a step-by-step manner to administer, score, and analyze students' spelling. There are now nine inventories, including a Spanish spelling inventory, and based on our recent research we made refinements in the word lists and scoring guides to make instructional planning easier. Guidelines for interpreting spelling errors by English language learners are presented. Chapter 3:In this chapter we clearly present ways to organize word study in a classroom setting. The planning activities integrate word study into reading and language arts programs. Chapters 4 through 8focus on particular stages of literacy development. We hope you will be pleased to see a more explicit scope and sequence of word study instruction for each developmental stage. Sections of developmentally appropriate activities, tabbed in color for easy location, accompany each of these chapters. Often presented in a game-like format, these activities are actually minilessons that draw upon what students are learning concurrently in developmental reading and writing. We have included activities that are especially interesting to students and can be easily integrated into the many contexts in which reading and writing activities occur. In each activity, students examine words and theirsound and spellingpatterns, and they reflect on how words are organized, how they are spelled, and what they mean. Chapter 4:This chapter is dedica