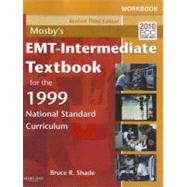 Workbook for Mosby's EMT - Intermediate Textbook for the 1999 National Standard Curriculum - Revised Reprint
by
Shade, Bruce R.
JONES & BARTLETT PUBLISHERS
List Price: $45.95

More New and Used
from Private Sellers
Summary
Specifically designed to correspond with chapters in Mosby's EMT-Intermediate Textbook for the 1999 National Standard Curriculum, 3rd Edition, Revised Reprint, this helpful workbook is just what you need for in-depth study and review of essential concepts and skills covered in the book. Numerous question formats, critical thinking exercises, and case studies will build your knowledge and strengthen your understanding. Plus, it has been updated to reflect the 2010 Emergency Cardiovascular Care guidelines! Multi-format questions review specific facts, including matching, multiple-choice, and short answer questions. Critical thinking exercises test your understanding of key concepts. Case studies challenge you to put what you've learned into practice and apply your knowledge. Correct answers with rationales are located in the back of the book. ECG interpretation exercises and drug dosage calculation exercises are also included, providing you with a solid foundation for all of your exams and your career in EMS. All content has been updated to reflect the 2010 Emergency Cardiovascular Care guidelines. New chapters on medication math, abdominal and extremity trauma, geriatrics, weapons of mass destruction, incident command, tactical emergency medical support, patients with special challenges, and cardiac A&P and ECG interpretation prepare you to respond with superior knowledge of these populations and situations. Provides coverage of current HIPAA regulations, updated drug information, needleless equipment, and more.