Note: Supplemental materials are not guaranteed with Rental or Used book purchases.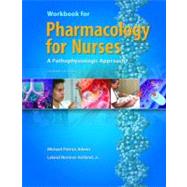 Workbook for Pharmacology for Nurses : A Pathophysiological Approach
ISBN13:
9780131756779
by
Adams, Michael Patrick
Summary
This workbook contains a large number and variety of practice questions and learning activities, including fill-ins, matching, multiple choice, case studies, and dosage calculations. MediaLinks refer you to the Prentice Hall Nursing MediaLink DVD-ROM and Companion Website for additional review and application.
Table of Contents
Preface
p. V
Introduction to Pharmacology: Drug Regulation and Approval
p. 1
Drug Classes and Schedules
p. 5
Emergency Preparedness
p. 8
Principles of Drug Administration
p. 12
Pharmacokinetics
p. 16
Pharmacodynamics
p. 20
The Nursing Process in Pharmacology
p. 24
Drug Administration Throughout the Lifespan
p. 29
Medication Errors and Risk Reduction
p. 34
Psychosocial, Gender, and Cultural Infuences on Pharmacotherapy
p. 40
Herbal and Alternative Therapies
p. 45
Substance Abuse
p. 50
Drugs Affecting the Autonomic Nervous System
p. 54
Drugs for Anxiety and Insomnia
p. 60
Drugs for Seizures
p. 66
Drugs for Emotioinal and Mood Disorders
p. 72
Drugs for Psychoses
p. 78
Drugs for the Control of Pain
p. 83
Drugs for Local and General Anesthesia
p. 89
Drugs for Degenerative Diseases of the Nervous System
p. 95
Drugs for Neuromuscular Disorders
p. 101
Drugs for Lipid Disorders
p. 106
Drugs for Hypertension
p. 110
Drugs for Heart Failure
p. 116
Drugs for Angina Pectoris and Myocardial Infraction
p. 122
Drugs for Dysrhythmias
p. 129
Drugs for Coagulation Disorders
p. 136
Drugs for Hematopoietic Disorders
p. 143
Drugs for Shock
p. 148
Diuretic Therapy and Drugs for Renal Failure
p. 153
Drugs for Fluid, electrolyte, and Acid-Base Disorders
p. 159
Drugs for Immune System Modulation
p. 164
Drugs for Inflamation and Fever
p. 169
Drugs for Bacterial Infections
p. 174
Drugs for Fungal, Protozoal, and Helminthic Infections
p. 180
Drugs for Viral Infections
p. 185
Drugs for Neoplasia
p. 190
Drugs for Allergic Rhintis and the Common Cold
p. 196
Drugs for Asthma and other Pulmonary Disorders
p. 201
Drugs for Peptic Ulcer Disease
p. 206
Drugs for Bowel Disorders and Other Gastrointestinal Conditions
p. 211
Drugs for Nutritional Disorders
p. 217
Drugs for Pituitary, Thyroid, and Adrenal Disorders
p. 222
Drugs for diabetes Mellitus
p. 227
Drugs for Disorders and Conditions of the Female Reproductive System
p. 232
Drugs for Disorders and Conditions of the Male Reproductive System
p. 237
Drugs for Bone and Joint Disorders
p. 242
Drugs for Skin Disorders
p. 248
Drugs for Eye and Ear Disorders
p. 253
Answer Key
p. 259
Table of Contents provided by Publisher. All Rights Reserved.