Note: Supplemental materials are not guaranteed with Rental or Used book purchases.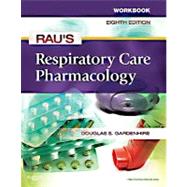 Summary
The Workbook for Rau's Respiratory Care Pharmacology, 8th Edition is a valuable companion to the Rau text that offers a wide range of activities and practice exercises to further your understanding of challenging pharmacology material. Definitions, case studies, and content review break down complex concepts and help clarify key content from the text. NBRC exam-style questions, matching questions, fill-in-the-blank questions, and labeling exercises give you practice in applying those concepts and prepare you for the NBRC exam. Chapter objectives link workbook exercises to specific content from the textbook. A variety of pharmacology exercises hones your understanding of key terms and concepts. 80% more case-based scenarios help you develop the critical-thinking and analytical skills needed to succeed on the NBRC exam. 120 additional NBRC exam-style questions give you more practice with the types of questions you will encounter on the NBRC exam.
Table of Contents
Basic Concepts and Principles in Pharmacology
Introduction to Respiratory Care Pharmacology
Principles of Drug Action
Administration of Aerosolized Agents
Calculating Drug Doses
The Central and Peripheral Nervous System
Drugs Used to Treat the Respiratory System
Adrenergic (Sympathomimetic) Bronchodilators
Anticholinergic (Parasympatholytic) Bronchodilators
Xanthines
Mucus-Controlling Drug Therapy
Surfactant Agents
Corticosteriods in Respiratory Care
Nonsteroidal Antiasthma Agents
Aerosolized Antiinfective Agents
Antimicrobial Agents
Cold and Cough Agents
Selected Agents of Pulmonary Value
Neonatal and Pediatric Aerosolized Drug Therapy
Critical Care, Cardiovascular and Polysomnograpy Agents
Skeletal Muscle Relaxants (Neuromuscular Blocking Agents)
Diuretic Agents
Drugs Affecting the Central Nervous System
Vasopressors, Inotropes, and Antiarrythmic Agents
Drugs Affecting Circulation
Polysomnography Agents
Table of Contents provided by Publisher. All Rights Reserved.