Note: Supplemental materials are not guaranteed with Rental or Used book purchases.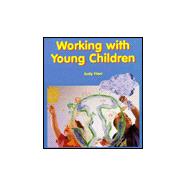 Questions About This Book?
What version or edition is this?
This is the edition with a publication date of 6/1/1998.
What is included with this book?
The Used copy of this book is not guaranteed to include any supplemental materials. Typically, only the book itself is included.
Summary
Working with Young Children focuses on the application of child development principles to the care of children in group settings. Introduce your students to the fast-growing field of child care services, and help them learn the necessary skills. This popular text features an inviting, colorful format and up-to-date topics.
-- Topics include the CDA credential; guidance principles; water play, sand play, and blockbuilding experiences; new social studies topics; and more on-the-job application process.
-- Helps students develop effective skills for guiding children and for keeping them safe and healthy.
-- Provides instruction for setting up a developmentally-appropriate environment.
-- Covers planning and implementing curriculum that will meet children's needs and hold their interest.
-- Includes hundreds of full-color photos taken in actual child care settings.
Table of Contents
Part 1 The Children and You
13
(96)

| | |
| --- | --- |
| | Chapter 1 You: Working with Young Children |

13
(14)

| | |
| --- | --- |
| | Social and Economic Changes |

14
(1)

| | |
| --- | --- |
| | Job Opportunities in Early Childhood |

15
(2)

| | |
| --- | --- |
| | Education and Training Needed to Work with Young Children |

17
(1)

| | |
| --- | --- |
| | The Teacher's Responsibilities |

18
(4)

| | |
| --- | --- |
| | Characteristics of Successful Teachers |

22
(5)

| | |
| --- | --- |
| | Chapter 2 Types of Early Childhood Programs |

27
(12)
28
(1)
28
(1)
29
(1)
30
(1)
30
(2)
32
(1)
32
(1)
32
(1)

| | |
| --- | --- |
| | High School Child Care Programs |

33
(1)

| | |
| --- | --- |
| | Sponsorship of Early Childhood Centers |

33
(2)

| | |
| --- | --- |
| | Selecting a Child Care Program |

35
(2)
37
(2)

| | |
| --- | --- |
| | Chapter 3 Observing Children: A Tool for Assessment |

39
(12)
40
(3)
43
(5)
48
(1)

| | |
| --- | --- |
| | Guidelines for Observing Children |

49
(2)

| | |
| --- | --- |
| | Chapter 4 Understanding Children from Birth to Age Two |

51
(16)
51
(3)

| | |
| --- | --- |
| | Physical Development in the First Two Years |

54
(3)

| | |
| --- | --- |
| | Cognitive Development in the First Two Years |

57
(5)

| | |
| --- | --- |
| | Social-Emotional Development in the First Two Years |

62
(5)

| | |
| --- | --- |
| | Chapter 5 Understanding Two- and Three-Year-Olds |

67
(14)

| | |
| --- | --- |
| | Physical Development of Two-Year-Olds |

67
(2)

| | |
| --- | --- |
| | Cognitive Development of Two-Year-Olds |

69
(1)

| | |
| --- | --- |
| | Social-Emotional Development of Two-Year-Olds |

70
(2)
72
(1)

| | |
| --- | --- |
| | Physical Development of Three-Year-Olds |

73
(2)

| | |
| --- | --- |
| | Cognitive Development of Three-Year-Olds |

75
(1)

| | |
| --- | --- |
| | Social-Emotional Development of Three-Year-Olds |

76
(2)
78
(3)

| | |
| --- | --- |
| | Chapter 6 Understanding Four- and Five-Year-Olds |

81
(12)

| | |
| --- | --- |
| | Physical Development of Four- and Five-Year-Olds |

81
(3)

| | |
| --- | --- |
| | Congnitive Development of Preschoolers |

84
(4)

| | |
| --- | --- |
| | Social-Emotional Development of Preschoolers |

88
(2)

| | |
| --- | --- |
| | Teaching Four- and Five-Year-Olds |

90
(3)

| | |
| --- | --- |
| | Chapter 7 Middle Childhood |

93
(16)
94
(2)
96
(2)
98
(3)

| | |
| --- | --- |
| | Social-Emotional Development |

101
(4)
105
(4)
Part 2 Creating a Safe and Healthy Environment
109
(86)

| | |
| --- | --- |
| | Chapter 8 Preparing the Environment |

109
(22)
110
(1)
111
(3)
114
(1)

| | |
| --- | --- |
| | Color Choices for Child Care Centers |

115
(1)

| | |
| --- | --- |
| | Factors That Affect Space Organization |

116
(3)

| | |
| --- | --- |
| | Organizing Basic Activity Areas |

119
(6)
125
(6)

| | |
| --- | --- |
| | Chapter 9 Selecting Toys, Equipment, and Educational Materials |

131
(16)
131
(9)
140
(2)

| | |
| --- | --- |
| | Selecting Play Yard Equipment |

142
(2)

| | |
| --- | --- |
| | Reporting Unsafe Products |

144
(1)

| | |
| --- | --- |
| | Sources for Toys and Equipment |

144
(3)

| | |
| --- | --- |
| | Chapter 10 Promoting Children's Safety |

147
(14)
148
(1)

| | |
| --- | --- |
| | Provide a Safe Environment |

149
(2)
151
(2)

| | |
| --- | --- |
| | Weather or Disaster Emergencies |

153
(1)
154
(1)
155
(1)
156
(1)
157
(1)
157
(4)

| | |
| --- | --- |
| | Chapter 11 Planning Nutritious Meals and Snacks |

161
(14)
162
(2)
164
(3)

| | |
| --- | --- |
| | Planning Meals and Snacks |

167
(2)
169
(6)

| | |
| --- | --- |
| | Chapter 12 Guiding Children's Health |

175
(20)

| | |
| --- | --- |
| | Objectives for Guiding Health |

176
(1)
176
(6)

| | |
| --- | --- |
| | Controlling Diseases Transmitted by Foods |

182
(1)
183
(1)

| | |
| --- | --- |
| | Wounds and Their Treatment |

183
(3)

| | |
| --- | --- |
| | Burns and Their Treatment |

186
(1)
187
(1)
187
(1)
187
(1)
187
(2)
189
(1)

| | |
| --- | --- |
| | Caring for Children Who Become III |

189
(1)
190
(5)
Part 3 Guiding Children
195
(60)

| | |
| --- | --- |
| | Chapter 13 Developing Guidance Skills |

195
(20)
195
(1)
196
(1)
197
(1)
198
(4)
202
(1)

| | |
| --- | --- |
| | Techniques for Effective Guidance |

203
(6)

| | |
| --- | --- |
| | Promoting a Positive Self-Concept |

209
(6)

| | |
| --- | --- |
| | Chapter 14 Guidance Problems |

215
(12)
216
(4)
220
(1)
221
(1)
221
(1)
221
(1)
222
(1)
223
(1)
223
(1)
223
(1)
224
(1)
224
(3)

| | |
| --- | --- |
| | Chapter 15 Establishing Classroom Rules |

227
(10)
227
(2)
229
(1)

| | |
| --- | --- |
| | Rules for Specific Areas and Activities |

229
(5)
234
(1)

| | |
| --- | --- |
| | Chapter 16 Handling Daily Routines |

237
(18)
237
(2)
239
(9)
248
(7)
Part 4 Learning Experiences for Children
255
(166)

| | |
| --- | --- |
| | Chapter 17 The Curriculum |

255
(20)
256
(1)

| | |
| --- | --- |
| | Who Plans the Curriculum? |

256
(1)

| | |
| --- | --- |
| | Assessment: An Important Step in Curriculum Planning |

257
(1)

| | |
| --- | --- |
| | The Content and Process-Centered Curriculum |

257
(1)

| | |
| --- | --- |
| | Factors to Consider in Curriculum Planning |

258
(5)
263
(4)
267
(8)

| | |
| --- | --- |
| | Chapter 18 Guiding Art, Blockbuilding, and Sensory Experiences |

275
(18)

| | |
| --- | --- |
| | The Importance of Art Experiences |

275
(1)

| | |
| --- | --- |
| | Techniques for Guiding Art Experiences |

276
(1)

| | |
| --- | --- |
| | Stages of Art Skill Development |

277
(1)
278
(5)
283
(2)
285
(1)
286
(1)
287
(1)
287
(2)

| | |
| --- | --- |
| | Sensory Experiences: Sand and Water Play |

289
(1)
290
(3)

| | |
| --- | --- |
| | Chapter 19 Guiding Storytelling Experiences |

293
(14)

| | |
| --- | --- |
| | The Importance of Storytelling |

294
(1)

| | |
| --- | --- |
| | Books as a Source of Stories |

294
(1)

| | |
| --- | --- |
| | Selecting Books for Children |

295
(3)

| | |
| --- | --- |
| | Reading Stories to Children |

298
(3)

| | |
| --- | --- |
| | Achieving Variety in Storytelling |

301
(3)
304
(3)

| | |
| --- | --- |
| | Chapter 20 Guiding Play and Puppetry Experiences |

307
(14)
307
(2)

| | |
| --- | --- |
| | Stages of Material Use in Play |

309
(1)
309
(5)
314
(7)

| | |
| --- | --- |
| | Chapter 21 Guiding Manuscript Writing |

321
(10)
322
(1)
322
(1)

| | |
| --- | --- |
| | Manuscript Writing Systems |

323
(2)
325
(2)

| | |
| --- | --- |
| | Early Experiences in Writing |

327
(4)

| | |
| --- | --- |
| | Chapter 22 Guiding Math Experiences |

331
(14)

| | |
| --- | --- |
| | Goals of Early Math Experiences |

332
(1)
333
(1)
333
(1)
334
(9)

| | |
| --- | --- |
| | Integrating Computers in Child Care Centers |

343
(2)

| | |
| --- | --- |
| | Chapter 23 Guiding Science Experiences |

345
(20)
345
(1)

| | |
| --- | --- |
| | Planning Science Activities |

346
(3)
349
(1)

| | |
| --- | --- |
| | Developing the Child's Understanding of Senses |

350
(1)

| | |
| --- | --- |
| | Using Color to Teach Science Concepts |

351
(1)

| | |
| --- | --- |
| | Using Water to Teach Science Concepts |

352
(1)

| | |
| --- | --- |
| | Using Foods to Teach Science Concepts |

353
(1)

| | |
| --- | --- |
| | Using the Child's Own Body to Teach Science Concepts |

354
(1)

| | |
| --- | --- |
| | Using Gardening to Teach Science Concepts |

355
(1)

| | |
| --- | --- |
| | Using Air to Teach Science Concepts |

356
(1)

| | |
| --- | --- |
| | Using Magnets to Teach Science Concepts |

357
(1)

| | |
| --- | --- |
| | Using Wheels to Teach Science Concepts |

358
(1)

| | |
| --- | --- |
| | Using Field Trips to Teach Science Concepts |

358
(1)

| | |
| --- | --- |
| | Using Animals to Teach Science Concepts |

359
(3)
362
(3)

| | |
| --- | --- |
| | Chapter 24 Guiding Social Studies Experiences |

365
(12)

| | |
| --- | --- |
| | Importance of Social Studies |

366
(1)

| | |
| --- | --- |
| | The Teacher's Role in Social Studies |

366
(3)

| | |
| --- | --- |
| | Building Social Studies Concepts |

369
(8)

| | |
| --- | --- |
| | Chapter 25 Guiding Food and Nutrition Experiences |

377
(8)
378
(1)
379
(1)
379
(2)
381
(1)
382
(3)

| | |
| --- | --- |
| | Chapter 26 Guiding Music and Movement Experiences |

385
(20)

| | |
| --- | --- |
| | Benefits of Music Experiences |

386
(1)
387
(1)
387
(4)
391
(3)
394
(1)
395
(3)
398
(2)
400
(5)

| | |
| --- | --- |
| | Chapter 27 Guiding Field Trip Experiences |

405
(16)

| | |
| --- | --- |
| | The Importance of Field Trips |

405
(1)
406
(1)
407
(3)
410
(11)
Part 5 Other People You Will Meet
421
(84)

| | |
| --- | --- |
| | Chapter 28 Programs for Infants and Toddlers |

421
(18)

| | |
| --- | --- |
| | Characteristics of Infant and Toddler Caregivers |

422
(1)

| | |
| --- | --- |
| | Guidelines for Infant-Toddler Care |

422
(1)
423
(1)
423
(1)

| | |
| --- | --- |
| | Caring for Infants and Toddlers |

424
(5)

| | |
| --- | --- |
| | Toys for Infants and Toddlers |

429
(3)
432
(2)
434
(3)
437
(1)

| | |
| --- | --- |
| | Maintaining the Environment to Prevent Illness |

437
(2)

| | |
| --- | --- |
| | Chapter 29 Programs for School-Age Children |

439
(12)

| | |
| --- | --- |
| | Quality School-Age Programs |

440
(2)
442
(1)
443
(2)
445
(1)
446
(5)

| | |
| --- | --- |
| | Chapter 30 Guiding Children with Special Needs |

451
(20)

| | |
| --- | --- |
| | Individualized Educational Plans |

452
(1)
453
(1)
454
(2)

| | |
| --- | --- |
| | Speech and Language Disorders |

456
(2)
458
(3)
461
(1)
462
(4)

| | |
| --- | --- |
| | Integrating Children with Special Needs |

466
(2)
468
(1)
469
(2)

| | |
| --- | --- |
| | Chapter 31 Parent Involvement |

471
(18)
472
(1)
473
(3)
476
(1)

| | |
| --- | --- |
| | Parent-Teacher Conferences |

476
(4)
480
(1)

| | |
| --- | --- |
| | Other Methods of Involvement |

481
(2)
483
(6)

| | |
| --- | --- |
| | Chapter 32 A Career for You in Child Care |

489
(16)
489
(1)
490
(4)

| | |
| --- | --- |
| | Avenues for Seeking Employment |

494
(3)

| | |
| --- | --- |
| | Preparing for an Interview |

497
(1)
498
(4)
502
(3)
Appendix
505
(15)
Acknowledgments
520
(1)
Photo Credits
520
(1)
Glossary
521
(12)
Index
533