Note: Supplemental materials are not guaranteed with Rental or Used book purchases.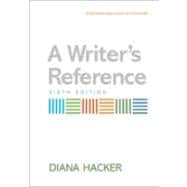 A Writer's Reference
ISBN13:
9780312450250
by
Hacker
Questions About This Book?
What version or edition is this?
This is the 6th edition with a publication date of 11/23/2006.
What is included with this book?
The Used copy of this book is not guaranteed to include any supplemental materials. Typically, only the book itself is included.
Summary
The expert advice students need is just one click away with the new e-book forA Writer's Reference, Sixth Edition. Cross-references between the companion site's Writing, Grammar, and Research exercises and relevant e-book content help students learn how to work with their handbook to improve their writing. Interactive "Citation at a glance" boxes provide a dynamic guide to citing sources. The new e-book allows students to bookmark the sections they use most often, add their own examples and notes, and print any material they might need when not online. Instructors can add their own content to the e-book, including documents and images, to share with their students. "MLA Papers" is available for preview. Please note that any changes, including bookmarks and notes, will not be saved in this preview version. To request instructor access, click on the link below: http://bcs.bedfordstmartins.com/Login/login/loginbcs.aspx?isbn=0312472307
Author Biography
DIANA HACKER's handbooks, used at almost half of the colleges and universities in the country, are the most widely adopted in America. A member of the English faculty at Prince George's Community College in Maryland for almost 35 years, Diana Hacker personally class-tested her handbooks with nearly four thousand students. Diana Hacker's other handbooks, all published by Bedford/St. Martin's, include The Bedford Handbook (2006); Rules for Writers (2004); andA Pocket Style Manual (2004).

ABOUT THE CONTRIBUTING AUTHORS
NANCY SOMMERS, Sosland Director of Expository Writing at Harvard University, has also taught composition at Rutgers University and at Monmouth College and has directed the writing program at the University of Oklahoma. A two-time Braddock Award winner, Sommers is well-known for her research and publications on student writing. Her articles "Revision Strategies of Student and Experienced Writers" and "Responding to Student Writing" are two of the most widely read in the field. Her recent work involves a longitudinal study of undergraduate writing. Nancy Sommers is coauthor of Fields of Reading (2007) and tudent Writers at Work: The Bedford Prizes, both published by Bedford/St. Martin's.

TOM JEHN teaches composition and directs the writing across the disciplines program at Harvard University. A recipient of numerous teaching awards both at Harvard and at the University of Virginia, he also leads professional development seminars on writing instruction for public high school teachers through the Calderwood Writing Fellows Project.

JANE ROSENZWEIG, a published author of fiction and non-fiction, teaches composition and directs the writing center at Harvard University. She has also taught writing at Yale University and the University of Iowa.

MARCY CARBAJAL VAN HORN, assistant professor of English and ESL at Santa Fe Community College (FL), teaches composition to native and nonnative speakers of English and teaches the Advanced ESL Writing course. She has also taught university-level academic writing and critical thinking at Instituto Technológico y de Estudios Superiores in Mexico. EDITORIAL ADVISERS:Of the more than 500 experienced composition instructors who reviewed the new edition, a core group served as an editorial advisory board — carefully reviewing all new material in depth, making sure the book would work as well for their students as it always had.
Joanne ADDISON
University of Colorado, Denver Derick BURLESON
University of Alaska, Fairbanks Paige BYAM
Northern Kentucky University Elizabeth CANFIELD
Virginia Commonwealth University Richard CARR
University of Alaska, Fairbanks Michele CHEUNG
University of Southern Maine Jon CULLICK
Northern Kentucky University David ENDICOTT
Tacoma Community College Lin FRASER
Sacramento City College Hank GALMISH
Green River Community College Nancy GISH
University of Southern Maine Jacqueline GRAY
St. Charles Community College Barclay GREEN
Northern Kentucky University Karen GROSSWEINER
University of Alaska, Fairbanks D. J. HENRY
Daytona Beach Community College Kandace KNUDSON
Sacramento City College Tonya KROUSE
Northern Kentucky University Tamara KUZMENKOV
Tacoma Community College Cheryl LAZ
University of Southern Maine Lydia Lynn LEWELLEN
Tacoma Community College Jeanette LONIA
Delaware Technical and Community College Walter LOWE
Green River Community College Michael MACKEY
Community College of Denver Tammy MATA
Tarrant County Community College Holly MCSPADDEN
Missouri Southern State University Liora MORIEL
University of Maryland, College Park Patricia MURPHY
Missouri Southern State University Melissa NICOLAS
University of Louisiana, Lafayette Diane Allen O'HERON
Broome Community College Sarah QUIRK
Waubonsee Community College Ann SMITH
Modesto Junior College Steve THOMAS
Community College of Denver Nick TINGLE
University of California, Santa Barbara Terry Myers ZAWACKI
George Mason University
Table of Contents
C Composing and revising
C1 Planning
C2 Drafting
C3 Revising
C4 Writing paragraphs
C5 Designing documents

*A Academic writing
*A1 Writing about texts
A2 Constructing arguments
A3 Evaluating arguments
*A4 Writing in the disciplines

S Sentence style
S1 Parallelism
S2 Needed words
S3 Problems with modifiers
S4 Shifts
S5 Mixed constructions
S6 Sentence emphasis
S7 Sentence variety

W Word choice
W1 Glossary of usage
W2 Wordy sentences
W3 Active verbs
W4 Appropriate language
W5 Exact language
W6 The dictionary and thesaurus

G Grammatical sentences
G1 Subject-verb agreement
G2 Other problems with verbs
G3 Problems with pronouns
G4 Adjectives and adverbs
G5 Sentence fragments
G6 Run-on sentences

E ESL Challenges
E1 Verbs
E2 Sentence structure
E3 Articles and types of nouns
*E4 Using adjectives
*E5 Prepositions and idiomatic expressions

P Punctuation
P1 The comma
P2 Unnecessary commas
P3 The semicolon
P4 The colon
P5 The apostrophe
P6 Quotation marks
P7 Other marks

M Mechanics
M1 Spelling
M2 The hyphen
M3 Capitalization
M4 Abbreviations
M5 Numbers
M6 Italics (Underlining)

R Researching
R1 Conducting Research
R2 Evaluating sources
R3 Managing information; avoiding plagiarism
R4 Choosing a style of documentation

MLA papers
MLA-1 Supporting a thesis
MLA-2 Avoiding plagiarism
MLA-3 Integrating sources
MLA-4 Documenting sources
MLA-5 Manuscript format
*STUDENT ESSAY

APA and CMS papers
(coverage parallels MLA's)
APA-1 CMS-1
APA-2 CMS-2
APA-3 CMS-3
APA-4 CMS-4
APA-5 CMS-5
*STUDENT ESSAY SAMPLE PAGES

B Basic grammar
B1 Parts of speech
B2 Parts of sentences
B3 Subordinate word groups
B4 Sentence types

* new to this edition