Note: Supplemental materials are not guaranteed with Rental or Used book purchases.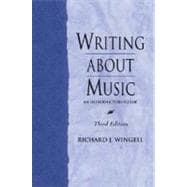 Writing About Music: An Introductory Guide
ISBN13:
9780130406033
by
Wingell, Richard
Summary
This guidebook provides practical and specific assistance to undergraduate students about writing research papers and other types of projects in the field of music. It also offers practical help in writing effective prose on any topic and ways to improve one's writing style. The Third Edition has been extensively revised and rewritten. The organization of the material has been changed in order to present issues in a more logical order. There are expanded sections on new approaches to musicological research, electronic resources for research, and how to use word processing programs to draft and edit a paper. The section on format issues has been revised and expanded to make the detailed information it offers clearer and more useful. Finally, a new sample student paper has been included in the Appendix, along with discussion questions designed to help students analyze the paper, read more critically, and understand better the process of researching a topic, designing a paper, and arguing a thesis persuasively.
Table of Contents
Preface
xi
1
(8)
1
(1)

| | |
| --- | --- |
| | The Special Challenges of Writing about Music |

2
(1)

| | |
| --- | --- |
| | Inappropriate Ways to Write about Music |

3
(4)

| | |
| --- | --- |
| | Musicological Research and Writing |

7
(2)
9
(12)
9
(1)
10
(3)

| | |
| --- | --- |
| | Examples of Works and Research Directions |

13
(8)

| | |
| --- | --- |
| | Gesualdo: ``Moro, lasso,'' |

13
(1)

| | |
| --- | --- |
| | Opening Chorus of Cantata No. 80, Ein' feste Burg ist unser Gott |

14
(2)

| | |
| --- | --- |
| | Concerto for Piano and Orchestra in C Minor, K. 491, First Movement |

16
(1)
17
(1)

| | |
| --- | --- |
| | A Faust Symphony, First Movement |

18
(1)

| | |
| --- | --- |
| | The Rite of Spring, Opening Sections |

19
(2)

| | |
| --- | --- |
| | Getting Started: Research |

21
(19)
21
(2)
23
(1)
24
(1)
25
(1)

| | |
| --- | --- |
| | Places to Start: Print Resources |

26
(7)
26
(1)

| | |
| --- | --- |
| | Dictionaries and Encyclopedias |

26
(2)
28
(2)
30
(1)
30
(1)
31
(1)
31
(1)
32
(1)

| | |
| --- | --- |
| | Places to Start: Electronic Resources |

33
(4)
33
(1)
34
(1)
35
(2)
37
(1)

| | |
| --- | --- |
| | Foreign-Language Resources |

38
(1)

| | |
| --- | --- |
| | When to Stop: How Much Research Is Enough? |

38
(2)
40
(19)
40
(3)
40
(1)
41
(1)
42
(1)
42
(1)
42
(1)
43
(7)
44
(1)

| | |
| --- | --- |
| | Diagrams, Graphics, and Tables |

45
(1)
46
(2)
48
(2)

| | |
| --- | --- |
| | Revising and Editing the Draft |

50
(4)
50
(1)

| | |
| --- | --- |
| | Checking Spelling and Grammar |

51
(1)
52
(2)
54
(1)
54
(1)
55
(1)
55
(2)
57
(2)
59
(24)

| | |
| --- | --- |
| | Format for College Papers |

59
(3)
60
(1)
60
(1)
61
(1)
61
(1)
61
(1)
62
(1)
62
(3)
63
(1)
63
(1)

| | |
| --- | --- |
| | Ellipsis and Editorial Additions |

64
(1)

| | |
| --- | --- |
| | Bibliography and Footnote Form |

65
(13)
66
(4)
70
(1)

| | |
| --- | --- |
| | Articles in Dictionaries and Encyclopedias |

70
(2)
72
(1)

| | |
| --- | --- |
| | Articles in Collections of Essays |

73
(1)
73
(1)
74
(1)

| | |
| --- | --- |
| | Citing Interviews, Correspondence, and E-Mail |

75
(1)

| | |
| --- | --- |
| | Citing Electronic Resources |

75
(3)

| | |
| --- | --- |
| | Format Issues Related to Writing about Music |

78
(4)
78
(1)

| | |
| --- | --- |
| | Referring to Musical Works |

78
(2)
80
(1)
81
(1)
82
(1)
82
(1)

| | |
| --- | --- |
| | Other Kinds of Writing Projects |

83
(19)
83
(5)
84
(1)

| | |
| --- | --- |
| | Organizing the Presentation |

84
(4)
88
(1)
88
(3)
89
(1)
89
(1)
90
(1)
91
(6)
91
(1)
91
(1)
92
(1)
93
(1)
94
(2)
96
(1)
97
(1)
97
(4)
97
(1)

| | |
| --- | --- |
| | Preparing for Essay Examinations |

98
(1)
98
(1)
99
(2)
101
(1)
102
(20)

| | |
| --- | --- |
| | Some Basic Ideas about Writing |

102
(2)
104
(1)
105
(1)
106
(1)
107
(1)

| | |
| --- | --- |
| | Writing Effective Sentences |

108
(10)
108
(3)
111
(3)
114
(4)
118
(1)
119
(2)
119
(1)
120
(1)
120
(1)
121
(1)
122
(28)

| | |
| --- | --- |
| | Errors in Basic Grammar and Writing |

122
(10)
122
(1)
123
(1)

| | |
| --- | --- |
| | Agreement: Subject and Verb |

123
(1)

| | |
| --- | --- |
| | Agreement: Pronoun and Antecedent |

124
(2)
126
(1)
126
(2)
128
(3)
131
(1)
131
(1)
132
(4)
132
(1)
133
(1)

| | |
| --- | --- |
| | Plurals of Borrowed Latin and Greek Words |

134
(1)
134
(1)

| | |
| --- | --- |
| | Medieval and Renaissance Names |

135
(1)

| | |
| --- | --- |
| | Some Troublesome Word Pairs |

136
(2)
136
(1)
136
(1)
137
(1)
137
(1)
137
(1)
137
(1)
138
(1)
138
(1)
138
(6)
139
(1)
139
(2)
141
(1)
142
(1)
142
(1)
143
(1)
143
(1)
144
(1)

| | |
| --- | --- |
| | Special Problems Involved in Writing about Music |

144
(5)
144
(3)

| | |
| --- | --- |
| | Describing Musical Events |

147
(2)
149
(1)
Conclusion
150
(2)
Appendix: Sample Paper
152
(15)
Index
167
Excerpts
Since its publication in 1990, this writing guide for undergraduate music majors has proved useful in music departments and schools of music in the United States and Canada. It has been used in academic courses by both music majors and nonmajors. A second edition in 1997 attempted to improve on both the content and the tone of the first edition, and updated the listings of resources useful for research and writing. PURPOSE OF THE THIRD EDITION It is now time to publish a third edition of this guide. The information about resources in the second edition is out of date, particularly in view of the appearance of important new print resources, especially the second edition ofThe New Grove Dictionary of Music and Musicians,and the proliferation of Web sites useful for research. In recent years, musicological research has continued to flourish in such areas as cultural and gender studies, areas I deal with more thoroughly in the new section about research. In addition, I am a co-author, with Silvia Herzog, of a new text for beginning graduate students in music,Introduction to Research in Music,published by Prentice Hall in 2001. There is, of course, a certain amount of overlap in content between the two books, but also, working on the graduate-level text clarified my thinking on several issues connected with research and writing and led to clearer ways of presenting certain material. Once the necessary changes were made, these new ideas proved useful in this undergraduate guide as well. There is clearly a greater need than ever for a manual like this. Even though all students now use either their own computers or the sophisticated equipment colleges and universities provide for their use, many students still hand in papers that are actually preliminary drafts in desperate need of revision and proofreading. The irony is that today's word-processing equipment makes revising and editing so much easier than it was in the old days when we used typewriters. I have noticed another strange phenomenon since the advent of personal computers. In all my undergraduate classes in recent years, there have been one or two students with a flair for graphics who hand in papers with marvelous illustrations on the title page; unfortunately, that creativity and skill does not always extend to the papers inside. In fairness, I must point out that in every class there are also some students who have finely honed writing skills, who can argue complex ideas clearly and skillfully, and who produce prose that is a pleasure to read. The expansion in today's college population widens tremendously the gap between the best and the worst students in skills such as critical thinking and persuasive writing. Instructors constantly worry about the difficulty of organizing their courses so that they continue to challenge the best students while still making it possible for less-gifted students to succeed. My hope is that this manual will be of use to all undergraduate students. Students who are already skillful writers can use it as a review, and students who somehow entered college without basic writing skills can also learn some useful things from it. In addition, this guide may continue to be useful for new graduate students who have not had a decent writing course in their undergraduate years or for whom English is a second language. Another reason for producing a third edition is that the language is still under assault all around us. We are bombarded daily by imprecise and careless language. On television broadcasts of football games, coaches babble at half time about their hopes for a better second half--"We made too many mental errors in the first half. We're gonna have to suck it up, find some people who can step up and go out there and make something happen!" The words sound resolute, but what exactly do they mean? Newscasters talk about neighborhoods "decimated" by floods or fires, and observe, "Hopefully, t