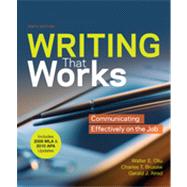 Questions About This Book?
Why should I rent this book?
Renting is easy, fast, and cheap! Renting from eCampus.com can save you hundreds of dollars compared to the cost of new or used books each semester. At the end of the semester, simply ship the book back to us with a free UPS shipping label! No need to worry about selling it back.
How do rental returns work?
Returning books is as easy as possible. As your rental due date approaches, we will email you several courtesy reminders. When you are ready to return, you can print a free UPS shipping label from our website at any time. Then, just return the book to your UPS driver or any staffed UPS location. You can even use the same box we shipped it in!
What version or edition is this?
This is the 10th edition with a publication date of 6/4/2010.
What is included with this book?
The Used copy of this book is not guaranteed to include any supplemental materials. Typically, only the book itself is included.
The Rental copy of this book is not guaranteed to include any supplemental materials. You may receive a brand new copy, but typically, only the book itself.
Summary
Click here to find out more about the 2009 MLA Updates and the 2010 APA Updates . Combining clear advice on the writing process and almost 250 model documents from real workplace settings,Writing That Workssets the standard for business writing books. It reflects today's electronic workflow, addresses the most current types of business documents, in print and online, and provides practical, informative guidelines on designing documents, considering audience and purpose, and using digital technology in the workplace. The free companion Web site supports and expands upon the information in every chapter and offers tutorials, additional model documents, expanded Digital Tips, and much more.
Author Biography
WALTER E. OLIU served as chief of the Publishing Services Branch at the U.S. Nuclear Regulatory Commission, where he managed the agency's printing, graphics, editing, and publishing programs. He also developed the public-access standards for and managed daily operations of the agency's public Web site. He has taught at Miami University of Ohio, Slippery Rock State University, and as an adjunct faculty member at Montgomery College and George Mason University.

CHARLES T. BRUSAW was a faculty member at NCR Corporation's Management College, where he developed and taught courses in professional writing, editing, and presentation skills for the corporation worldwide. Previously, he worked in advertising, technical writing, public relations, and curriculum development. He has been a communications consultant, an invited speaker at academic conferences, and a teacher of business writing at Sinclair Community College.

GERALD J. ALRED is Professor of English at the University of Wisconsin–Milwaukee, where he teaches courses in the Graduate Professional Writing Program. He is the author of numerous scholarly articles and several standard bibliographies on business and technical communication, and he serves as the Associate Editor of the Journal of Business Communication. He is a recipient of the prestigious Jay R. Gould Award for "profound scholarly and textbook contributions to the teaching of business and technical writing."

For Bedford/St. Martin's, all three are coauthors of The Business Writer's Handbook (2006); Handbook of Technical Writing (2006); The Business Writer's Companion (2005); and The Technical Writer's Companion (2002).
Table of Contents
PART ONE The Writing Process Chapter 1 Assessing Audience and Purpose: A Case Study Writing Systematically Determining Your Purpose Assessing Your Audience's Needs Considering the Context Generating, Gathering, and Recording Ideas and Facts Brainstorming • Using Other Sources of Information Establishing Your Scope Organizing Your Ideas Writing for Results Chapter Summary • Exercises • Collaborative Classroom Projects • Research Projects Chapter 2 Organizing Your Information Outlining Traditional Roman Numeral Outline Decimal Numbering System Outline How Audience and Purpose Shape Organization: A Case Study Essential Organizing Patterns Sequential Chronological Spatial Division and Classification Decreasing Order of Importance Increasing Order of Importance General to Specific Specific to General Comparison Chapter Summary • Exercises • Collaborative Classroom Projects • Research Projects Chapter 3 Writing the Draft Time-Management Tactics Allocating Your Time Preparing Your Work Environment Remaining Flexible Keeping Your Audience in Mind Writing from the Audience's Point of View Accommodating Multiple Audiences Writing for an International Audience Persuading Your Audience Establishing Your Role and Voice as the Writer Development Strategies Explaining a Process Describing Information Defining Terms and Concepts Explaining Cause and Effect Writing an Opening Writing a Closing Case Study: Drafting the Lifemaker Brochure Chapter Summary • Exercises • Collaborative Classroom Projects • Research Projects Chapter 4 Revising the Draft Content and Organization Coherence Paragraph Unity Transitions Transitions between Sentences • Transitions between Paragraphs Emphasis Active and Passive Voice Subordination Parallel Structure Lists Other Ways to Achieve Emphasis Point of View Language Context and Word Choice Conciseness Redundancy • Padded Phrases Bias Sexist Language • Other Types of Biased Language Plain Language Affectation • Technical Terminology • Jargon Proofreading Physical Appearance Case Study: Revising the Lifemaker Brochure Chapter Summary • Exercises • Collaborative Classroom Projects • Research Projects PART TWO Essential Skills: Collaboration, Research, and Design Chapter 5 Collaborative Writing Advantages and Disadvantages of Collaborative Writing Functions of a Collaborative Writing Team Planning Research and Writing Review and Revision The Role of Conflict in Collaborative Writing Leading a Collaborative Writing Team Schedule Review Transmittal Sheet Collaborating with Other Departments Chapter Summary • Exercises • Collaborative Classroom Projects • Research Projects Chapter 6 Researching Your Subject Conducting Primary Research: Experience, Interviews, Observations, and Questionnaires Beginning with Experience Interviewing for Information Determining Whom to Interview • Preparing for the Interview • Conducting the Interview • Expanding Your Notes after the Interview Observing Firsthand Using a Questionnaire Selecting Questionnaire Recipients • Preparing and Designing Your Questionnaire Conducting Secondary Research: The Library and the Internet Library Research Using Online Catalogs to Locate Books • Using Databases and Indexes to Locate Articles • Using Reference Works to Locate Facts, Overviews, and Statistics Internet Research Using Search Engines and Web Subject Directories • Locating Business and Government Sites Evaluating, Recording, and Acknowledging Research Sources Evaluating Sources Authority • Accuracy • Bias • Currency Taking Notes Quoting from Your Sources Direct Quotations • Indirect Quotations • Deletions or Omissions • Inserting Material into Quotations • Incorporating Quotations into Text Paraphrasing Summarizing Avoiding Plagiarism and Copyright Violations Acknowledging Your Sources • Common Knowledge • Copyright • Public Domain Materials • In-House Materials Documenting Sources APA Style APA In-Text Citations • APA Citation Format for a References List • APA Documentation Models • APA Sample Pages MLA Style MLA In-Text Citations • MLA Citation Format for a List of Works Cited • MLA Documentation Models • MLA Sample Pages Other Style Manuals Chapter Summary • Exercises • Collaborative Classroom Projects • Research Projects Chapter 7 Designing Effective Documents and Visuals Designing Documents Typography Typeface • Type Size Highlighting Devices Typographical Devices • Headings and Captions • Headers and Footers • Rules, Icons, and Color Page Design Thumbnail Sketches • Columns • White Space • Left- or Full-Justified Margins • Lists • Illustrations Creating Visuals Designing and Integrating Visuals with Text Tables Graphs Line Graphs • Bar Graphs • Pie Graphs • Picture Graphs • Dimensional-Column Graphs Drawings Flowcharts Organizational Charts Maps Photographs Highlighting Photographic Objects • Using Color Using Graphics to Communicate Internationally Colors • People, Parts of the Body, and Gestures • Cultural Symbols • Reading Practices • Directional Signs Chapter Summary • Exercises • Collaborative Classroom Projects • Research Projects PART THREE Writing at Work: From Principle to Practice Chapter 8 Understanding the Principles of Business Communication Selecting the Appropriate Medium E-mail Instant Messages Memos Letters Faxes Telephone and Conference Calls Voice-Mail Messages Face-to-Face Meetings Videoconferences Web Communication Developing Style and Tone Audience and Writing Style Goodwill and the "You" Viewpoint Structuring Effective Correspondence Direct and Indirect Patterns Openings Closings Clarity and Emphasis Lists • Headings Subject Lines Observing Protocol Organizational Rank • Copy Protocol Meeting the Deadline: The Time-Sensitive Message Writing E-mail and Instant Messages Review and Confidentiality Implications Observing Netiquette Design Considerations Salutations, Closings, and Signature Blocks Writing and Managing Instant Messages Designing Memos Memo Format and Parts Additional Pages Designing Letters Heading Inside Address Salutation Body Complimentary Close Writer's Signature Block Continuing Pages End Notations Chapter Summary • Exercises • Collaborative Classroom Projects • Research Projects Chapter 9 Writing Business Correspondence Routine and Positive Messages Covers (or Transmittals) Acknowledgments Inquiries Responses to Inquiries Sales and Promotions Sensitive and Negative Messages Refusals Complaints Adjustments Collections Writing International Correspondence Culture and Business Writing Style Language and Usage Dates, Time, and Measurement Cross-Cultural Examples Chapter Summary • Exercises • Collaborative Classroom Projects • Research Projects Chapter 10 Writing Informal Reports Planning and Writing Informal Reports Considering Audience Collecting Information Parts of the Informal Report Introduction • Body • Conclusions and Recommendations Types of Informal Reports Trouble Reports Investigative Reports Progress and Periodic Reports Progress Reports • Periodic Reports Trip Reports Test Reports Chapter Summary • Exercises x • Collaborative Classroom Projects • Research Projects Chapter 11 Writing Formal Reports Transmittal Letter or Memo Front Matter Title Page Abstracts Table of Contents List of Figures List of Tables Foreword Preface List of Abbreviations and Symbols Body Executive Summary Introduction Introducing the Subject • Stating the Purpose • Stating the Scope • Previewing How the Topic Will Be Developed Text (Body) Headings • Explanatory Notes • Graphic and Tabular Matter Conclusions Recommendations Works Cited (or References) Back Matter Bibliography Appendixes Glossary Index Chapter Summary • Exercises • Collaborative Classroom Projects • Research Projects Chapter 12 Writing Instructions Planning Instructions Learn to Perform the Operation Yourself Assess Your Audience and Purpose Coworkers • Consumers • International Readers Organize the Instructions Writing Instructions Write Directly to Your Reader Include Warnings and Cautions Language of Warnings • Visual Symbols and Signal Words Using Illustrations and Design Principles Illustrate for Clarity Design for Ease of Use Testing for Usability Chapter Summary • Exercises • Collaborative Classroom Projects • Research Projects Chapter 13 Writing Proposals Planning and Writing Proposals Audience and Purpose Project Management Repurposing Content (Boilerplate) Organization Persuasive Writing Internal Proposals Routine Internal Proposals Formal Internal Proposals External Proposals Solicited Proposals Unsolicited Proposals Grant and Research Proposals Cover Letter • Title Page • Introduction • Project Abstract • Literature Review • References • Project Narrative • Program Description • Project Outcomes • Budget • Project Schedule • Project Conclusion Sales Proposals Meeting the Deadline: The Time-Sensitive Proposal Requests for Proposals RFP Structure Information about Your Company • Project Description • Delivery Schedule • Proposal Description • Vendor Qualifications • Proposal-Evaluation Criteria • Appendixes Chapter Summary • Exercises • Collaborative Classroom Projects • Research Projects Chapter 14 Giving Presentations and Conducting Meetings Preparing and Delivering Presentations Determining Your Purpose Analyzing Your Audience Gathering Information Structuring Your Presentation Introduction • Body • Closing • Transitions Using Visual Aids Using Presentation Software • Using Flip Charts, Whiteboards, and Chalkboards • Using Overhead Transparencies and Slides • Using Handouts Delivering Your Presentation Practicing Your Presentation • Using Delivery Techniques That Work • Dealing with Presentation Anxiety Reaching Global Audiences Listening Fallacies about Listening Steps to More-Effective Listening Make a Conscious Decision • Define Your Purpose • Take Specific Actions • Adapt to the Situation Meeting the Deadline: The Time-Sensitive Presentation Conducting Productive Meetings Planning a Meeting What Is the Purpose of the Meeting? • Who Should Attend? • When Should the Meeting Be Held? • Where Should the Meeting Be Held? • What's on the Agenda? Running a Meeting Dealing with Conflict • Making a Record of Decisions and Assignments • Closing the Meeting Taking Minutes Chapter Summary • Exercises • Collaborative Classroom Projects • Research Projects Chapter 15 Writing for the Web: Rhetorical Principles Writing for Rapid Consumption Crafting Content for the Web Using the Inverted Pyramid Using a Simple Style and an Appropriate Tone Writing Concisely Chunking Content Linking to Internal Content Linking to External Content Highlighting Information Using Headings and Subheadings Using Bulleted and Numbered Lists Giving Directional Cues Providing Keywords for Content Retrieval Using Graphics and Typography Graphics • Font Size and Style • Line Length • Special Font Characters Enhancing Access to Content Ensuring Access for People with Disabilities Considering International Users Repurposing Existing Content Protecting the Privacy of Your Users Documenting Sources of Information Contributing to Collaborative and Multimedia Content Blogs Writing for Organizational Blogs • Tagging Blog Postings Wikis Podcasts FAQs Questions to Include • Placement Chapter Summary • Exercises • Collaborative Classroom Projects • Research Projects Chapter 16 Finding the Right Job Determining the Best Job for You Networking Campus Career Services Web Resources Advertisements Trade and Professional Journal Listings Private and Temporary Employment Agencies Internships Government Employment Services Letters of Inquiry and Informational Interviews Job Search Recordkeeping Preparing an Effective Résumé Analyzing Your Background Organizing Your Résumé The Heading • Job Objective • Qualifications Summary • Education • Employment Experience • Related Skills and Abilities • Honors and Activities • References • Portfolios • Salary Electronic Résumés Scannable and Plain-Text Résumés • E-mail–Attached Résumés • Web Résumés Sample Résumés Writing an Effective Letter of Application Opening Paragraph Body Paragraphs Closing Paragraph Sample Letters Doing Well in the Interview Before the Interview During the Interview Behavior • Responses • Salary Negotiations • Conclusion Sending Follow-up Correspondence Sending a Resignation Letter or Memo Chapter Summary • Exercises • Collaborative Classroom Projects • Research Projects PART FOUR Revision Guide: Sentences, Punctuation, and Mechanics Proofreaders' Marks Sentences Sentence Faults Run-on Sentences and Comma Splices Sentence Fragments Dangling and Misplaced Modifiers Pronouns Pronoun Case Determining Case • Using Who or Whom Pronoun Reference Pronoun-Antecedent Agreement Person • Gender • Number Adjectives and Adverbs Comparatives and Superlatives Placement Verbs Subject-Verb Agreement Intervening Words • Inverted Word Order • Collective Subjects • Compound Subjects • Indefinite Pronouns • Relative Pronouns • Singular Nouns Ending in -s • Book Titles • Subject Complements Voice Mood Tense Punctuation Commas Linking Independent Clauses Introducing Elements Clauses and Phrases • Words • Quotations Enclosing Elements Separating Elements Items in a Series • Adjectives • Dates • Numbers • Addresses • Names Using Commas with Other Punctuation Avoiding Unnecessary Commas Semicolons Colons Apostrophes Showing Possession Singular Nouns • Plural Nouns • Compound Nouns • Coordinate Nouns • Possessive Pronouns Indicating Omission Forming Plurals Quotation Marks Identifying Quotations Setting Off Words, Phrases, and Titles Words and Phrases • Titles of Works Using Quotation Marks with Other Punctuation Periods Question Marks Exclamation Marks Parentheses and Brackets Hyphens Linking Modifiers Separating Prefixes and Suffixes Other Uses Dashes Ellipses Slashes Mechanics Capitalization Proper Nouns • Common Nouns • First Words • Specific Groups • Specific Places • Specific Institutions, Events, Concepts • Titles of Works • Professional and Personal Titles • Abbreviations, Letters, and Units Numbers Words or Figures • Plurals • Measurements • Time and Dates • Addresses • Documents Abbreviations Names of Organizations • Measurements • Personal Names and Titles Italics Foreign Words and Phrases • Titles • Proper Names • Words, Letters, and Figures • Subheads English as a Second Language (ESL) Count and Mass Nouns Articles Prepositions Gerunds and Infinitives Adjective Clauses Verb Tenses Present Perfect • Present Progressive Helping Verbs Conditional Sentences Index