Note: Supplemental materials are not guaranteed with Rental or Used book purchases.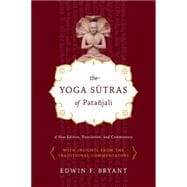 The Yoga Sutras of Pata˝jali A New Edition, Translation, and Commentary
ISBN13:
9780865477360
by
Bryant, Edwin F.
Questions About This Book?
What version or edition is this?
This is the 1st edition with a publication date of 7/21/2009.
What is included with this book?
The New copy of this book will include any supplemental materials advertised. Please check the title of the book to determine if it should include any CDs, lab manuals, study guides, etc.
Summary
A landmark new translation and edition Written almost two millennia ago, Patanjali's work focuses on how to attain the direct experience and realization of thepurusa: the innermost individual self, or soul. As the classical treatise on the Hindu understanding of mind and consciousness and on the technique of meditation, it has exerted immense influence over the religious practices of Hinduism in India and, more recently, in the West.Edwin F. Bryant's translation is clear, direct, and exact. Each sutra is presented as Sanskrit text, transliteration, and precise English translation, and is followed by Bryant's authoritative commentary, which is grounded in the classical understanding of yoga and conveys the meaning and depth of the su-tras in a user-friendly manner for a Western readership without compromising scholarly rigor or traditional authenticity. In addition, Bryant presents insights drawn from the primary traditional commentaries on the sutras written over the last millennium and a half.
Author Biography
EDWIN F. BRYANT received his PhD in Indology from Columbia University. He is a professor of Hindu religion and philosophy at Rutgers University, and also teaches workshops on the yoga su- tras and other Hindu texts in yoga communities around the world.
Table of Contents
"A superb contribution to the secondary literature on yoga. Critically grounded in the scholarship on yoga and the rich textual history of the tradition, Bryant nevertheless succeeds in transcending both the excessively technical approaches to yoga scholarship as well as much of the popular nonsense about yoga in the proliferating 'schools' in the New Age marketplace. Bryant impressively communicates the essentials of yoga philosophy and practice to the thoughtful but non-specialist general reader. His translations from the Sanskrit are precise and well-grounded, and his interpretations are provocative and persuasive. His book will surely be welcomed by both serious scholars and responsible practitioners." —Gerald James Larson, Rabindranath Tagore Professor Emeritus of Indian Cultures and Civilizations, Indiana University, Bloomington, and Professor Emeritus of Religious Studies, University of California, Santa Barbara
"Dr. Bryant's translation of and commentary on Patañjali's Yoga Sutras reveal the rich tapestry of schools and viewpoints that form the background for the yoga tradition. Dr. Bryant teaches us to delight in the diversity of ideas and commentaries that come along with the equally diverse practices of yoga. He helps us to look deeper into a universal pattern of all practices, taking us out of the fundamentalism and exclusivity of our own schools. Grounded in an unbiased sense of ancient history, he clears away any confusion about the meaning of and the connections between different yoga philosophies. His book is a well-rounded and inspiriting course on the real connections between ideas, practices, and direct experience. I enthusiastically recommend it." —Richard Freeman, author of The Yoga Matrix
"Edwin Bryant has provided us with a sweeping, kaleidoscopic overview of this essential yoga text. His clear and engaging prose brings Patañjali's aphorisms to life, taking his reader on an amazing journey through the history of yoga philosophy." —David Gordon White, Professor of Religious Studies, University of California, Santa Barbara, and author of Sinister Yogis
"Edwin Bryant unpacks the layers of history and traditional commentaries that are in the suitcase of the Yoga Sutras. Through his depth of understanding and research rendered in this detailed map, we are able to travel a little closer to our soul. I will be reading and referring to his text for a lifetime." —Rodney Yee, author of Moving Toward Balance
"The greatest strength of Edwin Bryant's work on the Yoga Sutras is that he has taken the most abstruse commentaries and made of them a fluidly readable work. He has made an academically serious study into a presentation of most symmetrical beauty. He has brought together the views of different schools of philosophy and made them rhyme as though in poetry. We need more of such works of serious and yet readable philosophy." —Swami Veda Bharati, D. Littl, Chancellor, HIHT University, Dehradum, India
"Bryant's meticulous study of the Yoga Sutras examines its reception throughout the past fifteen hundred years by a variety of commentators. Understanding that all religious books operate in the context of lived communities, Bryant suggests that the worship of Vishnu as taught by Krishna in the Bhagavad Gita has played an important role in how the practice of yoga has been understood and communicated, particularly for the past five hundred years. For practitioners of yoga, this book provides a fresh look at a complex philosophy of applied spirituality." —Christopher Key Chapple, Doshi Professor of Indic and Comparative Theology, Loyola Marymount University, and author of Yoga and the Luminous

"What I like about Edwin Bryant's edition is that it serves as a concordance of commentaries, a commentary on the commentaries without which this text (or any other compendium of sutras) is unintelligible. It is a pleasure to watch as Bryant uses the commentaries to show how thinking about the Yoga Sutras shifted and evolved over the years." —Dr. Robert Svoboda, Ayurvedacharya