Note: Supplemental materials are not guaranteed with Rental or Used book purchases.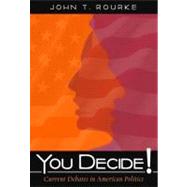 You Decide! Current Debates in American Politics
ISBN13:
9780321241634
by
Rourke, John T
Summary
This exciting new debate-style reader edited by John Rourke examines provocative issues in American politics today. The topics featured in "You Decide!" have been selected for their currency, importance, and student interest, and the pieces arguing various sides of a given issue come from recent journals, congressional hearings, think tanks, and periodicals. Sure to get students engaged and thinking critically about our political system, "You Decide!"
Table of Contents
Preface
xiv
2
(14)

| | |
| --- | --- |
| | Guns, Safety, and the Constitution: Individual Right or Subject to Regulation? |

| | |
| --- | --- |
| | Guns, Safety, and the Constitution: Individual Right |

| | |
| --- | --- |
| | Advocate: Joyce Malcolm, Professor, Department of History, Bentley College and Senior Fellow, MIT Security Studies Program |

| | |
| --- | --- |
| | Source: ``Infringement,'' Common Place, July 2002 |

| | |
| --- | --- |
| | Guns, Safety, and the Constitution: Subject to Regulation |

| | |
| --- | --- |
| | Advocate: Daniel A. Farber, Henry J. Fletcher Professor of Law and Associate Dean of Faculty and Research, University of Minnesota |

| | |
| --- | --- |
| | Source: ``Disarmed by Time: The Second Amendment and the Failure of Originalism,'' Chicago-Kent Law Review, 2000 |

16
(10)

| | |
| --- | --- |
| | The Rehnquist Court and Federalism: Hobbling Congress or Defending the States? |

| | |
| --- | --- |
| | The Rehnquist Court and Federalism: Hobbling Congress |

| | |
| --- | --- |
| | Advocate: Leon Friedman, Professor, Hofstra University School of Law |

| | |
| --- | --- |
| | Source: ``Overruling the Court,'' American Prospect, August 27, 2001 |

| | |
| --- | --- |
| | The Rehnquist Court and Federalism: Defending the States |

| | |
| --- | --- |
| | Advocate: Marci A. Hamilton, Paul R. Verkuil Chair in Public Law, Benjamin N. Cardozo School of Law, Yeshiva University |

| | |
| --- | --- |
| | Source: Testimony during hearings on ``Narrowing the Nation's Power: The Supreme Court Sides with the States,'' before the U.S. Senate Committee on the Judiciary, October 1, 2002 |

26
(22)

| | |
| --- | --- |
| | Banning D & X (Partial-Birth) Abortions: Violating Women's Rights or Protecting Fetal Rights? |

| | |
| --- | --- |
| | Banning D&X (Partial-Birth) Abortions: Violating Women's Rights |

| | |
| --- | --- |
| | Advocate: Center for Reproductive Rights |

| | |
| --- | --- |
| | Source: Position paper, ``Unconstitutional Assault on the Right to Choose: `Partial-Birth Abortion' Ban Is an Affront to Women and to the U.S. Supreme Court,'' February 2003 |

| | |
| --- | --- |
| | Banning D&X (Partial-Birth) Abortions: Protecting Fetal Rights |

| | |
| --- | --- |
| | Advocate: Kathi A. Aultman, MD, board certified obstetrician gynecologist, and Fellow, American College of Obstetricians and Gynecologists |

| | |
| --- | --- |
| | Source: Testimony during hearings the ``Partial-Birth Abortion Ban Act of 2002'' before the U.S. Senate Committee on the Judiciary, Subcommittee on the Constitution, July 9, 2002 |

48
(12)

| | |
| --- | --- |
| | Anti-Terrorist Legislation: Threat To Civil Liberties or Constitutional Shield? |

| | |
| --- | --- |
| | Anti-Terrorist Legislation: Threat to Civil Liberties |

| | |
| --- | --- |
| | Advocate: Timothy Lynch, Director, Project on Criminal Justice, Cato Institute |

| | |
| --- | --- |
| | Source: ``Breaking the Vicious Cycle: Preserving Our Liberties While Fighting Terrorism,'' Cato Policy Analysis No. 443, June 26, 2002 |

| | |
| --- | --- |
| | Anti-Terrorist Legislation: Constitutional Shield |

| | |
| --- | --- |
| | Advocate: Ramesh Ponnuru, Senior Editor, National Review |

| | |
| --- | --- |
| | Source: ``1984 in 2003? Fears about the Patriot Act Are Misguided,'' National Review, June 2, 2003 |

| | |
| --- | --- |
| | American People/Political Culture |

60
(18)

| | |
| --- | --- |
| | English as The National Language: Make It Official or Accept Linguistic Diversity? |

| | |
| --- | --- |
| | English as the National Language: Make It Official |

| | |
| --- | --- |
| | Advocate: Mauro E. Mujica, Chairman of the Board and CEO of U.S. English |

| | |
| --- | --- |
| | Source: ``Statement from the Chairman,'' Website of U.S. English |

| | |
| --- | --- |
| | English as the National Language: Accept Linguistic Diversity |

| | |
| --- | --- |
| | Advocate: Edward M. Chen, Staff Counsel, American Civil Liberties Union of Northern California |

| | |
| --- | --- |
| | Source: Testimony during hearings on ``Implications of `Official English' Legislation,'' before the U.S. House of Representatives Committee on Economic and Educational Opportunities, Subcommittee on Early Childhood, Youth and Families, November 1, 1995 |

| | |
| --- | --- |
| | Public Opinion/Participation |

78
(16)

| | |
| --- | --- |
| | Post-9/11 Criticism of U.S. Foreign Policy: Un-American or Patriotic |

| | |
| --- | --- |
| | Post-9/11 Criticism of U.S. Foreign Policy: Un-American |

| | |
| --- | --- |
| | Advocate: Victor Davis Hanson, Shifrin Visiting Professor of Military History, U.S. Naval Academy, Annapolis |

| | |
| --- | --- |
| | Source: ``I Love Iraq, Bomb Texas,'' Commentary, December 2002 |

| | |
| --- | --- |
| | Post-9/11 Criticism of U.S. Foreign Policy: Patriotic |

| | |
| --- | --- |
| | Advocate: Gore Vidal, novelist, playwright, and essayist |

| | |
| --- | --- |
| | Source: ``We Are the Patriots,'' The Nation, June 2003 |

94
(12)

| | |
| --- | --- |
| | ``Embeded'' Reporters During The War with Iraq: Innovative Coverage or Voyeuristic Reality TV? |

| | |
| --- | --- |
| | ``Embedded'' Reporters During the War with Iraq: Innovative Coverage |

| | |
| --- | --- |
| | Advocate: Sherry Ricchiardi, Senior Writer, American Journalism Review |

| | |
| --- | --- |
| | Source: ``Close to the Action,'' American Journalism Review, May/June 2003 |

| | |
| --- | --- |
| | ``Embeded'' Reporters During the War with Iraq: Voyeuristic Reality TV |

| | |
| --- | --- |
| | Advocate: Paul Friedman, former Executive Vice-President, ABC News |

| | |
| --- | --- |
| | Source: ``TV: A Missed Opportunity,'' Columbia Journalism Review, May/June 2003 |

106
(12)

| | |
| --- | --- |
| | Ethnic Foreign Policy Lobbying: Misplaced Allegience or All-American Tradition? |

| | |
| --- | --- |
| | Ethnic Foreign Policy Lobbying: Misplaced Allegiance |

| | |
| --- | --- |
| | Advocate: Geoffrey Wheatcroft, a British journalist |

| | |
| --- | --- |
| | Source: ``Hyphenated Americans,'' Guardian Unlimited online, April 25, 2000 |

| | |
| --- | --- |
| | Ethnic Foreign Policy Lobbying: All-American Tradition |

| | |
| --- | --- |
| | Advocate: Yossi Shain, Aaron and Cecile Goldman Visiting Professor, Georgetown University; Professor of Political Science, Tel Aviv University |

| | |
| --- | --- |
| | Source: ``For Ethnic Americans, The Old Country Calls,'' Foreign Service Journal, October 2000 |

118
(18)

| | |
| --- | --- |
| | The Odds-On Favorite in the Future: Democrats or Republicans? |

| | |
| --- | --- |
| | The Odds-On Favorite in the Future: Democrats |

| | |
| --- | --- |
| | Advocate: John B. Judis, Senior Editor, The New Republic, and Ruy Teixeira, Senior Fellow, the Century Foundation |

| | |
| --- | --- |
| | Source: ``America's Changing Political Geography: Where Democrats Can Build a Majority,'' Blueprint: Ideas for a New Century, September/October 2002 |

| | |
| --- | --- |
| | The Odds-On Favorite in the Future: Republicans |

| | |
| --- | --- |
| | Source: ``An Emerging Republican Majority?'' Commentary, January 2003 |

| | |
| --- | --- |
| | Voting/Campaigns/Elections |

136
(12)

| | |
| --- | --- |
| | The Electoral College: Abolish or Preserve? |

| | |
| --- | --- |
| | The Electoral College: Abolish |

| | |
| --- | --- |
| | Advocate: Becky Cain, President, League of Women Voters |

| | |
| --- | --- |
| | Source: Testimony during hearings on ``Proposals for Electoral College Reform: H.J. Res. 28 and H.J. Res. 43'' before the U.S. House of Representatives Committee on the Judiciary, Subcommittee on the Constitution, September 4, 1997 |

| | |
| --- | --- |
| | The Electoral College: Preserve |

| | |
| --- | --- |
| | Advocate: Judith A. Best, Professor of Political Science, State University of New York at Cortland |

| | |
| --- | --- |
| | Source: Testimony during hearings on ``Proposals for Electoral College Reform: H.J. Res. 28 and H.J. Res. 43'' before the U.S. House of Representatives Committee on the Judiciary, Subcommittee on the Constitution, September 4, 1997 |

148
(12)

| | |
| --- | --- |
| | Congressional Term Limits: Promoting Choice or Restricting Choice? |

| | |
| --- | --- |
| | Congressional Term Limits: Promoting Choice |

| | |
| --- | --- |
| | Advocate: Paul Jacob, Executive Director, U.S. Term Limits |

| | |
| --- | --- |
| | Source: Testimony during hearings on ``Limiting Terms of Office for Members of the U.S. Senate and U.S. House of Representatives,'' before the U.S. House of Representatives, Committee on the Judiciary, Subcommittee on the Constitution, January 22, 1997 |

| | |
| --- | --- |
| | Congressional Term Limits: Restricting Choice |

| | |
| --- | --- |
| | Advocate: John R. Hibbing, Professor of Political Science, University of Nebraska |

| | |
| --- | --- |
| | Source: Testimony during hearings on ``Limiting Terms of Office for Members of the U.S. Senate and U.S. House of Representatives,'' before the U.S. House of Representatives, Committee on the Judiciary, Subcommittee on the Constitution, January 22, 1997 |

160
(16)

| | |
| --- | --- |
| | Presidential War Powers and Terrorism: Unilateral Authority or constitutional Constraints |

| | |
| --- | --- |
| | Presidential War Power and Terrorism: Unilateral Authority |

| | |
| --- | --- |
| | Advocate: Douglas Kmiec, Dean of the Columbus School of Law, The Catholic University of America |

| | |
| --- | --- |
| | Source: Testimony during hearings on ``Applying the War Powers Resolution to the War on Terrorism,'' before the U.S. Senate Committee on the Judiciary, April 17, 2002 |

| | |
| --- | --- |
| | Presidential War Power and Terrorism: Constitutional Constraints |

| | |
| --- | --- |
| | Advocate: Jane Stromseth, Professor of Law, Georgetown University Law Center |

| | |
| --- | --- |
| | Source: Testimony during hearings on ``Applying the War Powers Resolution to the War on Terrorism,'' before the U.S. Senate Committee on the Judiciary, April 17, 2002 |

176
(12)

| | |
| --- | --- |
| | The Department of Education and Title IX: Champion of Equality or Overzealous Crusader? |

| | |
| --- | --- |
| | The Department of Education and Title IX: Champion of Equality |

| | |
| --- | --- |
| | Advocate: Judith Sweet, Vice-President for Championships and Senior Women Administrator, National Collegiate Athletic Association |

| | |
| --- | --- |
| | Source: U.S. Department of Education, Secretary's Commission on Opportunity in Athletics, Hearings, August 27, 2002 |

| | |
| --- | --- |
| | The Department of Education and Title IX: Overzealous Crusader |

| | |
| --- | --- |
| | Advocate: Amanda Ross-Edwards, Visiting Professor of Political Science, Fairfield University |

| | |
| --- | --- |
| | Source: ``The Department of Education and Title IX: Flawed Interpretation and Implementation,'' an essay written for this volume, October 2003 |

188
(28)

| | |
| --- | --- |
| | Legal Philosophy as a Qualification for The Bench: Judicious Standard or Obstructionist Barrier? |

| | |
| --- | --- |
| | Legal Philosophy as a Qualification for the Bench: Judicious Standard |

| | |
| --- | --- |
| | Advocate: Laurence H. Tribe, Professor, Harvard Law School |

| | |
| --- | --- |
| | Source: Testimony during hearings on ``Judicial Nominations, Filibusters, and the Constitution: When a Majority Is Denied Its Right to Consent,'' before U.S. Senate Committee on the Judiciary, May 6, 2002 |

| | |
| --- | --- |
| | Legal Philosophy as a Qualification for the Bench: Obstructionist Barrier |

| | |
| --- | --- |
| | Advocate: Todd F. Gaziano, Senior Fellow in Legal Studies and Director, Center for Legal and Judicial Studies, The Heritage Foundation |

| | |
| --- | --- |
| | Source: Testimony during hearings on ``A Judiciary Diminished Is Justice Denied: The Constitution, the Senate, and the Vacancy Crisis in the Federal Judiciary'' before U.S. House of Representatives, Committee on the Judiciary, Subcommittee on the Constitution, October 10, 2002 |

216
(12)

| | |
| --- | --- |
| | Constitutionally Require a Balanced Budget: Fiscal Sanity or Fiscal Irresponsibility? |

| | |
| --- | --- |
| | Constitutionally Require a Balanced Budget: Fiscal Sanity |

| | |
| --- | --- |
| | Advocate: William Beach, Director, Center for Data Analysis, Heritage Foundation |

| | |
| --- | --- |
| | Source: Testimony during hearings on the ``Balanced Budget Amendment'' before the U.S. House of Representatives Committee on the Judiciary, Subcommittee on the Constitution, March 6, 2003 |

| | |
| --- | --- |
| | Constitutionally Require a Balanced Budget: Fiscal Irresponsibility |

| | |
| --- | --- |
| | Advocate: Richard Kogan, Senior Fellow, Center on Budget and Policy Priorities |

| | |
| --- | --- |
| | Source: Testimony during hearings on the ``Balanced Budget Amendment'' before the U.S. House of Representatives Committee on the Judiciary, Subcommittee on the Constitution, March 6, 2003 |

228
(12)

| | |
| --- | --- |
| | The Death Penalty: Racially Biased or Justice Served? |

| | |
| --- | --- |
| | The Death Penalty: Racially Biased |

| | |
| --- | --- |
| | Advocate: Julian Bond, Professor of History, University of Virginia and Distinguished Professor-in-Residence, American University |

| | |
| --- | --- |
| | Source: Testimony during hearings on ``Race and the Federal Death Penalty,'' before the U.S. Senate Committee on the Judiciary, Subcommittee on Constitution, Federalism, and Property Rights, June 13, 2001 |

| | |
| --- | --- |
| | The Death Penalty: Justice Served |

| | |
| --- | --- |
| | Advocate: Andrew G. McBride, former U.S. Associate Deputy Attorney General |

| | |
| --- | --- |
| | Source: Testimony during hearings on ``Race and the Federal Death Penalty,'' before the U.S. Senate Committee on the Judiciary, Subcommittee on Constitution, Federalism, and Property Rights, June 13, 2001 |

240
(14)

| | |
| --- | --- |
| | Affirmative Action Admissions: Promoting Equality or Unfair Advantage? |

| | |
| --- | --- |
| | Affirmative Action Admissions: Promoting Equality |

| | |
| --- | --- |
| | Advocate: 41 College Students and 3 Student Coalitions |

| | |
| --- | --- |
| | Source: Amicus Curiae brief to the U.S. Supreme Court in Grutter v. Bollinger (2003) |

| | |
| --- | --- |
| | Affirmative Action Admissions: Unfair Advantage |

| | |
| --- | --- |
| | Advocate: 21 Law Professors |

| | |
| --- | --- |
| | Source: Amicus Curiae brief to the U.S. Supreme Court in Grutter v. Bollinger (2003) |

254
(13)

| | |
| --- | --- |
| | The Bush Doctrine: Wisdom or Folly? |

| | |
| --- | --- |
| | The Bush Doctrine: Wisdom |

| | |
| --- | --- |
| | Advocate: Thomas Donnelly, Resident Fellow, American Enterprise Institute |

| | |
| --- | --- |
| | Source: ``The Underpinnings of the Bush Doctrine,'' National Security Outlook, AEI Online, February 1, 2003 |

| | |
| --- | --- |
| | Advocate: Todd Gitlin, Professor of Journalism and Sociology, Columbia University |

| | |
| --- | --- |
| | Source: ``America's Age of Empire,'' Mother Jones, January/February 2003 |

Credits
267