Note: Supplemental materials are not guaranteed with Rental or Used book purchases.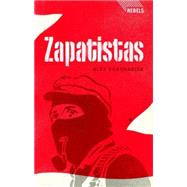 Summary
This book provides a critical and comprehensive overview of one of the most important rebel groups in recent history. In the early hours of January 1, 1994 a guerrilla army of indigenous Mayan peasants emerged in the far southeast of Mexico and declared "Ya basta!" -- "Enough!". As elites in North America celebrated the coming into force of the North American Free Trade Agreement, the Zapatista Army of National Liberation declared war against 500 years of colonialism, racism, exploitation, oppression and genocide. The effects of the uprising were profound, and felt far beyond the borders of Mexico, sparking a powerful new wave of transnational socio-political action. Alex Khasnabish explores the Zapatista movement's origins, history, structure, aims, political philosophy and possible future directions.
Author Biography
Alex Khasnabish is an Assistant Professor in the Department of Sociology and Anthropology at Mount Saint Vincent University in Halifax, Nova Scotia.
Table of Contents
Introduction 'Enough!' * We Are the Product of 500 Years of Resistance': The Origins of Zapatismo * 'Everything for Everyone, Nothing for Ourselves': Zapatismo as Political Philosophy and Political Practice * 'Never Again a Mexico Without Us': The National Impact of Zapatismo * 'A World Made of Many Worlds': The Transnational Impact of Zapatismo * 'Walking Questioning': The Future of Zapatismo * Conclusion