Note: Supplemental materials are not guaranteed with Rental or Used book purchases.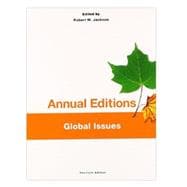 Annual Editions: Global Issues, 30/e
ISBN13:
9781259142185
by
Jackson, Robert
Summary
The Annual Editions series is designed to provide convenient, inexpensive access to a wide range of current articles from some of the most respected magazines, newspapers, and journals published today. Annual Editions are updated on a regular basis through a continuous monitoring of over 300 periodical sources. The articles selected are authored by prominent scholars, researchers, and commentators writing for a general audience. Each Annual Editions volume has a number of features designed to make them especially valuable for classroom use: an annotated Table of Contents, a Topic Guide, an annotated listing of supporting websites, Learning Outcomes and a brief overview for each unit, and Critical Thinking questions at the end of each article. Go to the McGraw-Hill Create™ Annual Editions Article Collection at www.mcgrawhillcreate.com/annualeditions to browse the entire collection. Select individual Annual Editions articles to enhance your course, or access and select the entire Jackson: Annual Editions: Global Issues, 30/e ExpressBook for an easy, pre-built teaching resource by clicking here. An online Instructor's Resource Guide with testing material is available for each Annual Editions volume. Using Annual Editions in the Classroom is also an excellent instructor resource. Visit the Create Central Online Learning Center at www.mhhe.com/createcentral for more details.
Table of Contents
Annual Editions: Global Issues, 30e
Preface
Correlation Guide
Topic Guide
UNIT: Global Issues in the Twenty-First Century: An Overview
Unit Overview
Global Trends 2030: Alternative Worlds: Executive Summary, U.S. National Intelligence Council, December 2012
This widely quoted report identifies four megatrends transforming the international political system. The report offers six potential "game-changers" and concludes with four alternative scenarios of the future.
The Revenge of Geography, Robert D. Kaplan, Foreign Policy, May/June 2009
The author revisits an old idea: People and ideas influence events, but geography largely determines them. To understand twenty-first century conflicts, Kaplan argues it is time to dust off the Victorian thinkers who knew the physical world best.
The End of Easy Everything, Michael T. Klare, Current History, January 2012
The author argues that the transition from an easy to a tough natural resource era will come at a high price, both in economic and environmental costs as well as social upheaval and political strife.
Food, Fuel and the Global Land Grab, Lester R. Brown, The Futurist, January-February 2013
Growing demand for food and biofuels has put increased pressure on the world's agricultural lands. A new trend in "land-grabbing" has emerged as wealthy countries buy or lease farms in poor countries to ensure future food supplies.
Not always with us, The Economist, June 1, 2013.
If extreme poverty could be halved in the past twenty years, why should the other half not be eliminated in the next twenty years? The reasons for an optimistic response to this question are offered.
Why the World Needs America, Robert Kagan, The Wall Street Journal, February 11-12, 2012
The author argues there is little reason to believe that a return to multipolarity will bring greater peace than in the past. The era of American predominance has shown there is no better recipe for great-power peace.
UNIT: Population and Food Production
Unit Overview
The New Population Bomb: The Four Megatrends That Will Change the World, Jack A. Goldstone, Foreign Affairs, January/February 2010
Over the next forty years, the relative demographic weight of the world's developed countries will significantly drop as their workforce ages and numerically declines. Most of the world's population growth will be concentrated in the poorest countries. At the same time most of the world's population will become urbanized. These four trends have significant political and economic consequences.
Germany Fights Population Drop, Suzanne Daley and Nicholas Kulish, New York Times, August 13, 2013
Germany's shrinking population has a broad range of consequences: diminished economic growth, an older retirement age, changing roles for women, and altered urban landscapes.
African Child Mortality: The best story in development, The Economist, May 19, 2012
This case study of Africa describes the biggest decline in child mortality ever recorded. A major factor contributing to this decline is the increased use of treated bed nets in areas where malaria is endemic.
The Blue Food Revolution, Sarah Simpson, Scientific American, February 2011
Offshore fish farming and cleaner near-shore operations could provide the world with an adequate supply of protein-rich food according to the author. Global meat consumption is rising as wild fisheries decline. Meat production, however, has significant pollution problems. A comparison of the sustainability and cost effectiveness of offshore aquaculture with meat production is provided.
UNIT: The Global Environment and Natural Resources Utilization
Unit Overview
Climate Change, Bill McKibben, Foreign Policy, January/February 2009
McKibben responds to the arguments that the underlying dynamics of climate change remain unclear and public policy options as a result are uncertain. He asserts that the science is settled, and the only real issue is whether we will stop playing political games and commit to the limited options remaining if we are to avert a climate catastrophe.
The Other Climate Changers, Jessica Seddon Wallack and Veerabhadran Ramanathan, Foreign Affairs, September/October 2009
The most frequently discussed proposals to slow global warming focus on reducing carbon dioxide emissions. Little attention is given to reducing "black carbon" even though doing so would be easier and cheaper and have an immediate effect.
The Melting North, The Economist, June 16, 2012
In the past few years the arctic has emerged as a powerful symbol of the challenges in reconciling economic opportunities and ecological changes. The cause of the melting ice is global pollution and the risks it carries are also global.
China's Bad Earth, Josh Chin and Brian Spegele, Wall Street Journal, July 27, 2013
The expansion of polluting industry and the heavy use of chemical fertilizers are turning China's food producing areas into toxic wastelands.
UNIT: Political Economy
Unit Overview
Part A. Global Trends
The Insourcing Boom, Charles Fishman, The Atlantic, December 2012
For years off-shoring decisions were based on a single concern: cheap labor. During the current economic recovery, an unexpected trend is gaining Momentum, the return of manufacturing jobs to the U.S.
Innovation's Long March, Joshua Kurlantzick, Bloomberg Businessweek, July 2, 2012
The rise of innovative state capitalists presents a formidable challenge to US and European businesses. It could push multinational corporations out of some markets. In oil and gas, state companies already control most of the world's reserves. Unlike Brazil and China, aging, indebted nations are in no position to pour resources into companies.
Think Again: European Decline, Mark Leonard and Hans Kundnani, Foreign Policy, May/June 2013
It may appear that Europe is down and out, but on closer examination prospects for the economic future are far better than they look. The reasons for this optimistic assessment are provided.
Broken BRICs, Rucher Sharma, Foreign Affairs, November/December 2012
One of the most talked-about trends in the global economy has been the rapid economic growth of Brazil, Russia, India, and China—the so-called BRIC countries. After the financial crisis of 2008, the pace of growth in these countries has slowed. Forecasts that they would overtake the developed countries' economies were premature. The author describes the significant differences among these four countries as well as problems with long-range economic forecasts.
Four Signs Neoliberalism is (Almost) Dead, Sameer Dosssani, counterpunch.org, April 22, 2013.
Iceland was one of the hardest hit countries in the 2008 financial crisis. The author examines the underlying assumptions of the international financial system from that country's experience during and after the collapse and argues why they are faulty and that reforms need to be put in place.
The Future of History, Francis Fukuyama, Foreign Affairs, January/February 2012
This article examines the rise of China, inequality in the United States, and the Tea Party populist movement. The author questions why the political Left has lacked an effective ideology and doctrine in response to the on-going aftershocks of the 2008 financial crisis.
The Future Economy: Pursuing Social Responsibility in Business, Stewart Wallis, Harvard International Review, Summer 2013.
The author argues that major changes are needed to the structure, incentives, measurement systems, and financing methods if business is to continue to effectively drive human affairs in the future.
Part B. General Case Studies
Mafia States, Moisés Naim, Foreign Affairs, May/June 2012
The global economic crisis has been a boon for transnational criminals. The author examines the penetration of governments by organized crime, including the fusion of some governments and criminal groups.
Think Again: Working Women, Kay Hymowitz, Foreign Policy, July/August 2013
The article looks at the position of women the U.S., focusing on women's advancement in the world of work and politics. Women's achievement levels in the U.S. are compared to other developed countries.
Tech's Tragic Secret, Cam Simpson, Bloomberg Businessweek, August 27, 2012
This case study illustrates the evolving political economy of scarce natural resources. The world's most sophisticated smartphones and tablets start in the dangerous, open-pit mines of Bangka Island in Indonesia.
Africa's hopeful economies, The Economist, December 3, 2011
This article provides a broad overview of the positive changes in the varied economies of the countries of Africa along with a brief analysis of the political changes stimulating this growth.
Part C. Global Energy Case Studies
What If We Never Run Out of Oil? Charles C. Mann, The Atlantic, May 2013
Fracking and methane hydrate may soon usher in an era of U.S. energy independence. The environmental and geopolitical implications of the energy revolution are described in this abridged version of the article.
Mojave Mirrors: World's Largest Solar Plant Ready to Shine, Josie Garthwaite, nationalgeographic.com, July 25, 2013
In the California desert, the biggest solar-thermal plant in the world is out to prove that renewable energy can work on a massive scale.
Nuclear Energy: The dream that failed, The Economist, March 10, 2012
This article provides a broad overview of the history and future prospects of nuclear energy. Politics, not economics, likely will be the major determining factor in determining the future of this energy source.
UNIT: Conflict
Unit Overview
China's Search for a Grand Strategy, Wang Jisi, Foreign Affairs, March/April 2011
The author, who is dean of the School of International Studies at Peking University, discusses China's growing influence in global affairs. Devising an effective foreign policy will not be easy for China as it simultaneously protects its core interests while pursuing rapid economic development.
The Putin Doctrine, Leon Aron, Foreign Affairs, March 8, 2013
The underlying foreign policy objectives of Russia, as implemented by President Putin, are described. Areas of both cooperation and conflict with the U.S. are identified along with prospects for a democratic and prosperous Russia.
The Growing Threat of Maritime Conflict, Michael T. Klare, Current History, January, 2013
Prospects for conflict over disputed borders has declined, but conflict over maritime boundaries is growing. A major reason for these conflicts is energy consumers are increasingly reliant on offshore oil and gas deposits.
Unfinished Mideast Revolts, Jonathan Broder, The National Interest, May/June 2012
The author provides a broad historical overview of the changing political order in the Middle East. He offers reasons for the region's lag in economic development and considers prospects for the future.
Peacekeepers at War, Christopher Rhoads, The Wall Street Journal, June 23-24, 2012
A United Nations peacekeeping force is in the middle of one of the world's bloodiest conflicts in central Africa. This article describes the complex and often contradictory role of the UN forces.
Why Drones Work, Daniel Byman, Foreign Affairs, July/August 2013
The use of drone aircraft for targeted missile attacks is a controversial part of U.S. counterterrorism policy. The author argues that drone attacks are an effective and legitimate element of U.S. military policy.
How Does Cyber Warfare Work? Andy Manoske, quora.com, July 16, 2013
This article answers basic questions about the growing role of cyber warfare. It specifically examines the threats to civilian populations.
UNIT: Cooperation
Unit Overview
The Healing Fields, Mark Jenkins, National Geographic, January 2012
Millions of landmines are buried in nearly 80 countries and regions of the world. Land mines once crippled a war-ravaged Cambodia. Today the nation is a model for how to recover from this scourge as a result of cooperative efforts between governments and non-profit organizations.
Global campaign takes aim at health hazards of cookstove, Donya Currie, The Nation's Health, March 2012
The combined efforts of public, private, and non-profit organizations to address the significant health hazards of traditional the cookstove are described.
Africa: MCC and Coca-Cola's Shared Commitment to Water, allAfrica.com, March 21, 2012
This case study illustrates collaboration between the corporate, government and non-profit sectors of the global economy to address the serious problem of polluted water.
Humanitarian Workers: Comprehensive Response, Marc Dubois and Vickie Hawkins, The World Today, March 2011
The authors, officials in Médecins Sans Frontières (Doctors Without Borders), respond to criticisms that the neutrality of humanitarian aid organizations has been co-opted by the political agendas of military combatants. They describe the strategy of MSF to maintain its neutrality and contrast their approach with the so-called comprehensive approach of governments.
UNIT: Values and Visions
Unit Overview
Gene Sharp: A dictator's worst nightmare, Mairi Mackay, CNN.com, June 25, 2012
This article profiles Gene Sharp, a proponent of nonviolent action to overthrow dictators. His work has been translated into many languages, and his non-violent strategies have been successfully used around the world.
Power of the iMob, Andrew Marshall, The World Today, April and May 2012
Dot-orgs are now global players, mobilizing millions and changing political debate through tech-savvy marketing techniques. The author analyses their rise, impact, and future prospects.
U.N. Treaty Is First Aimed at Regulating Global Arms Sales, Neil MacFarquhar, New York Times, April 2, 2013
The General Assembly approved a treaty aimed at regulating the global trade in conventional weapons. The opinions of both proponents and opponents of the treaty are described.
The End of Men, Hanna Rosin, Atlantic Monthly, July/August 2010
Rosin argues that patriarchy has always been civilization's basic organizing principle with only a few exceptions. For the first time in human history, this is now rapidly changing, for the modern economy is becoming the place where women have a distinct advantage over men.
The Convergence of Civilizations, Charles Kenny, Foreign Policy, January/February 2013
The so-called theory of the inevitable conflict between cultures and religions is wrong according to the author. He argues shared values are converging across countries, cultures, and religions.
Humanity's Common Values: Seeking a Positive Future, Wendell Bell, The Futurist, September/October 2004
The author argues that, "there is an emerging global ethic, a set of shared values." These have evolved and now shape and constrain behavior. Specific principles along with behavior that supports the development of legal and ethical norms necessary for a positive global future are described here.