Note: Supplemental materials are not guaranteed with Rental or Used book purchases.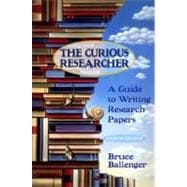 Curious Researcher, The: A Guide to Writing Research Papers
ISBN13:
9780321175212
by
Ballenger, Bruce
Summary
Featuring an engaging, direct writing style and inquiry-based approach, this popular research guide stresses that curiosity is the best reason for investigating ideas and information. An appealing alternative to traditional research texts, The Curious Researcher stands apart for its motivational tone and its conviction that research writing can be full of rewarding discoveries. Offering a wide variety of examples from student and professional writers, this popular guide shows that good research and lively writing do not have to be mutually exclusive. Students are encouraged to find ways to bring their writing to life, even though they are writing with facts. A unique chronological organization sets up achievable writing goals while it provides week-by-week guidance through the research process. Full explanations of the technical aspects of writing and documenting source-based papers help students develop sound research and analysis skills.
Table of Contents
Contents by Subject.
Preface.
Introduction: Rethinking the Research Paper.
Learning and Unlearning.
Using This Book.
The Research Paper and the Research Report.
How Formal Should It Be?
"Essaying" or Arguing?
Becoming an Authority by Using Authorities.
Facts Don't Kill.
1. The First Week.
The Importance of Getting Curious.
Befriending the Library.
Befriending the Internet.
2. The Second Week.
Narrowing the Subject.
Developing a Research Strategy.
Looking Back before Moving On.
3. The Third Week.
Writing in the Middle.
Notetaking Techniques.
Digging Deeper for Information: Advanced Searching Techniques.
Looking Back before Moving On.
4. The Fourth Week.
Getting to the Draft.
Citing Sources.
5. The Fifth Week.
Revising for Purpose.
Revising for Information.
Revising for Language.
Preparing the Final Manuscript.
Looking Back and Moving On.
Appendix A: Guide to MLA Styles.
Part One: Citing Sources in Your Essay.
Part Two: How the Essay Should Look.
Part Three: Preparing the "Works Cited" Page.
Part Four: A Sample Paper in MLA Style.
Appendix B: Guide to APA Style.
Part One: How the Essay Should Look.
Part Two: Citing Sources in Your Essay.
Part Three: Preparing the "References" List.
Part Four: A Sample Paper in APA Style.
Appendix C: Tips for Researching and Writing Papers on Literary Topics.
Mine the Primary Source.
Search Strategies.
Sample Essay: Personal Response.
Sample Research Essay on a Literary Topic.
Index.