Note: Supplemental materials are not guaranteed with Rental or Used book purchases.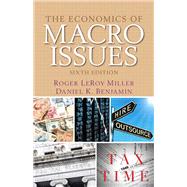 Questions About This Book?
What version or edition is this?
This is the 6th edition with a publication date of 7/11/2013.
What is included with this book?
The eBook copy of this book is not guaranteed to include any supplemental materials. Typically only the book itself is included.
Summary
Intended primarily for principles of economics and social issues courses, this text also provides practical content to current and aspiring industry professionals.
Brief, relevant readings that spark independent thinking and classroom discussions.
The Economics of Macro Issues is a collection of brief, relevant readings that spark independent thinking and classroom discussions in Principles of Economics and Social Issues. The text encourages readers to apply theoretical discussions to today's important issues and to gain a deeper understanding of current macroeconomic policy concerns.
The Sixth Edition addresses critical new macroeconomic policy issues with timeliness and insight. It showcases pivotal developments in economic affairs and policymaking in ways that will provide both challenge and enlightenment to readers at all levels of academic achievement.
Author Biography
Roger LeRoy Miller received his PhD from the University of Chicago. Dr. Miller is a legal specialist and author of numerous books on law and the legal environment, including criminal procedure. In addition, Dr. Miller has authored books on the war on drugs, the economics of crime and criminal behavior, and on related topics.
Daniel K. Benjamin is an Alumni Distinguished Professor in the John E. Walker Department of Economics, Clemson University.
Table of Contents
I. The Miracle of Economic Growth
1. Rich Nation, Poor Nation
(importance of institutions in promoting economic growth)
2. Outsourcing and Economic Growth
(impact of competition and voluntary exchange on wealth)
3. Poverty, Capitalism, and Growth
(does a rising tide lift all boats?)
4. The Threat to Growth
(why higher taxes can mean less prosperity)
II. The Business Cycle, Unemployment, and Inflation
5. Is GDP What We Want?
(is there a better measure than GDP?)
6. What's in a Word? Plenty, If It's the 'R' Word
(how is a recession defined and why we care)
7. The Great Stagnation
(why the economic recovery has been so weak)
8. The Case of the Disappearing Workers
(misleading measures of unemployment)
9. Poverty, Wealth, and Equality
(are the rich getting richer and the poor getting poorer?)
10. Inflation and America's Debt Bomb
(why soaring government means that inflation must go up)
11. Is it Real, or is it Nominal?
(why record-high prices aren't always what they seem)
III. Fiscal Policy
12. Who Really Pays Taxes?
(contrary to politicians' claims, it's the rich who foot the bill for Uncle Sam)
13. Are You Stimulated Yet?
(why stimulus packages do—or don't—work)
14. The Fannie Mae, Freddie Mac Flimflam
(your money at waste)
15. Big Bucks for Bailouts
(if it's "too big to fail," it's too big to save)
16. The Pension Crisis
(the future is coming and it's going to crush us)
17. Higher Taxes Are in Your Future
(why you can expect to pay higher and higher taxes in the future)
18. The Myths of Social Security
(it's not what government says it is, nor will it ever be)
IV. Monetary Policy and Financial Institutions
19. The Fed and Financial Panics
(why the Fed was founded, and what it learned from its failures)
20. The Fed Feeding Frenzy
(why monetary policy no longer looks like it used to)
21. Deposit Insurance and Financial Markets
(economic implications of subsidized deposit insurance)
22. Phone It In: The Coming Revolution in the Payments System

(with one swipe of your smart phone, you can soon buy anything)
V. Globalization and International Finance
23. The Value of the Dollar
(why exchange rates move and what it means for America)
24. Is the Eurozone Zoning Out?
(why not let someone else pay for your troubles?)
25. The Global Power of the Big Mac
(how a simple burger illuminates the mysteries of foreign exchange markets)
26. The Opposition to Globalization
(why people object to globalization)
27. The $750,000 Job
(economic consequences of attempts to restrict free trade)
Glossary
References and Weblinks
Index