Note: Supplemental materials are not guaranteed with Rental or Used book purchases.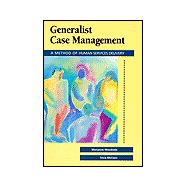 Generalist Case Management : A Method of Human Service Delivery
ISBN13:
9780534348977
by
WOODSIDE/MCCLAM
Related Products
Summary
Focusing on the "how tos" of gathering information, writing reports, assessing clients' progress, and seeking out resources as a client advocate, this practical book is designed to help beginning practitioners and practicum students develop the skills they need to coordinate and provide direct services to a variety of populations. Invaluable as an on-the-job reference that beginning helpers can use when confronted with a difficulty or dilemma in managing cases, Woodside and McClam's book focuses on empowering clients to manage their own lives during the case management process, from the intake interview until termination. Important skills such as, writing reports, documenting services, using supervision, and mastering technology, are covered in the final chapter. Ideal for any beginning helper, the book includes real-life vignettes that illustrate the many ways in which the case management process is used in service delivery.
Table of Contents
| | |
| --- | --- |
| | 1 Introduction to Case Management |

1
(32)
3
(4)

| | |
| --- | --- |
| | The Process of Case Management |

7
(16)
9
(9)
18
(3)
21
(2)

| | |
| --- | --- |
| | Three Components of Case Management |

23
(2)

| | |
| --- | --- |
| | Principles and Goals of Case Management |

25
(4)
25
(1)
25
(1)
26
(1)
26
(1)
27
(1)
28
(1)
28
(1)
29
(1)
29
(1)
30
(3)

| | |
| --- | --- |
| | 2 Historical Perspective on Case Management |

33
(28)

| | |
| --- | --- |
| | Perspectives on Case Management |

35
(6)

| | |
| --- | --- |
| | Case Management as a Process |

35
(3)
38
(1)

| | |
| --- | --- |
| | The Rule of the Case Manager |

39
(1)

| | |
| --- | --- |
| | Utilization Review and Cost-Benefit Analysis |

40
(1)

| | |
| --- | --- |
| | The History of Case Management |

41
(10)
42
(1)
43
(3)

| | |
| --- | --- |
| | The Impact of World Wars I and II and the American Red Cross |

46
(2)

| | |
| --- | --- |
| | The Impact of Federal Legislation |

48
(3)

| | |
| --- | --- |
| | The Impact of Managed Care |

51
(6)
51
(2)
53
(1)
54
(3)

| | |
| --- | --- |
| | Expanding the Responsibilities of Case Management |

57
(1)
57
(1)
58
(3)

| | |
| --- | --- |
| | 3 Models of Case Management |

61
(26)
63
(6)
63
(1)
63
(1)
64
(1)

| | |
| --- | --- |
| | Colleague and Collaborator |

64
(1)
65
(1)
65
(1)
65
(1)
66
(1)
66
(1)
67
(1)
67
(1)
68
(1)

| | |
| --- | --- |
| | Service Monitor and System Modifier |

68
(1)

| | |
| --- | --- |
| | Models of Case Management |

69
(13)

| | |
| --- | --- |
| | Role-Based Case Management |

70
(3)

| | |
| --- | --- |
| | Organization-Based Case Management |

73
(4)

| | |
| --- | --- |
| | Responsibility-Based Case Management |

77
(5)

| | |
| --- | --- |
| | Case Management and the Problem-Solving Process |

82
(1)
83
(1)
83
(4)

| | |
| --- | --- |
| | 4 The Assessment Phase of Case Management |

87
(24)
89
(12)
92
(6)

| | |
| --- | --- |
| | Evaluating the Application for Services |

98
(3)
101
(1)

| | |
| --- | --- |
| | Documentation and Report Writing |

101
(7)

| | |
| --- | --- |
| | Process Recording and Summary Recording |

102
(2)
104
(1)
105
(3)
108
(1)
108
(3)

| | |
| --- | --- |
| | 5 Effective Intake Interviewing Skills |

111
(28)

| | |
| --- | --- |
| | Attitudes and Characteristics of Interviewers |

113
(5)

| | |
| --- | --- |
| | Essential Communication Skills |

118
(17)
120
(15)
135
(1)
136
(1)
137
(2)

| | |
| --- | --- |
| | 6 Service Delivery Planning |

139
(30)

| | |
| --- | --- |
| | Revisiting the Assessment Phase |

141
(2)

| | |
| --- | --- |
| | Developing a Plan for Services |

143
(7)
150
(3)

| | |
| --- | --- |
| | Information and Referral Systems |

150
(2)
152
(1)

| | |
| --- | --- |
| | Gathering Additional Information |

153
(12)

| | |
| --- | --- |
| | Data Collection Methods for the Case Manager |

153
(1)
153
(3)
156
(9)
165
(1)
166
(3)
169
(48)
171
(10)
172
(3)
175
(6)
181
(10)
182
(2)

| | |
| --- | --- |
| | The Process of Psychological Evaluation |

184
(7)
191
(6)

| | |
| --- | --- |
| | Other Types of Information |

197
(10)
207
(8)
215
(2)
217
(32)
219
(12)
220
(2)
222
(4)
226
(3)

| | |
| --- | --- |
| | Working with Other Professionals |

229
(2)
231
(5)

| | |
| --- | --- |
| | How to Be a Good Advocate |

234
(2)
236
(6)
237
(1)
238
(2)

| | |
| --- | --- |
| | Effective Teamwork: Barriers and Solutions |

240
(2)
242
(4)
242
(1)
243
(1)

| | |
| --- | --- |
| | Stages of Conflict and Strategies for Resolving It |

244
(2)
246
(1)
246
(3)

| | |
| --- | --- |
| | 9 Working within the Organizational Context |

249
(30)

| | |
| --- | --- |
| | Understanding the Organizational Structure |

251
(11)
251
(2)

| | |
| --- | --- |
| | Structure of the Organization |

253
(5)
258
(2)

| | |
| --- | --- |
| | The Organizational Climate |

260
(2)
262
(5)

| | |
| --- | --- |
| | What Exactly Is a Budget? |

262
(2)
264
(1)
265
(2)
267
(8)
268
(1)

| | |
| --- | --- |
| | Conducting a Utilization Review |

269
(1)

| | |
| --- | --- |
| | Planning Quality Assurance Programs |

269
(6)
275
(1)
275
(4)

| | |
| --- | --- |
| | 10 Ethical and Legal Issues |

279
(22)
281
(2)

| | |
| --- | --- |
| | Working with Potentially Violent Clients |

283
(2)
285
(3)
288
(3)
291
(4)

| | |
| --- | --- |
| | Client Preferences: One Component of Autonomy |

293
(2)
295
(3)
298
(1)
298
(3)

| | |
| --- | --- |
| | 11 Professional Development |

301
(28)
303
(3)

| | |
| --- | --- |
| | Burnout and Case Management |

304
(2)

| | |
| --- | --- |
| | Recognizing and Preventing Burnout |

306
(1)

| | |
| --- | --- |
| | Developing a Personal Philosophy |

306
(5)

| | |
| --- | --- |
| | Step One: The Principles of Case Management |

307
(1)

| | |
| --- | --- |
| | Step Two: The Ethics of Case Management |

308
(1)

| | |
| --- | --- |
| | Step Three: Personal Values of Case Management |

308
(3)
311
(8)
311
(2)
313
(1)

| | |
| --- | --- |
| | Time Management Techniques |

313
(4)

| | |
| --- | --- |
| | When Time Is Managed Poorly |

317
(2)
319
(6)
319
(2)

| | |
| --- | --- |
| | How Case Managers Use Assertiveness |

321
(4)
325
(1)
326
(3)
329
(31)
331
(3)
331
(1)
332
(1)
333
(1)

| | |
| --- | --- |
| | Client Problems and Client Goals |

333
(1)

| | |
| --- | --- |
| | Documentation and Report Writing |

334
(4)

| | |
| --- | --- |
| | The Importance of Documentation |

334
(2)
336
(2)
338
(10)

| | |
| --- | --- |
| | Responsibilities of the Supervisor |

338
(5)
343
(5)

| | |
| --- | --- |
| | Technology and Case Management |

348
(8)
356
(1)
356
(4)
GLOSSARY
360
(7)
INDEX
367