Note: Supplemental materials are not guaranteed with Rental or Used book purchases.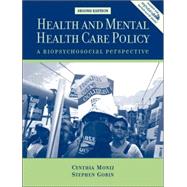 Related Products
Summary
This text fills a void in social work literature by offering a comprehensive, in-depth overview of health and mental health policy. Health and Mental Health Care Policy provides an overview of the development of health policy in the United States, with a particular focus on the failure to achieve universal coverage. It also discusses the role of private and public insurance and examines the uninsured populations. Finally, the book examines managed care in health and mental health and its impact on social work. Practitioners and policy advocates in the public health, mental health and health policy arena, social workers and health care providers.
Table of Contents
Introduction
Models of Health and Health Policy
Determinants of Health: A Biopsychosocial Perspective
Biological Factors
Psychological Factors
Social Factors
Biopsychosocial Dynamics
A Biopsychosocial Approach to Health
Approaches to Health Policy
Disease and Health Care
Escalating Costs
A New Concept of Health
A New Framework for Health Policy
The Costs and Benefits of Health Policy
International Policy Efforts
Implications for Health and Health Care Policy in the United States
Highlights
References
National Health and Mental Health Policy in the United States
The Failure to Enact National Health Insurance: 1865-1946
Early Efforts to Reform National Health and Mental Health Care: 1865-1912
The Beginnings of Social Work and Public Health
The Need for Public Health Services
The Mental Hygiene Movement
Compulsory Health Insurance Efforts: 1912-1920
American Association for Labor Legislation
Establishment of the U.S. Public Health Service
Federal-State Reforms and Private Insurance: 1920-1932
Sheppard-Towner Infancy and Maternity Bill
The Creation of Blue Cross and Blue Shield and the Veterans Administration
The Decline of Public Health
The New Deal Reforms: 1932-1940
Maternal and Child Health Services
The Failure to Enact Compulsory Insurance
Federal Health and Mental Health Policy and Services: 1941-1946
Emergency Maternal and Infant Care Program
Public Health Services Act
National Mental Health Act
Hill-Burton Hospital Survey and Construction Act
Highlights
References
The Emergence of Employment-Based Insurance and Managed Care: 1943-Present
Political Opposition to National Health Insurance: 1943-1950
The Defeat of National Health Care Legislation: 1943-1949
The Enactment of Medicare: 1950-1965
Health Care Inflation and Strategies for Reform: 1970-1988
Renewed Struggle for National Health Insurance
The Rise of HMOs
Regulatory Reform
Diagnosis-Related Groups (DRGs)
The Creation and Role of Community Mental Health Centers: 1963-1992
Mental Retardation and Community Mental Health Centers Construction Act
Medicaidrsquo;s Role in Deinstitutionalization
Alcohol and Drug Abuse Services
Consumer Protection Efforts: Patientsrsquo; Rights
Community Support Program
The Decline of Community Mental Health: 1980-1992
State Comprehensive Mental Health Services Plan Act
Stewart B. McKinney Homeless Assistance Act
The Rise and Fall of the Health Security Act: 1988-1996
Proposals for a Single-Payer Plan
Clintonrsquo;s Proposal: The Healt
Table of Contents provided by Publisher. All Rights Reserved.