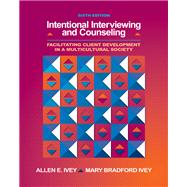 Intentional Interviewing and Counseling Facilitating Client Development in a Multicultural Society (with CD-ROM and InfoTrac 1-Semester, Helping Professions Learning Center Printed Access Card)
by
Ivey, Allen E.
;
Ivey, Mary Bradford
Questions About This Book?
Why should I rent this book?
Renting is easy, fast, and cheap! Renting from eCampus.com can save you hundreds of dollars compared to the cost of new or used books each semester. At the end of the semester, simply ship the book back to us with a free UPS shipping label! No need to worry about selling it back.
How do rental returns work?
Returning books is as easy as possible. As your rental due date approaches, we will email you several courtesy reminders. When you are ready to return, you can print a free UPS shipping label from our website at any time. Then, just return the book to your UPS driver or any staffed UPS location. You can even use the same box we shipped it in!
What version or edition is this?
This is the 6th edition with a publication date of 3/21/2006.
What is included with this book?
The Used copy of this book is not guaranteed to include any supplemental materials. Typically, only the book itself is included.
The Rental copy of this book is not guaranteed to include any supplemental materials. You may receive a brand new copy, but typically, only the book itself.
Summary
Over 450 databased studies and years of field testing attest to the effectiveness of the Microskills model in INTENTIONAL INTERVIEWING AND COUNSELING: FACILITATING CLIENT DEVELOPMENT IN A MULTICULTURAL SOCIETY! Available with an interactive CD-ROM (which can be packaged with the text), this hallmark text enables students of many backgrounds to master basic skills in a step-by-step fashion, thus rapidly empowering them to conduct a full interview using listening skills. Along the way, they are challenged to re-evaluate their current behaviors and perceptions, thus gaining valuable insight about themselves, their strengths, and the areas where they can develop further. By the time they finish reading the text, they will have the ability to adapt their skills to meet both individual and multicultural uniqueness, conduct interviews using five different theoretical approaches, and be well on their way to developing a personalized style and theory of interviewing and counseling that matches their own aptitudes and affinities.
Table of Contents
xiii
Preface
xvii
Before You Start: Building Competency in Interviewing and Counseling
1
(1)
1
(1)

| | |
| --- | --- |
| | What Does This Book Offer for Your Development? |

2
(1)

| | |
| --- | --- |
| | Developing Competence in the Interview |

3
(4)
7
(1)
7
(2)
9
(82)

| | |
| --- | --- |
| | Toward Intentional Interviewing and Counseling |

11
(22)

| | |
| --- | --- |
| | Development as the Aim of Intentional Interviewing: Drawing Out Client Stories |

12
(1)

| | |
| --- | --- |
| | Story---Positive Assets---Restory---Action |

13
(2)

| | |
| --- | --- |
| | Interviewing, Counseling, and Psychotherapy |

15
(1)

| | |
| --- | --- |
| | Increasing Skill and Flexibility: Intentionality and Cultural Intentionality |

16
(2)

| | |
| --- | --- |
| | The Microskills Hierarchy |

18
(6)

| | |
| --- | --- |
| | Microskills Practice, Supervision, and Lifetime Growth |

24
(1)

| | |
| --- | --- |
| | Brain Research: Implications for the Interview |

25
(1)

| | |
| --- | --- |
| | Your Natural Style: An Important Audio or Video Exercise |

26
(2)

| | |
| --- | --- |
| | Competency Practice Exercise and Self-Assessment |

28
(3)
31
(2)

| | |
| --- | --- |
| | Ethics, Multicultural Competence, and Wellness |

33
(29)

| | |
| --- | --- |
| | Ethics in the Helping Process |

35
(5)

| | |
| --- | --- |
| | Diversity and Multicultural Competence |

40
(6)

| | |
| --- | --- |
| | Wellness and Positive Psychology |

46
(8)

| | |
| --- | --- |
| | Summary: Integrating Wellness, Ethics, and Multicultural Practice |

54
(1)

| | |
| --- | --- |
| | Competency Practice Exercises and Self-Assessment |

55
(3)

| | |
| --- | --- |
| | Determining Your Own Style and Theory: Critical Self-Reflection on Ethics, Multicultural Competence, and Wellness |

58
(1)
59
(1)

| | |
| --- | --- |
| | Allen and Mary's Thoughts About Kendra |

60
(2)

| | |
| --- | --- |
| | Attending Behavior: Basic to Communication |

62
(29)

| | |
| --- | --- |
| | Introduction: The Basics of Listening |

63
(1)

| | |
| --- | --- |
| | Example Interviews: Do I Want to Become a Counselor? |

64
(7)

| | |
| --- | --- |
| | Instructional Reading: Getting Specific About Listening |

71
(7)

| | |
| --- | --- |
| | Using Attending in Challenging Situations |

78
(1)

| | |
| --- | --- |
| | Summary: Becoming a Samurai |

79
(2)

| | |
| --- | --- |
| | Competency Practice Exercises and Self-Assessment |

81
(7)

| | |
| --- | --- |
| | Determining Your Own Style and Theory: Critical Self-Reflection on Attending Behavior |

88
(1)
89
(1)

| | |
| --- | --- |
| | Comments on Individual Practice, Exercise 2 |

90
(1)
90
(1)

| | |
| --- | --- |
| | SECTION II Hearing Client Stories: How to Organize an Interview |

91
(168)

| | |
| --- | --- |
| | Questions: Opening Communication |

93
(28)

| | |
| --- | --- |
| | Introduction: Questioning Questions |

94
(3)

| | |
| --- | --- |
| | Example Interview: Conflict at Work |

97
(5)

| | |
| --- | --- |
| | Instructional Reading: Making Questions Work for You |

102
(10)

| | |
| --- | --- |
| | Summary: Making Your Decision About Questions |

112
(2)

| | |
| --- | --- |
| | Competency Practice Exercises and Portfolio of Competence |

114
(5)

| | |
| --- | --- |
| | Determining Your Own Style and Theory: Critical Self-Reflection on Questioning |

119
(1)
119
(1)

| | |
| --- | --- |
| | Allen and Mary's Thoughts About Benjamin |

120
(1)
121
(31)

| | |
| --- | --- |
| | Introduction: Keeping Watch on the Interview |

122
(3)

| | |
| --- | --- |
| | Example Interview: Is the Issue Difficulty in Studying or Racial Harassment? |

125
(5)
130
(10)

| | |
| --- | --- |
| | Summary: Observation Skills |

140
(2)

| | |
| --- | --- |
| | Competency Practice Exercises and Portfolio of Competence |

142
(7)

| | |
| --- | --- |
| | Determining Your Own Style and Theory: Critical Self-Reflection on Observation Skills |

149
(1)
150
(1)

| | |
| --- | --- |
| | How Allen Responded to the Courtroom Situation |

151
(1)

| | |
| --- | --- |
| | Correct Responses for Exercise 4 |

151
(1)

| | |
| --- | --- |
| | Encouraging, Paraphrasing, and Summarizing: The Skills of Active Listening |

152
(26)

| | |
| --- | --- |
| | Introduction: Active Listening |

153
(2)

| | |
| --- | --- |
| | Example Interview: They Are Teasing Me About My Shoes |

155
(4)

| | |
| --- | --- |
| | Instructional Reading: The Active Listening Skills of Encouraging, Paraphrasing, and Summarizing |

159
(8)

| | |
| --- | --- |
| | Summary: Practice, Practice, and Practice |

167
(2)

| | |
| --- | --- |
| | Competency Practice Exercises and Portfolio of Competence |

169
(7)

| | |
| --- | --- |
| | Determining Your Own Style and Theory: Critical Self-Reflection on the Active Listening Skills |

176
(1)
176
(1)

| | |
| --- | --- |
| | Allen and Mary's Thoughts About Jennifer |

176
(2)

| | |
| --- | --- |
| | Observing and Reflecting Feelings: A Foundation of Client Experience |

178
(32)

| | |
| --- | --- |
| | Introduction: Comparing Paraphrasing and Reflection of Feeling |

179
(2)
181
(3)

| | |
| --- | --- |
| | Example Interview: My Mother Has Cancer, My Brothers Don't Help |

184
(5)

| | |
| --- | --- |
| | Instructional Reading: Becoming Aware of and Skilled With Emotional Experience |

189
(9)

| | |
| --- | --- |
| | Summary: A Caution About Reflection of Feelings |

198
(2)

| | |
| --- | --- |
| | Competency Practice Exercises and Portfolio of Competence |

200
(8)

| | |
| --- | --- |
| | Determining Your Own Style and Theory: Critical Self-Reflection on Reflection of Feeling |

208
(1)
208
(2)

| | |
| --- | --- |
| | Integrating Listening Skills: How to Conduct a Well-Formed Interview |

210
(49)

| | |
| --- | --- |
| | Introduction: A Review of Cultural Intentionality and Intentional Competence |

211
(1)

| | |
| --- | --- |
| | Instructional Reading 1: The Ivey Taxonomy---Anticipating the Results of Skill Usage |

212
(7)

| | |
| --- | --- |
| | Instructional Reading 2: Empathy and Microskills |

219
(7)

| | |
| --- | --- |
| | Instructional Reading 3: The Five Stages/Dimensions of the Well-Formed Interview |

226
(12)

| | |
| --- | --- |
| | Example Interview: I Can't Get Along With My Boss |

238
(5)
243
(2)

| | |
| --- | --- |
| | Competency Practice Exercises and Portfolio of Competence |

245
(11)

| | |
| --- | --- |
| | Determining Your Own Style and Theory: Critical Self-Reflection on Integrating Listening Skills |

256
(1)
256
(3)

| | |
| --- | --- |
| | SECTION III Helping Clients Generate New Stories That Lead to Action: Influencing Skills and Strategies |

259
(138)

| | |
| --- | --- |
| | The Skills of Confrontation: Supporting While Challenging |

261
(31)

| | |
| --- | --- |
| | Introduction: Helping Clients Move From Inaction to Action |

262
(1)

| | |
| --- | --- |
| | Instructional Reading: Challenging Clients in a Supportive Fashion |

263
(14)

| | |
| --- | --- |
| | Example Interview: Balancing Family Responsibilities |

277
(4)
281
(1)

| | |
| --- | --- |
| | Competency Practice Exercises and Portfolio of Competence |

282
(8)

| | |
| --- | --- |
| | Determining Your Own Style and Theory: Critical Self-Reflection on Confrontation |

290
(1)
290
(1)

| | |
| --- | --- |
| | Allen and Mary's Thoughts About Chris |

291
(1)

| | |
| --- | --- |
| | Focusing the Interview: Exploring the Story From Multiple Perspectives |

292
(33)

| | |
| --- | --- |
| | Introduction: Putting Stories in Context |

293
(1)

| | |
| --- | --- |
| | Instructional Reading 1: Multiple Contextual Perspectives on Client Concerns |

294
(9)

| | |
| --- | --- |
| | Instructional Reading 2: Family and Community Genograms |

303
(6)

| | |
| --- | --- |
| | Example Interview: It's All My Fault---Helping the Client Understand Self-in-Relation |

309
(4)
313
(2)

| | |
| --- | --- |
| | Competency Practice Exercises and Portfolio of Competence |

315
(7)

| | |
| --- | --- |
| | Determining Your Own Style and Theory: Critical Self-Reflection on Focusing |

322
(1)
322
(1)

| | |
| --- | --- |
| | Allen and Mary's Thoughts About Vanessa |

323
(2)

| | |
| --- | --- |
| | Eliciting and Reflecting Meaning: Helping Clients Explore Values and Beliefs |

325
(31)

| | |
| --- | --- |
| | Introduction: Discovering and Encountering Deeper Issues |

326
(4)

| | |
| --- | --- |
| | Example Interview: Surviving Divorce |

330
(2)

| | |
| --- | --- |
| | Instructional Reading: Discernment of Life Direction and Theory and Meaning Systems |

332
(11)
343
(1)

| | |
| --- | --- |
| | Competency Practice Exercises and Portfolio of Competence |

344
(9)

| | |
| --- | --- |
| | Determining Your Own Style and Theory: Critical Self-Reflection on Reflecting Meaning |

353
(1)
353
(1)

| | |
| --- | --- |
| | Allen and Mary's Thoughts About Charlis |

354
(2)

| | |
| --- | --- |
| | Influencing Skills: Six Strategies for Change |

356
(41)

| | |
| --- | --- |
| | Introduction: An Overview of Influencing Skills |

357
(3)

| | |
| --- | --- |
| | Example Interview and Introductory Chapter Exercise |

360
(2)

| | |
| --- | --- |
| | Instructional Reading 1 and Exercises: Interpretation/Reframing |

362
(4)

| | |
| --- | --- |
| | Instructional Reading 2 and Exercises: Logical Consequences |

366
(4)

| | |
| --- | --- |
| | Instructional Reading 3 and Exercises: Self-Disclosure |

370
(5)

| | |
| --- | --- |
| | Instructional Reading 4 and Exercises: Feedback |

375
(4)

| | |
| --- | --- |
| | Instructional Reading 5 and Exercises: Information/Advice/Opinion/Suggestion |

379
(1)

| | |
| --- | --- |
| | Instructional Reading 6 and Exercises: Directives |

380
(8)

| | |
| --- | --- |
| | Competency Practice Exercises and Portfolio of Competence |

388
(6)

| | |
| --- | --- |
| | Determining Your Own Style and Theory: Critical Self-Reflection on Influencing Skills |

394
(1)
395
(1)

| | |
| --- | --- |
| | Allen and Mary's Thoughts About Alisia |

395
(2)

| | |
| --- | --- |
| | SECTION IV Skill Integration |

397
(100)

| | |
| --- | --- |
| | Skill Integration: Putting It All Together |

399
(40)

| | |
| --- | --- |
| | Introduction: Analyzing the Interview |

400
(1)

| | |
| --- | --- |
| | Instructional Reading 1: Decisional Counseling |

400
(3)

| | |
| --- | --- |
| | Example Full Interview Transcript: I'd Like to Find a New Career |

403
(22)

| | |
| --- | --- |
| | Instructional Reading 2: Interview Transcript Analysis and Planning |

425
(10)

| | |
| --- | --- |
| | Competency Practice Exercise and Portfolio of Competence |

435
(3)

| | |
| --- | --- |
| | Determining Your Own Style and Theory: Critical Self-Reflection on Skill Integration |

438
(1)
438
(1)

| | |
| --- | --- |
| | Integrating Microskills With Theory: Sequencing Skills and Interview Stages |

439
(43)

| | |
| --- | --- |
| | Introduction: Microskills and Theoretical Approaches to the Interview |

440
(1)

| | |
| --- | --- |
| | Instructional Reading and Example Interview 1: Person-Centered Counseling |

441
(4)

| | |
| --- | --- |
| | Instructional Reading and Example Interview 2: Assertiveness Training---A Behavioral Strategy |

445
(8)

| | |
| --- | --- |
| | Instructional Reading and Example Interview 3: Brief Solution-Oriented Interviewing and Counseling |

453
(11)

| | |
| --- | --- |
| | Example Interview: Brief Solution-Oriented Counseling |

464
(5)

| | |
| --- | --- |
| | Instructional Reading and Example Interview 4: Motivational Interviewing |

469
(6)

| | |
| --- | --- |
| | Competency Practice Exercises and Portfolio of Competence |

475
(5)

| | |
| --- | --- |
| | Determining Your Own Style and Theory: Critical Self-Reflection on Four Theoretical Orientations |

480
(1)
480
(2)

| | |
| --- | --- |
| | Determining Personal Style and Future Theoretical/Practical Integration |

482
(15)

| | |
| --- | --- |
| | Introduction: Finding Your Authentic Style |

483
(1)

| | |
| --- | --- |
| | Instructional Reading: Defining Your Personal Style |

483
(10)
493
(1)

| | |
| --- | --- |
| | Suggested Supplementary Readings |

494
(3)
Appendix Glossary of Terms for Brain Areas Discussed in Research Portions of This Book
497
(3)
Name Index
500
(3)
Subject Index
503