Note: Supplemental materials are not guaranteed with Rental or Used book purchases.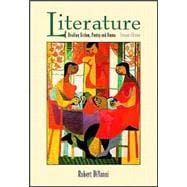 Literature: Reading Fiction, Poetry, and Drama
ISBN13:
9780072295078
by
Diyanni, Robert
Summary
This anthology provides broad coverage for the three genres of literature--fiction, poetry, and drama--and exceptionally clear presentation of the elements of literature. The text has a clear and up-to-date chapter on critical theory that features helpful checklists. It also features Robert DiYanni's well-known three-part pedagogy that presents each of the three genres in light of a reader's experience, interpretation, and evaluation. The compact edition includes full coverage of writing about literature with 2 student papers in each chapter, incorporates a beautifully illustrated poetry section with four-color art, author biographies, and in-depth cverage of 8 writers: D.H. Lawrence, Flannery O'Connor, Sandra Cisneros, Emily Dickenson, Robert Frost, Langston Hughes, Sophocles (containing both Oedipus and Antigone), and Shakespeare (containing both Hamlet ant Othello).
Table of Contents
INTRODUCTION READING (AND WRITING ABOUT) LITERATURE Reading Literature The Pleasures of Fiction The Dog and the Shadow Learning to Be SilentThe Pleasures of Poetry Robert Frost, Dust of SnowThe Pleasures of Drama Understanding Literature: Experience, Interpretation, EvaluationWriting About Literature Reasons for Writing About Literature Ways of Writing About Literature Writing the Paper Stephen Crane, War Is KindPART ONE: FICTIONCHAPTER 1: READING STORIES The Prodigal Son The Experience of Fiction The Interpretation of Fiction The Evaluation of Fiction John Updike A&P The Act of Reading Fiction Kate Chopin, The Story of an Hour CHAPTER 2: TYPES OF SHORT FICTION Early Forms: Parable, Fable, and Tale Aesop, The Wolf and the Mastiff Petronius, The Widow of Ephesus The Short Story The Nonrealistic Story The Short NovelCHAPTER 3: THE ELEMENTS OF FICTION Plot and Structure Frank O'Connor, Guests of the Nation Character Kay Boyle, Astronomer's Wife Setting Bobbie Ann Mason, Shiloh Point of View William Faulkner, A Rose for Emily Language and Style James Joyce, Araby Theme Eudora Welty, A Worn Path Irony and Symbol Edgar Allan Poe, The Black Cat CHAPTER 4: WRITING ABOUT FICTION Reasons for Writing About Fiction Informal Ways of Writing About Fiction Katherine Anne Porter, Magic Formal Ways of Writing About Fiction Student Papers on Fiction Questions for Writing about FictionSuggestions for Writing CHAPTER 5: THREE FICTION WRITERS IN CONTEXT Reading D. H. Lawrence, Flannery O'Connor, and Sandra Cisneros in Depth Questions for In-Depth Reading Introduction to D. H. Lawrence Critical Comments by Lawrence from The Bright Book of Life Man and Woman Critics on Lawrence D. H. Lawrence: Stories The Blind Man The Horse Dealer's Daughter The Rocking-Horse Winner Introduction to Flannery O'Connor Critical Comments by O'ConnorOn Symbol and ThemeOn "A Good Man is Hard to Find"On "Good Country People"Critics on O'Connor Flannery O'Connor: Stories Good Country People A Good Man Is Hard to Find Everything That Rises Must Converge Introduction to Sandra CisnerosCisneros on HerselfCritics on CisnerosSandra Cisneros: StoriesElevenBarbie-QThere Was a Man, There Was a WomanCHAPTER 6: A COLLECTION OF SHORT FICTION Nathaniel Hawthorne, Young Goodman Brown Anton Chekhov, The Lady with the Dog TRANSLATED BY CONSTANCE GARNETT Charlotte Perkins Gilman, The Yellow Wallpaper Luigi Pirandello, WarJames Joyce, The Boarding House James Joyce, The DeadKatherine Anne Porter, The Jilting of Granny Weatherall Ernest Hemingway, Soldier's HomeJorge Luis Borges, The Garden of Forking Paths TRANSLATED BY DONALD YATES Isaac Bashevis Singer, Gimpel the Fool TRANSLATED BY SAUL BELLOW Tillie Olsen, I Stand Here Ironing Ralph Ellison, Battle RoyalJean Stafford, Bad Characters Gabriel Garcia Marquez, A Very Old Man with Enormous Wings TRANSLATED BY GREGORY RABASSA Margaret Atwood, Rape Fantasies Raymond Carver, Cathedral Alice Walker, Everyday Use Lee K. Abbott, The View of Me from MarsJamaica Kincaid, Girl Leslie Marmon Silko, Yellow Woman Amy Tan, Rules of the Game Louise Erdrich, American Horse PART TWO: POETRYCHAPTER 7: READING POEMS The Experience of Poetry Robert Hayden, Those Winter Sundays The Interpretation of Poetry Robert Frost, Stopping by Woods on a Snowy Evening The Evaluation of Poetry Adrienne Rich, Aunt Jennifer's Tigers The Act of Reading Poetry Theodore Roethke, My Papa's Waltz CHAPTER 8: TYPES OF POETRY Narrative Poetry Lyric Poetry CHAPTER 9: ELEMENTS OF POETRY Voice: Speaker and Tone Stephen Crane, War Is Kind Robert Browning, My Last Duchess Muriel Stuart, In the Orchard Gerard Manley Hopkins, Thou art indeed just, Lord Anonymous, Western Wind Henry Reed, Naming of Parts Jacques Prevert, Family Portrait Diction William Wordsworth, I wandered lonely as a cloud Edwin Arlington Robinson, Miniver Cheevy William Wordsworth, It is a beauteous evening Robert Herrick, Delight in Disorder Adrienne Rich, Rape Imagery Elizabeth Bishop, First Death in Nova Scotia William Butler Yeats, The Lake Isle of Innisfree Robert Browning, Meeting at Night H. D. (Hilda Doolittle), Heat Thomas Hardy, Neutral Tones Figures of Speech: Simile and Metaphor William Shakespeare, That time of year thou may'st in me behold John Donne, Hymn to God the Father Robert Wallace, The Double-Play Louis Simpson, The Battle Judith Wright, Woman to Child Symbolism and Allegory Peter Meinke, Advice to My Son Christina Rossetti, Up-Hill William Blake, A Poison Tree Robert Frost, The Road Not Taken George Herbert, Virtue Emily Dickinson, Because I could not stop for Death Syntax John Donne, The Sun Rising Thomas Hardy, The Man He Killed William Butler Yeats, An Irish Airman Foresees His Death Robert Frost, The Silken Tent E. E. Cummings, "Me up at does" Stevie Smith, Mother Among the Dustbins Sound: Rhyme, Alliteration, Assonance Gerard Manley Hopkins, In the Valley of the Elwy Thomas Hardy, During Wind and Rain Alexander Pope, Sound and Sense Bob McKenty, Adam's Song May Swenson, The Universe Helen Chasin, The Word Plum Rhythm and Meter Robert Frost, The Span of Life George Gordon, Lord Byron The Destruction of Sennacherib Anne Sexton, Her Kind William Carlos Williams, The Red Wheelbarrow Structure: Closed Form and Open Form John Keats, On First Looking into Chapman's Homer Walt Whitman, When I heard the learn'd astronomer E. E. Cummings, el(a E. E. Cummings, [Buffalo Bill's] William Carlos Williams, The Dance Denise Levertov, O Taste and See Theodore Roethke, The Waking C. P. Cavafy, The City TRANSLATED BY EDMUND KEELEY AND PHILIP SHERRARD ThemeEmily Dickinson, Crumbling is not an instant's ActCHAPTER 10: TRANSFORMATIONS Revisions William Blake, London William Butler Yeats, A Dream of Death Emily Dickinson, The Wind begun to knead (rock) theGrass D. H. Lawrence, (The) Piano Parodies William Carlos Williams, This Is Just to Say Kenneth Koch, Variations on a Theme by William Carlos Williams Gerard Manley Hopkins, Carrion Comfort Gary Layne Hatch, Terrier Torment; or, Mr.Hopkins and His Dog William Shakespeare, Shall I compare thee to a summer's day Howard Moss, Shall I Compare Thee to a Summer's Day Robert Frost, Dust of Snow Bob McKenty, Snow on Frost Poems and Paintings Vincent Van Gogh, The Starry Night Anne Sexton, The Starry Night Robert Fagles, The Starry Night Francesco de Goya, The Third of May, 1808 Lawrence Ferlinghetti, In Goya's greatest scenes we seem to see Francesco de Goya, from The Disasters of War David Gewanter Goya's The Third of May, 1808 Pieter Breughel the Elder, Landscape with the Fall of Icarus W. H. Auden, Musée des Beaux Arts Joseph Langland, Hunters in the Snow Pieter Breughel, the Elder Hunters in the Snow Edward Hopper, Sunday E. Ward Herlands, When Edward Hopper Was Painting William Blake, The Sick Rose (watercolor) William Blake, The Sick Rose (poem) Sandro Botticelli, Adoration of the Magi T. S. Eliot, Journey of the Magi Giotto di Bondone, Adoration of the Magi William Butler Yeats, The Magi Henri Matisse, Dance Natalie Safir, Matisse's Dance Pablo Picasso, Girl with a MandolinVinnie-Marie D'Ambrosio, If I Were a Maker I'dPablo Picasso, Still Life with Pitcher, Bowl, & FruitGustav Klimt, The Kiss Lawrence Ferlinghetti, Short Story on a Painting of Gustav KlimtCHAPTER 11: WRITING ABOUT POETRY Reasons for Writing About Poetry Informal Ways of Writing About Poetry AnnotationRobert Hayden, Those Winter SundaysFreewritingRobert Graves, Symptoms of Love Formal Ways of Writing About Poetry