Note: Supplemental materials are not guaranteed with Rental or Used book purchases.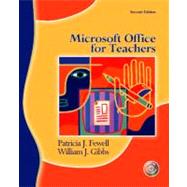 Related Products
Summary
This practical guide for teachers who want to learn how to use the Microsoft Office suite as a tool in instruction, learning, and classroom management. Through step-by-step "how-to" exercises and helpful classroom examples, the various features of Word, PowerPoint, Excel, Access, Outlook, and Publisher are explained in detail. Inservice Teachers.
Author Biography
Patricia J. Fewell is Professor of secondary education and foundations at Eastern Illinois University.
Table of Contents
| | |
| --- | --- |
| | Technology and the Classroom |

1
(8)
1
(1)
1
(1)
1
(1)
2
(1)

| | |
| --- | --- |
| | About This Book and Using Technology |

2
(1)
2
(2)

| | |
| --- | --- |
| | ISTE National Educational Technology Standards (NETS) and Performance Indicators for Teachers |

3
(1)
4
(1)

| | |
| --- | --- |
| | Copyright in the Classroom |

5
(1)
5
(1)

| | |
| --- | --- |
| | Teacher Production of Materials |

5
(3)
8
(1)
8
(1)

| | |
| --- | --- |
| | Getting Started with Office |

9
(13)
9
(1)
9
(1)
9
(1)
10
(1)

| | |
| --- | --- |
| | Working with Microsoft Office Suite |

10
(11)

| | |
| --- | --- |
| | Opening Office Applications |

10
(9)
19
(1)
20
(1)
21
(1)
22
(20)
22
(1)
22
(1)
22
(1)
23
(1)
23
(1)

| | |
| --- | --- |
| | How Teachers and Students Might Use Word 2003 |

23
(1)
24
(17)
24
(17)

| | |
| --- | --- |
| | A Challenge Using Word 2003 |

41
(1)
41
(1)
42
(47)
42
(1)
43
(1)
43
(1)
43
(1)

| | |
| --- | --- |
| | What Is New in PowerPoint 2003 |

44
(1)
44
(1)
45
(2)
47
(41)

| | |
| --- | --- |
| | Starting the Presentation |

47
(2)
49
(2)

| | |
| --- | --- |
| | Inserting Slides and Adding Content |

51
(3)

| | |
| --- | --- |
| | Navigating Between Slides |

54
(2)
56
(5)
61
(14)

| | |
| --- | --- |
| | Previewing the PowerPoint Presentation in the Slide Show |

75
(1)
75
(1)
76
(1)
77
(3)

| | |
| --- | --- |
| | Spell Checking the PowerPoint Presentation |

80
(1)

| | |
| --- | --- |
| | Printing the PowerPoint Presentation |

81
(7)

| | |
| --- | --- |
| | A Challenge Using PowerPoint 2003 |

88
(1)
88
(1)
89
(45)
89
(1)
90
(1)
90
(1)
91
(1)

| | |
| --- | --- |
| | How Teachers and Students Might Use Excel 2003 |

91
(1)
91
(1)
92
(1)

| | |
| --- | --- |
| | A Word About the Excel Workspace |

92
(1)

| | |
| --- | --- |
| | Moving About in a Worksheet |

93
(1)
94
(38)

| | |
| --- | --- |
| | Creating a Workbook and Worksheets |

94
(1)

| | |
| --- | --- |
| | Entering Data in a Worksheet |

95
(1)

| | |
| --- | --- |
| | Modifying Worksheets: Adjusting Columns and Rows |

96
(5)

| | |
| --- | --- |
| | Modifying Worksheets: Formatting Text |

101
(2)

| | |
| --- | --- |
| | Modifying Worksheets: Editing Data |

103
(1)

| | |
| --- | --- |
| | Saving and Naming a Workbook |

104
(1)

| | |
| --- | --- |
| | Modifying Worksheets: Inserting Rows and Columns |

105
(2)
107
(1)
108
(6)
114
(2)
116
(4)
120
(5)
125
(4)

| | |
| --- | --- |
| | Spell Checking the Excel Workbook |

129
(1)

| | |
| --- | --- |
| | Printing the Excel Workbook |

130
(2)

| | |
| --- | --- |
| | A Challenge Using Excel 2003 |

132
(1)
133
(1)
133
(1)
134
(29)
134
(1)
134
(1)
135
(1)
135
(1)
135
(1)

| | |
| --- | --- |
| | How Teachers and Students Might Use Access 2003 |

135
(1)
136
(2)

| | |
| --- | --- |
| | A Word About the Access Workspace |

136
(1)
136
(1)
137
(1)
137
(1)
138
(24)
138
(1)

| | |
| --- | --- |
| | Creating a Table Using a Wizard |

139
(9)

| | |
| --- | --- |
| | Creating a New Database Using Design View |

148
(4)
152
(2)
154
(8)

| | |
| --- | --- |
| | A Challenge Using Access 2003 |

162
(1)
162
(1)
162
(1)
163
(21)
163
(1)
163
(1)
164
(1)
164
(1)
164
(1)

| | |
| --- | --- |
| | How Teachers and Students Might Use Outlook 2003 |

164
(1)
165
(1)

| | |
| --- | --- |
| | A Word About the Outlook Workspace |

165
(1)

| | |
| --- | --- |
| | Using the Navigation Pane |

165
(1)
166
(1)
167
(16)
167
(6)
173
(2)
175
(4)
179
(1)
180
(1)
181
(2)

| | |
| --- | --- |
| | A Challenge Using Outlook 2003 |

183
(1)
183
(1)
184
(24)
184
(1)
184
(1)
185
(1)
185
(1)

| | |
| --- | --- |
| | How Teachers and Students Might Use Publisher 2003 |

185
(1)
186
(2)
187
(1)
188
(19)
188
(7)

| | |
| --- | --- |
| | Adding Content to the Brochure |

195
(6)

| | |
| --- | --- |
| | Checking Your Publication for Design Problems |

201
(1)

| | |
| --- | --- |
| | Creating a Publication from a Blank Document |

202
(5)

| | |
| --- | --- |
| | A Challenge Using Publisher 2003 |

207
(1)
207
(1)
208
208
(1)
208
(1)
209
(1)
209
(1)

| | |
| --- | --- |
| | About Integrating the Office Products |

209
(1)

| | |
| --- | --- |
| | Working with the Office Products |

210
(1)
210
(30)

| | |
| --- | --- |
| | Copy and Paste Text from Word to PowerPoint |

211
(1)

| | |
| --- | --- |
| | Inserting PowerPoint Slides into Word---Copy and Paste |

212
(3)
215
(2)
217
(4)

| | |
| --- | --- |
| | Paste an Excel Worksheet into a Word Document and a PowerPoint Slideshow |

221
(1)

| | |
| --- | --- |
| | Copy and Paste a Worksheet into PowerPoint |

222
(2)

| | |
| --- | --- |
| | Creating a Chart Illustrating the Time Members Have Spent on Project Tasks |

224
(11)

| | |
| --- | --- |
| | Creating a Credit Slide: Outlook and Access |

235
(1)

| | |
| --- | --- |
| | Creating a Contact in Outlook |

235
(5)

| | |
| --- | --- |
| | A Challenge Integrating Office |

240
(1)
241
Appendix A windows
1
(1)
Appendix B macintosh
1
(1)
Glossary
1
(1)
Index
1